Image: Virginia Mayo/AP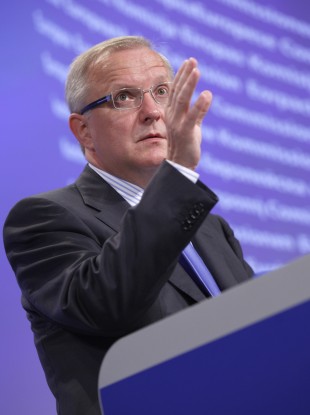 Image: Virginia Mayo/AP
EUROPEAN ECONOMICS COMMISSIONER Olli Rehn has indicated that he will prepare legislation allowing for the creation of a single common 'Eurobond' – despite the opposition of Germany and France.
In a written response to a question from the European Parliament, Rehn said the European Commission was preparing a report on whether a common Eurobond – which would see all 17 Eurozone member states borrow cash as a single entity – was a feasible idea.
"These euro securities would aim to strengthen fiscal discipline and increase stability through markets as well as, by taking advantage of the increase in liquidity, ensuring that the Member States enjoying the highest credit standards would not suffer from higher interest rates," Rehn wrote, crucially adding:
The report will, if appropriate, be accompanied by legislative proposals.
The response – which was only published yesterday, though the question to which it refers was tabled two months ago – comes only days after Germany and France outlined their continued opposition to the idea.
Larger economies like theirs would lose out in the case of a Eurobond, because the interest rate charged on a Eurobond would probably be higher than the rates paid by those countries on an individual basis.
Yesterday Belgium added its voice to the debate, with finance minister Didier Reynders saying the Eurozone should issue a common bond and expand its bailout fund, in a bid to finally bring stability to the European debt markets.
Ironically, his fellow Belgian Herman van Rompuy – who, as EU Council president, would theoretically take charge of the permanent 'Eurozone government' demanded by France and Germany – opposes common bonds for the time being.