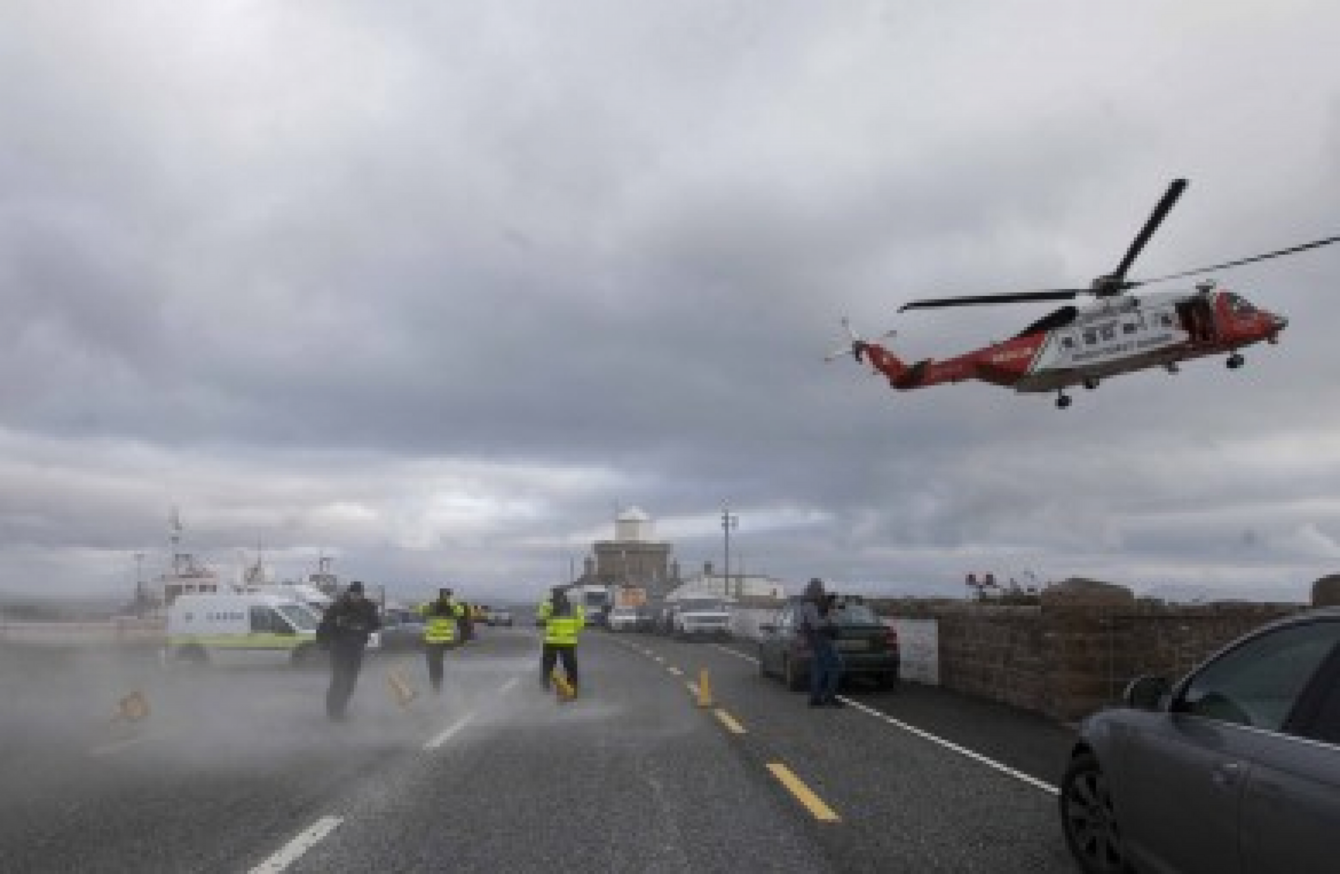 THE BODY OF Rescue 116 pilot Mark Duffy has been found in the wreckage of the Irish Coast Guard helicopter but the location of the other two crewmembers remains unknown.
Efforts to retrieve the pilot's remains are continuing tonight using a Remotely Operated Vehicle (ROV).
A Naval Service diving team accessed the fuselage of the aircraft for the first time after 11.30am yesterday and continued their search-and-recovery operations throughout the day.
The remains of Mark Duffy were discovered in the cockpit of the helicopter but has not been brought ashore.
The bodies of Paul Ormsby and Ciarán Smith have yet to be located.
It is hoped that they are contained elsewhere in the wreckage but this could not be ascertained yesterday as access was limited to certain parts of the aircraft, and aerial searches continued elsewhere in Blacksod Bay.
The three crewmen have been missing since the Sikorsky S92 helicopter disappeared on its way to refuel at Blacksod lighthouse on March 13 as it prepared to assist in a medical evacuation mission.
Black box
Earlier, the black box flight recorder from the missing Coast Guard helicopter Rescue 116.
The find was confirmed by searchers this evening.
The box will be sent to the UK tomorrow to have its contents downloaded and analysed. The recorder was brought to shore at 7.30pm last night from the Irish Lights ship, Granuaile. Work will be carried out on the device overnight and it will be transported to Dublin before its data is analysed next week.
It is believed that data will need further examination to determine if the three missing crew from the crash are with the wreckage of the helicopter.
A statement from the Air Accident Investigation Unit (AAIU) in consultation with An Garda Síochána, the Naval Service, the Coast Guard, the GSI, the Commissioner for Irish Lights (CIL) and the Marine Institute said:
"The flight recorder (black box) of R116 has been successfully recovered from the sea bed on the Eastern side of Black Rock, at a depth of approximately 40 metres. The flight recorder is now in the custody of the AAIU and will be taken under escort to Baldonnel Aerodrome where it will be onward transported to the Air Accidents Investigation Branch (AAIB) in the UK tomorrow for download."
The Dublin-based helicopter has been missing since last week after going missing while preparing to refuel at Blacksod in Mayo.
Captain Dara Fitzpatrick was recovered from the sea and died later in hospital. She was buried last Saturday.

With reporting by Paul Hosford