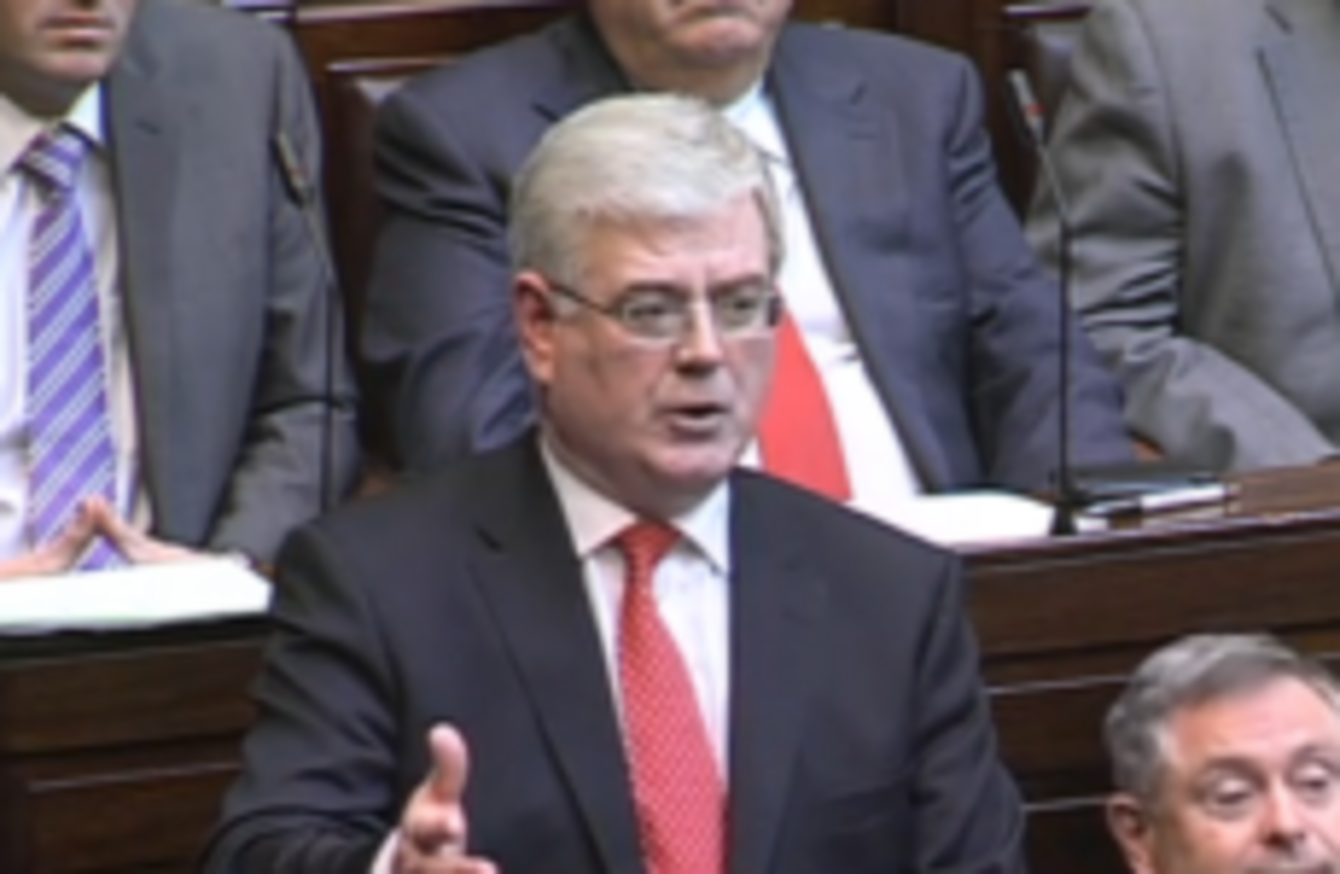 THE TÁNAISTE Eamon Gilmore has challenged opposition TD Richard Boyd-Barrett to disclose his proposals for how a property tax should be levied – accusing his fellow Dún Laoghaire deputy of failing into indicate whether he supports such a tax in the first place.
The challenge came during an ill-tempered session of Leaders' Questions, when Boyd-Barrett advised that the revolt seen over the €100 Household Charge "will be nothign compared to the revolt you're going to see if you impose hundreds of euro more of austerity taxes".
"It makes a mockery of your claims that you're going to protect children if you're going to levy a property tax that will drive the parents of those children into poverty," Boyd-Barrett accused.
Gilmore, in response, said a large number of households who had taken Boyd-Barrett's advice to boycott the Household Charge had found themselves having to pay increased amounts through fines and penalties.
"Take up your pen and set out for us: what are your proposals in relation to a property tax?" the Tánaiste quizzed. "In principle, are you in favour – or are you not – of introducing a property tax?
"Set it out for us. What it should be based on, what level it should be charged at… you want to tax the super-wealthy? Right, let us have the detailed proposals," Gilmore challenged.
Boyd-Barrett said the Tánaiste's comments that over a million householders had boycotted the household charge ahead of the original March 31 deadline, simply because of his own advice, were an "insult".
"They did it because they recognised it was an unjust and unfair charge," he insisted.
Health and child-proofing
Earlier, Fianna Fáil's Dara Calleary had asked Gilmore whether he had held discussions with his party colleague, junior health minister Róisín Shortall, to discuss her reservations about the activity of James Reilly and the Department of Health.
He said comments from Gilmore, who said the government had "an urgency and an impatience" to ensure free access to GPs for all people living in Ireland, were disrespectful.
Gilmore countered: "When it comes to gall, Ceann Comhairle, Fianna Fáil has it in abundance," saying the team of health ministers were merely focussed on undoing the mess that the present opposition had made of the health service while in power themselves.
For Sinn Féin, Mary Lou McDonald urged the government to affirm that Budget 2013 would be 'child-proofed' and would not place children in danger of entering poverty.
Gilmore said all legislative proposals, including those which will form part of the Budget, were examined by the Department of Children and Youth Affairs before being discussed at cabinet level.
"Our efforts at economic recovery are not an object or a need in themselves," the Tánaiste said. "They are a means to achieving a more equal society, a fairer society and a society in which we have far fewer poor people."