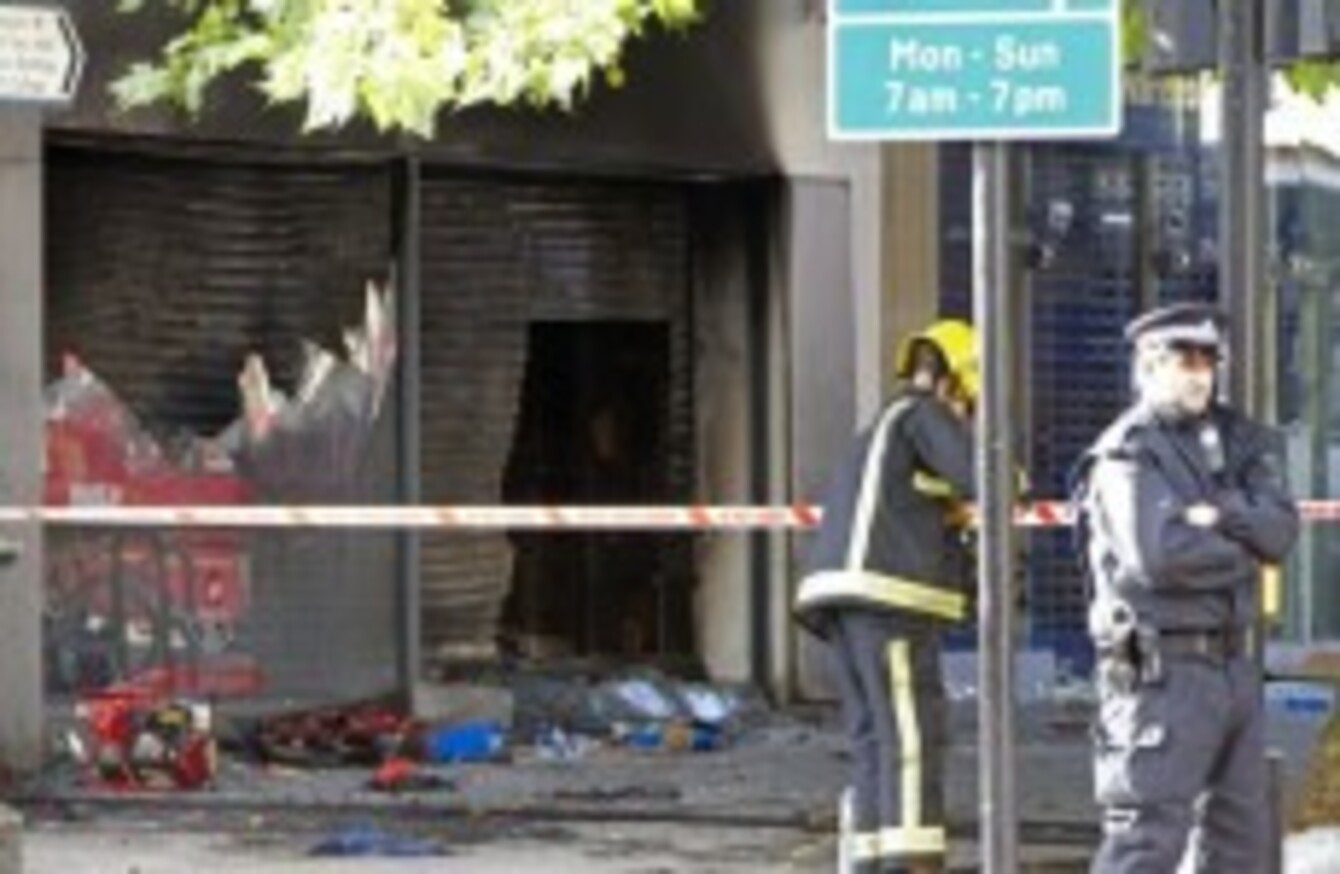 Shops and premises were damaged in Brixton, South London, last night.
Image: Jeff Moore/Jeff Moore/Empics Entertainment
Shops and premises were damaged in Brixton, South London, last night.
Image: Jeff Moore/Jeff Moore/Empics Entertainment
LONDONERS HAVE BANDED together in the face of rioting and violence to clean up their city.
Using the social networking site Twitter to communicate and spread the word about the RiotCleanUp website, they have been meeting in various cities in London and beyond to help clean up the debris after the past three nights of rioting.
Using the hashtag #riotcleanup, people were encouraged to help neighbours and businesses affected by the violence.
They also released a video on the success of the clean-up so far, which has already helped clean up many areas including Hackney and Bethnal Green.
The cost of to insurers of the damage caused by the rioting is likely to run into tens of millions of pounds, Reuters reports.
The Metropolitan Police Service said that last night "was the worst the MPS has seen in current memory for unacceptable levels of widespread looting, fires and disorder".
The MPS had around 2,500 officers in addition to 3,500 officers already on duty in London, which included members of other forces.
In total,  in excess of 450 arrests were made over the three nights, completely filling all MPS cells and leading to prisoners being taken to cells owned by other forces.
The MPS sent out a stark message to rioters and looters, saying:
Those involved in criminality should be under no illusion that we will pursue you. We have been making arrests all evening and have a team working during the night examining CCTV images. We will follow up evidence in the coming days in order to bring anyone else responsible for criminal acts to justice.
It added:
Disturbing levels of violence were directed at officers again, leading to 44 being injured last night, which included an officer being driven at resulting in broken bones, and another officer receiving an eye injury that is likely to need surgery (separate incident). 14 members of the public were also hurt, including a man in his 60′s who has life threatening head injuries.
Police received almost 400% more 999 calls than normal.
The ambulance service in London said that 22 patients were taken to hospital from the main scenes of disorder, in what was described as an "incredibly challenging night for everyone involved".
Missiles were thrown at some vehicles and crews were threatened and intimidated while looking after people.
Prime Minister David Cameron is due to make a statement at 11am.
A video has emerged that claims to show a bleeding young man being robbed during the riots – by men pretending to help him.