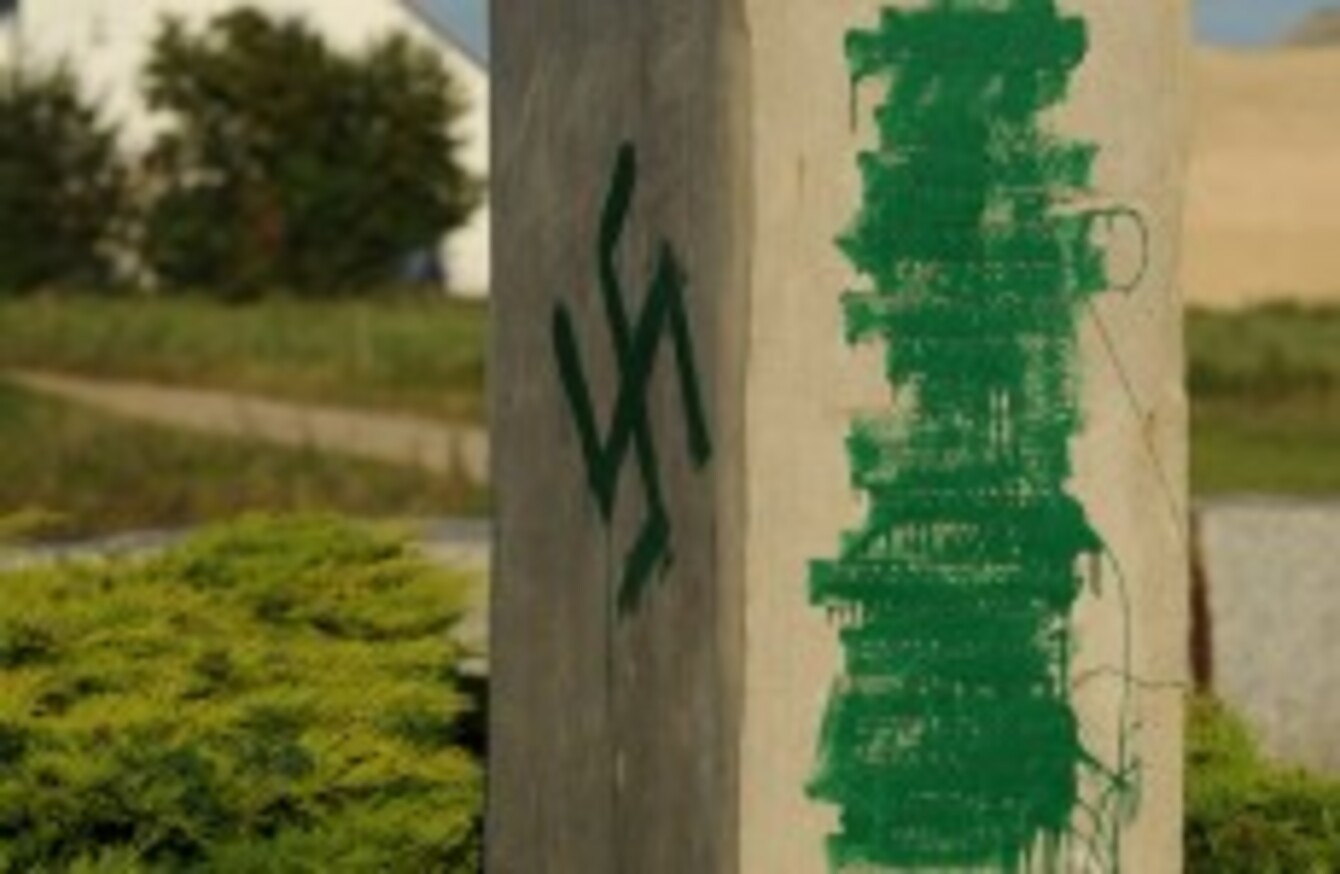 A Nazi swastika is seen in Jedwabne, Poland, on a monument dedicated to Jews.
Image: Michal Kosc via Press Association Images
A Nazi swastika is seen in Jedwabne, Poland, on a monument dedicated to Jews.
Image: Michal Kosc via Press Association Images
THE E-BOOK VERSION of Hitler's Mein Kampf is a best seller, observed Alan Shatter in a speech yesterday to mark National Holocaust Memorial Day.
The address by the Minister for Justice was as much a warning as it was a remembrance, condemning the apparent rise of extreme right political parties.
"Holocaust denial is the favourite sport of some, in particular in Europe, and in the Middle East," he noted.
He continued by stating that we live in a "complex and difficult world in which historical fact can be distorted and contaminated and become an inconvenient truth should it challenge a contemporary political narrative in which some have a vested interest".
In his speech, Shatter also warned of the rise in popularity of far right parties and urged people to be aware of this:
As Europeans, we must confront the rise in anti-Semitism, xenophobia, racism, homophobia and hate crimes. In Europe, the economic crisis has spawned new parties and revitalised  pre-existing parties of the extreme right whose anti-Semitic and racist rhetoric is both corrosive and dangerous.
He outlined some of the parties that he feared, naming:
Golden Dawn in Greece;
Hungary's Jobbik;
the National Front in France;
Ataka and the Bulgarian National Party;
And, in Britain, the British National Party and UKIP.
"Unfortunately, some of these are no longer on the fringes of political life and there is growing concern over the level of support they will attract in the forthcoming European Parliamentary elections."
Anti-Semitism on the Rise
The EU Agency for Fundamental Rights published a report last November on anti-Semitism.
It showed that 76 per cent of Jewish people surveyed across EU member states felt that anti-Semitism had "worsened in the past five years".
More than half had encountered first hand experience of Holocaust denial within the previous year and a third of respondents had suffered anti-Semitic harassment over the past 5 years.
The report also found that among those surveyed:
29 per cent stated they were considering emigrating from the EU member state in which they and their families were resident.
Shatter also spoke about Ireland's Jewish community and the country's history with the Holocaust.
Irish Jewry escaped the Shoah. However, the then Irish Jewish community was not forgotten by those who so meticulously planned the final solution. It was numbered and expressly prescribed for elimination on a map prepared by Adolf Eichmann that can today be viewed in Yad Vashem, the Holocaust Memorial in Jerusalem.
He then went on to remember the Irish who fought in World War Two.
"It was for too long easily forgotten that 60,000 citizens of the neutral Irish Free State joined the Allied Forces to fight against tyranny during World War Two, amongst them over 5,000 who deserted our own Defence Forces to do so."