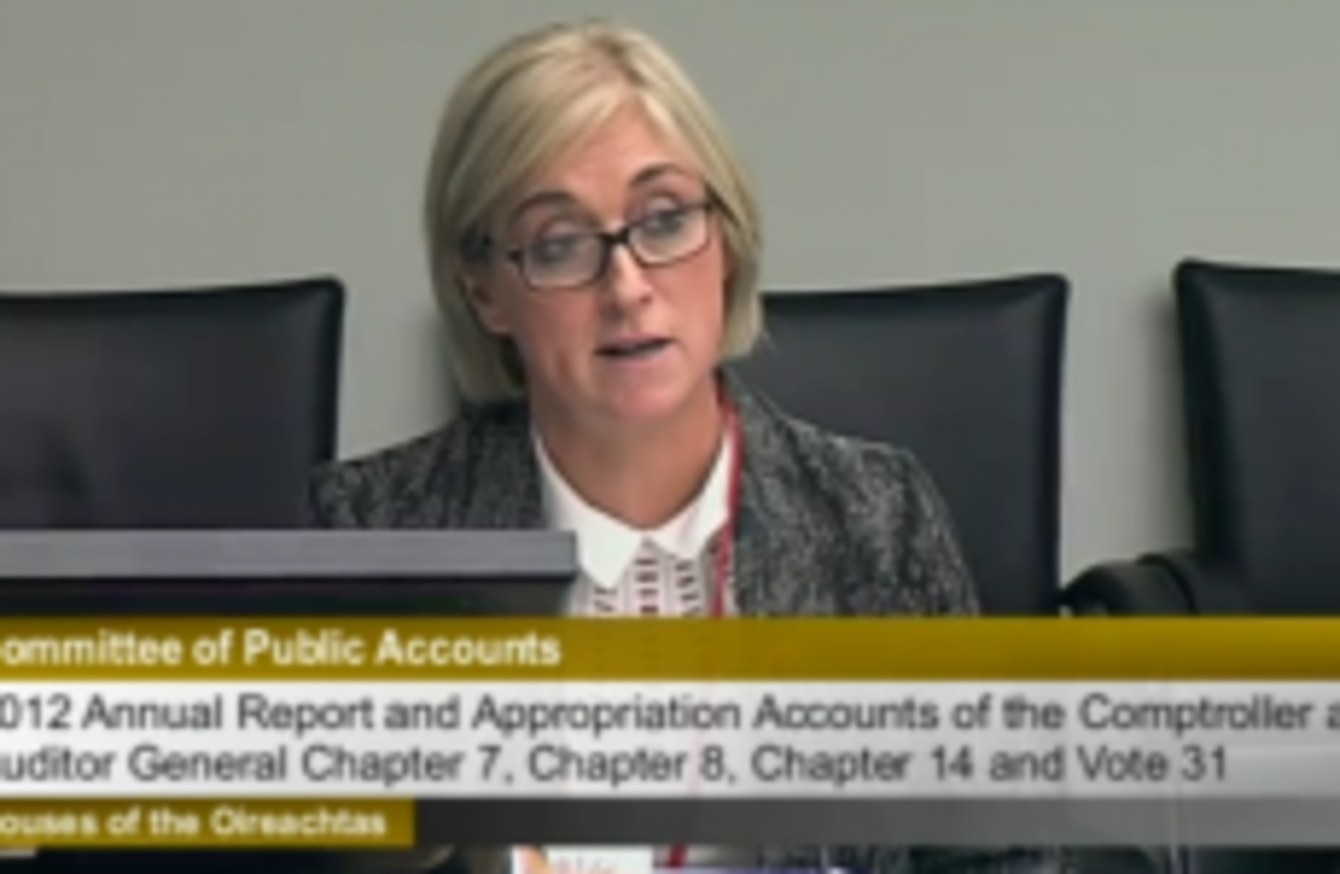 Moyagh Murdock, CEO of the RSA
Image: Oireachtas TV
Moyagh Murdock, CEO of the RSA
Image: Oireachtas TV
THE NUMBER OF drivers dying on our roads has decreased by 25%, but the deaths of other road users are up.
Some 190 people died on our roads last year, an increase of 28 on 2012.
Moyah Murdock, CEO of the Road Safety Authority, told the Public Accounts Committee that road deaths have decreased by 43% in ten years.
However, she noted there is "scope for considerable improvement".
Some 84 people have lost their lives on Irish roads so far this year, largely in line with last year's figures.
Murdock told the committee that the "the nature of the fatalities has changed".
It's pedestrians and it's motorcyclists … vulnerable road users.
She added that eight young people under the age of 16 have died on our roads this year – two more than in the same period last year.
Murdock noted that of the ten motorcyclists killed in accidents in 2014, five were living in Ireland and five were tourists, some of whom died in "very freakish accidents".
Some 27 motorcyclists died on our roads in 2013, up from 16, or almost 60%, in 2012; 30 pedestrians were killed last year (up one from 29 in 2012).
"Speed is still the single biggest factor in road fatalities," she said, adding that the majority of fatal accidents happen in areas with speed limits of 50 km or less.
She stated that the RSA continues to promote road safety in a number of promotional campaigns.
In April, Assistant Garda Commissioner John Twomey of the Garda National Traffic Bureau told the Oireachtas Transport Committee that the average compliance rate in the 727 zones monitored by speed cameras was above 90%.
GoSafe speed cameras record over 7,000 hours of driving across the country each month.
Distractions
Murdock added that pedestrians are often distracted by mobile phones and music players before an accident occurs.
People are walking along, not being aware of the dangers around them.
Murdock took over the role as RSA CEO four months ago. In today's meeting she defended her predecessor Noel Brett's handling of the dossier on penalty points that was given to him by Sgt Maurice McCabe in August 2012.
She noted that Brett, following legal advice, had made the information available to the Departments of Justice and Transport.
"That really was the only route that we could go with this particular information.
Without trying to second-guess my predecessor's reaction … there was serious concern that this could be a serious issue and … needed to be addressed at the appropriate level.
The RSA is expected to be self-financing by next year. In 2008 it was dependent on exchequer funding to the tune of €40 million. It can draw down a maximum of €3.37 million this year, but, depending on its income, may not need any of this money.
The body's functions include driver licensing and vehicle testing. In 2012, its income was €42 million, the majority of this came from NCT testing fees.
The Department of Transport spent just over €2 billion in 2012, with €1.7 billion (about 83%) being spent on transport, with the remainder going to tourism and sport-related projects.
#Open journalism No news is bad news Support The Journal

Your contributions will help us continue to deliver the stories that are important to you

Support us now
Motor tax evasion
Labour TD Derek Nolan raised the issue of motor tax avoidance through declaring a vehicle has been off-road after the fact.
The Secretary General of the Department of Transport Tom O'Mahony said that since this loop hole for "gapping" was closed last year, 149,000 more vehicles were taxed by the end of May than there were at the same time last year.
After taking account for new cars, O'Mahony said that about 130,000 of these cars, or 5% of all registered vehicles, were "attributable to the gapping measure".
As a result, the €50 million that it cost to implement the measure has been recouped.
O'Mahony said this was a notable achievement but added: "I'm not claiming for a minute that nobody is evading motor tax".
He also admitted that some drivers avoid getting penalty points by not bringing their driver licence to court. In 2012, the government introduced fines in a bid to stop this practice from happening.
'Not anti-car'
He stressed that the Department is "not anti-car" but said: "The car is still far too dominant as the main source of transport."
O'Mahony noted that the Department is working with the public transport system "to make it a more attractive alternative for the customer".
He said that the Luas Cross City project, set to begin operating in late 2017, would be a major asset to Dublin, adding that the 500,000th Leap card was sold in May, "way ahead of the targets that we had".
O'Mahony stated that a decision will soon be made on the Dart Underground plan.