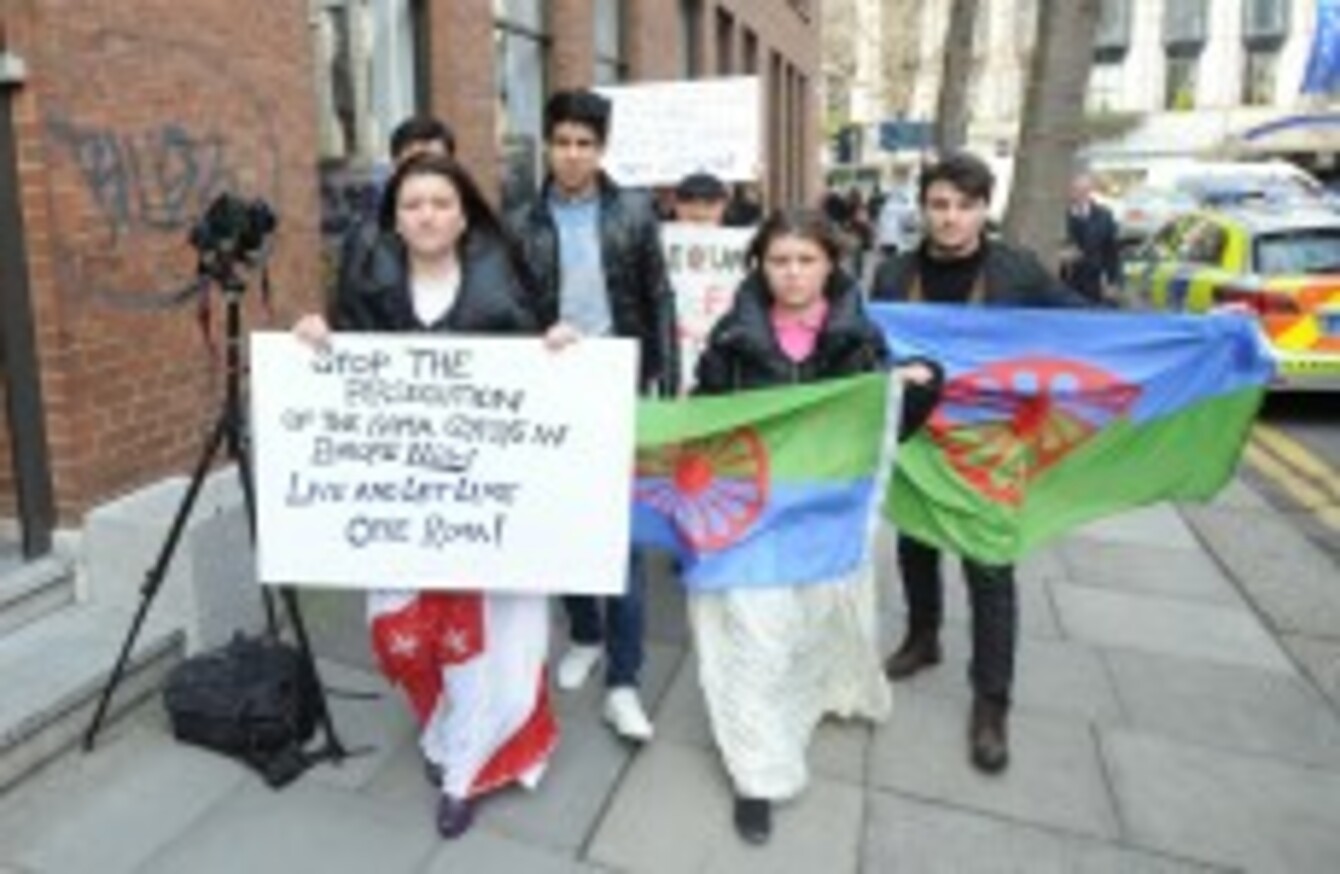 File photo of Roma people campaigning for equality.
Image: Sasko Lazarov/Photocall Ireland
File photo of Roma people campaigning for equality.
Image: Sasko Lazarov/Photocall Ireland
Updated 10.44 am
EQUALITY MINISTER AODHÁN Ó Ríordáin has said weekend protests that saw three Roma families evacuated from a house in Waterford were a "cowardly act".
The Minister of State for Equality, New Communities and Culture was speaking on RTÉ's Today With Seán O'Rourke and said that the protests were "a particularly cowardly act of picking on a soft target".
More than 200 people gathered on Manor Street in the city after a rally was organised on Facebook against a spate of crimes in the area.
The protest turned ugly, with windows smashed and families forced to flee.
The European Network Against Racism Ireland condemned the weekend's violence and intimidation.
Shane O'Curry, Director of ENAR Ireland said that assurances were given by gardaí about keeping the families safe, but that they were worried about the use of social media to organise protests.
"Like the majority of people in Ireland, members of ENAR are extremely concerned at the emergence of what appears to be organised racist violence Waterford.
In the light of this, we welcome the assurances and actions of Waterford Gardai in making the safety of Roma families a priority. However, we remain concerned about the reports we have of the use of social media to organise the violence and to facilitate hate speech and incitement to hatred.
Ó Ríordáin had a similar response to the intimidation this morning, saying that if anyone has evidence of criminality about any particular individual or gang they should contact gardaí.
"If people have evidence about criminality they should go to the gardaí instead of getting involved in what is effectively a lynch mob. It's no way to deal with it," he said.
Sinn Féin leader Gerry Adams said the incident was "completely unacceptable".
"There can be no room in society for this type of behaviour. Anyone with information relating to allegations of criminality should bring that to the proper authorities.
"The protests we have witnessed are wrong.
They have been hijacked by a racist minority who want to instil fear. A number of children were in the house targeted by these protestors.
"I am calling on those behind these protests to desist. It is the responsibility of An Garda Siochana to investigate allegations of crime and for the justice system to determine innocence or guilt."
- Additional reporting by Rónán Duffy