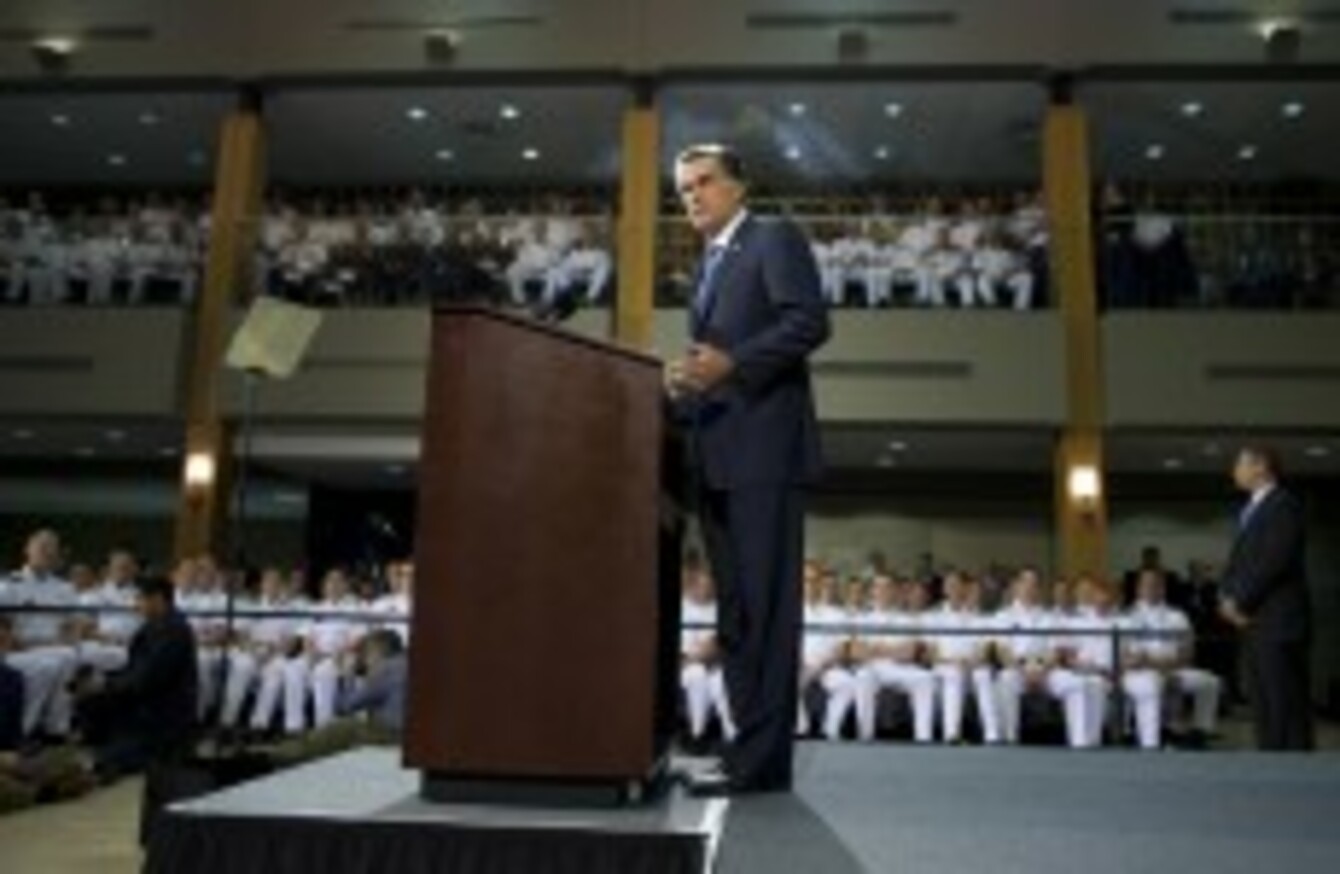 Mitt Romney gives a foreign policy speech at Virginia Military Institute earlier today.
Image: Evan Vucci/AP
Mitt Romney gives a foreign policy speech at Virginia Military Institute earlier today.
Image: Evan Vucci/AP
THE REPUBLICAN CANDIDATE for US president, Mitt Romney, has said the risk of conflict in the Middle East "is higher now" than it was when President Barack Obama took office – proposing that the US take a more assertive role in Syria.
In a wide-ranging speech on foreign policy, Romney claimed Obama's withdrawal of troops from Iraq has jeopardised US interests in the Middle East and wider world.
Declaring that "it's time to change course in the Middle East" and accusing Obama of "passivity," the Republican presidential nominee called for the US to work with other countries to arm the Syrian rebels to help them defeat President Bashar Assad's "tanks, helicopters and fighter jets".
Romney aides said he is not calling for the US to directly arm the rebels, but said he would support helping other countries provide the opposition with enough weaponry to force Assad from power.
Romney said American gains in Iraq — won during the war started by President George W. Bush — have eroded. "America's ability to influence events for the better in Iraq has been undermined by the abrupt withdrawal of our entire troop presence," he said.
In a speech at the Virginia Military Institute, Romney looked to paint the Democratic incumbent as a weak leader who has limited America's influence on global affairs.
Obama's campaign dismissed the Republican challenger's address as a rehashed attempt to rewrite what they said is his record of past blunders and said he hardly differentiated himself from the president.
US should wield power 'wisely, with solemnity'
While Romney took a hawkish tone during the GOP primaries this year, today's address highlighted the work of "patriots of both parties" and looked to cast the Republican nominee as a statesman and part of a long and bipartisan tradition of American leadership in the world.
He said the U.S. should use its power "wisely, with solemnity and without false pride, but also firmly and actively."
In the speech, Romney emphasised Iran's ties to the Syrian government and insisted that the US, through allies, should "support the many Syrians who would deliver that defeat to Iran rather than sitting on the sidelines."
This would allow the US to "develop influence with those forces in Syria that will one day lead a country that sits at the heart of the Middle East", he said.
Romney also called for tougher sanctions on Iran than those that exist, though he did not say how he would strengthen them. He said he would condition aid to Egypt on continued support for its peace treaty with neighbouring Israel. Current law already includes such a condition.
The Republican nominee also emphasised his commitment to a two-state solution for peace between the Israelis and Palestinians, a process he dismissed during a secretly videotaped fundraiser in May. He also criticised the administration for its handling of the attacks in Benghazi, Libya.
"As the administration has finally conceded, these attacks were the deliberate work of terrorists who use violence to impose their dark ideology on others," Romney said.