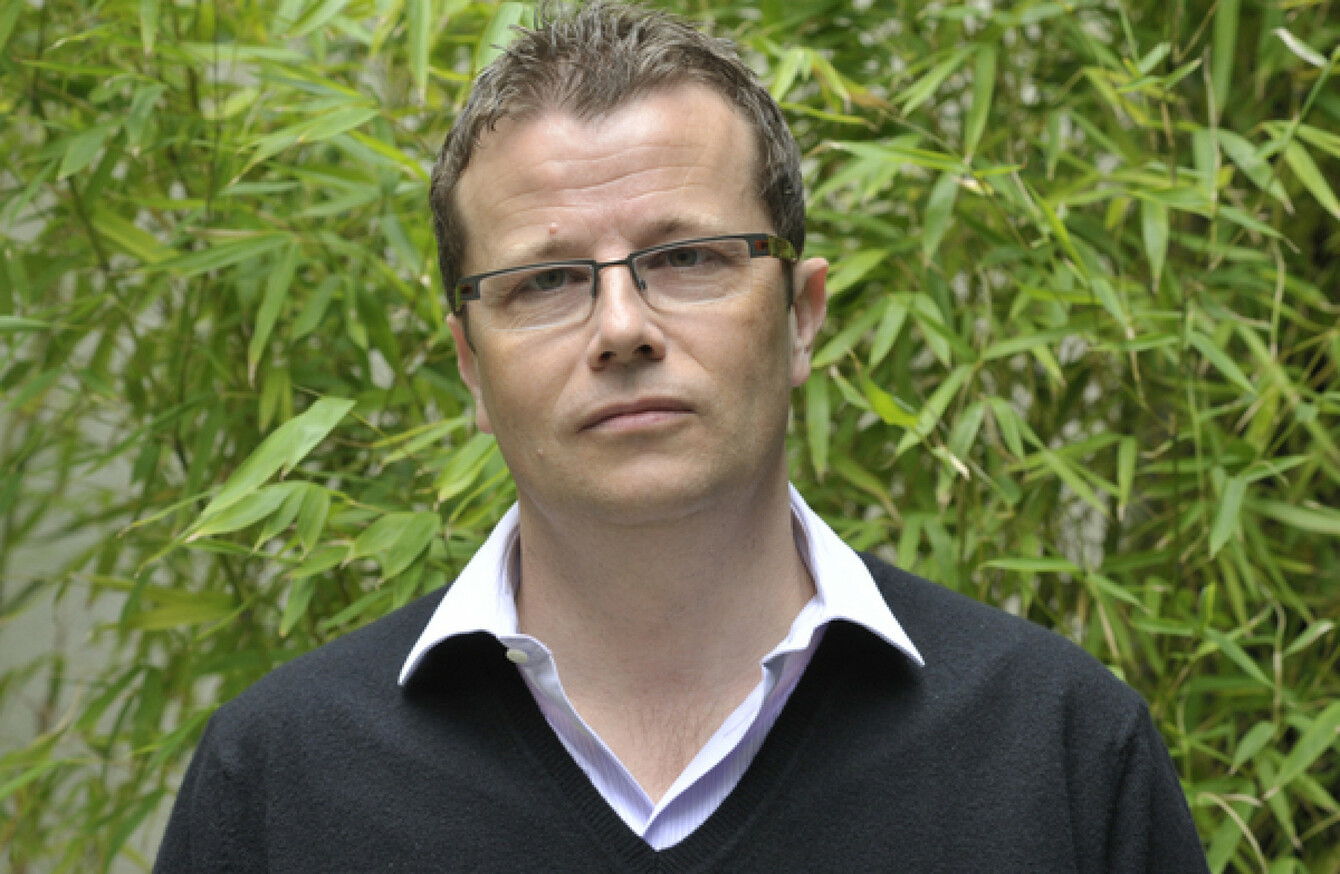 Paul Howard.
Image: Sasko Lazarov/Photocall Ireland
Paul Howard.
Image: Sasko Lazarov/Photocall Ireland
THE WRITER BEHIND the Ross O'Carroll Kelly character was barred from an interview on a Dublin music radio station today as the fallout from George Hook's comments about rape continues.
Yesterday it emerged that Communicorp, which owns Newstalk and four other radio stations in Ireland, has banned Irish Times journalists from appearing on any of their programmes because of an article Fintan O'Toole wrote in the paper in the aftermath of Hook making controversial comments about rape on his show High Noon.
Today Paul Howard was pulled from an interview on Spin 1038 where he was due to appear in character as his Ross O'Carroll Kelly creation to promote his new show Postcards from the Ledge.
"Fock! I've turned up at Morconi House for my interview on @spin1038 and they won't let me in!" the fictional character wrote on his Twitter account.
"They're saying I'm banned because I work for the Irish Times. I'm like, 'No, I don't. I only go in there to collect my expenses,'" Ross added.
Paul Howard repeated the statement on his personal Twitter account:
On @NewstalkFM last night, Ivan Yates asked me about the importance of freedom of expression in this hyper-sensitive media age… This morning I was turned away from a pre-booked interview on @spin1038 because I write for the same newspaper as @fotoole (Fintan O'Toole).
The author added that Spin 1038 had contacted him earlier that morning to inform him that he was cancelled and he didn't just learn when he arrived at the door.
He also retweeted a message likening the episode to a scene from one of his books.
Howard later followed up to lay the blame on Communicorp's management and said he will continue to listen to shows on Newstalk and its sister station Today FM.
In his column last month Fintan O'Toole announced that he would not appear on Newstalk again and described the station as "the most flagrantly sexist public organisation in Ireland".
In a statement on its website Communicorp, which is owned by Irish billionaire Denis O'Brien, labelled O'Toole's article a "deliberate and damaging attack on both the station and its staff".
Communicorp had requested The Irish Times apologise to its staff. The Irish Times has refused and therefore the station has no choice but to make this decision.
Last night broadcaster Dil Wickremasinghe announced that her Newstalk show, Global Village, had been cancelled.
Before Hook's suspension Wickremasinghe announced that she would not present the show due to what Hook said.
Hook was suspended on September 15 after widespread condemnation of his comments on the issue of rape in which he asked "is there no blame now to the person who puts themselves in danger?"
He is returning to Newstalk from December to take on a new weekend slot after stepping down from his afternoon show.
"Bizarre decision"
The Broadcasting Authority of Ireland (BAI) said it will consider Communicorp banning Irish Times journalists at its next meeting.
The authority will also write to Communicorp to "clarify a number of matters in respect of editorial independence and the contractual commitments of individual services."
Meanwhile the Secretary of the National Union of Journalists, Seamus Dooley, said the decision strikes him as "mean and vindictive".
Speaking on Today with Sean O'Rourke on RTE Dooley said:
I would have thought that it was actually a fairly bizarre decision in that Irish Times journalists provide a service to Newstalk, Newstalk in particular don't actually hire journalists to do this work.