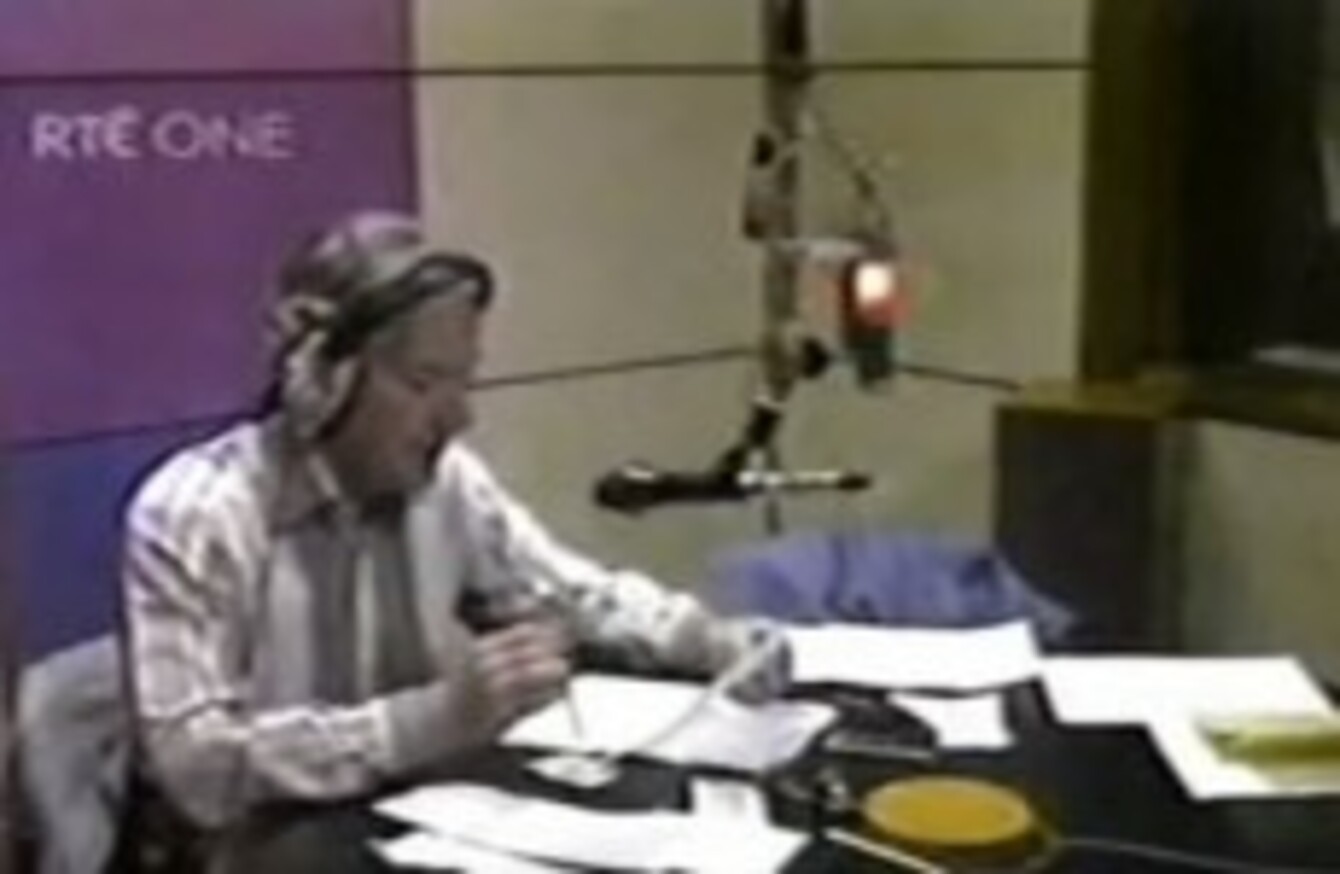 Image: Screengrab via RTÉ
Image: Screengrab via RTÉ
THIRTY YEARS AGO today, a 15-year-old schoolgirl left school in Granard, County Longford.
Unlike her peers, Ann Lovett did not go home. She went to a grotto at the top of the town. There, alone in the cold, she gave birth to an infant son. Her son died there, in front of a statue of the Virgin Mary. Ann died later that day in hospital.
The story made front page news, but was originally dismissed as Gay Byrne went through the papers on The Late Late Show that week.
However, Byrne would soon be inundated with letters to his RTÉ Radio show. In his own words "there were too many to ignore".
The event proved seminal in the Irish discussion on children being born out of wedlock and on teenage pregnancy.
Byrne took his entire show to read out letters from women who he said thanked Ann Lovett.
"They thank Ann Lovett for giving them the courage to express what they have kept secret. Her sacrifice was not in vain, is their point."
Letters
From across the country, women shared their stories, with Byrne reading out letters from women who had been shamed into either giving up their children or were disowned by their families.
Said a woman from Wexford:
"It was decided that I would go and look after my poor old sick great-aunt in Dublin.
After six weeks I gave birth to a baby boy and returned home immediately to pick up from before, as if nothing had ever happened. Never in the past 10 years since the birth of my baby have my parents ever talked about my pregnancy.
A woman from Limerick told a disturbing tale of an unmarried farm hand who had choked her baby to death in an attempt to conceal her affair with a married man.
'A martyr'
One letter called Ann a "martyr" for her generation.
#Open journalism No news is bad news Support The Journal

Your contributions will help us continue to deliver the stories that are important to you

Support us now
"I really believe it was meant to happen to save this generation.
"On having several conversations here in schools, there was not a home in Ireland on Sunday night that parents were not sitting down talking to their children, hoping to make them understand that they should feel able to tell their parents if they have a problem."
Another woman from Cork wrote about the day she gave birth at 15.
I walked around, wondering what I was going to do. I was going to jump into the river. I kept praying to myself and I decided to go home. I went to bed, telling my mother I had a sore throat. I went through eight hours of strong labour.
"My mother came into the room to check on me, and you can imagine her shock. She rushed for the doctor and everything turned out fine."
Tomorrow, RTÉ Radio One will broadcast the letters at 6pm. A documentary by Lorelai Harris can be heard here.