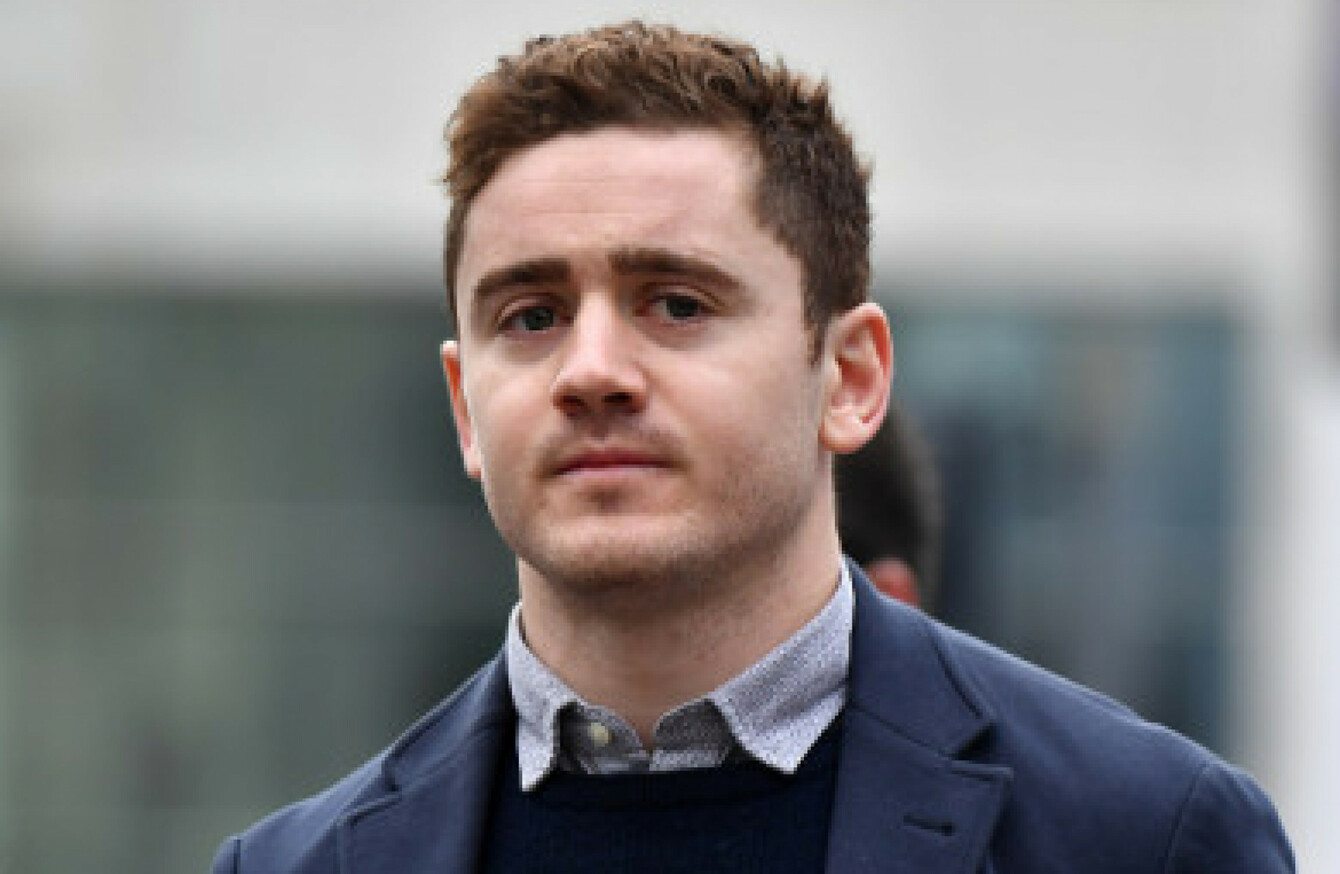 Paddy Jackson
Image: Charles McQuillan
Paddy Jackson
Image: Charles McQuillan
THE BARRISTER REPRESENTING Ireland and Ulster rugby player Paddy Jackson ended his closing submission to a jury today telling them that last 20 months of his client's life have "been blighted" by poor quality evidence.
Brendan Kelly brought to a close the end of the seventh week of the trial at Belfast Crown Court by telling the jury of eight men and three women that the case against Jackson was riddled with inconsistencies.
He also branded parts of the police investigation as "a shambles", and accused the woman at the centre of the case as lying to both her friends and medics in the aftermath of the alleged attack as she didn't want her life to be "ruined" if it emerged on social media that she had engaged in group sex.
Jackson (26) has been accused of raping the then 19-year old from behind in the bedroom of his Oakleigh Park home following a night out in Ollie's, whilst his teammate Stuart Olding (24) has been charged with forcing her to perform oral sex on him at the same time.
Both men have denied the charge, claiming any sexual activity in the early hours of 28 June 2016 was fully consensual. Jackson has been charged with, and denies, an additional charge of sexual assault.
Kelly started his closing submission – consisting of 15 chapters – yesterday. It concluded today with the barrister saying Jackson was "not trying to play the rugby card" and was not looking for any "special treatment".
Returning to the young woman who also attended the afterparty at Jackson's and who walked in on the scene in the bedroom, her evidence was described as "absolutely vital to the case".
Pointing out this witness told both the police and the court whilst giving evidence that the complainant "was not distressed", Kelly said this "articulate" young woman also said sexual noises she heard on the stairs stopped when she opened the door.
Kelly told the jury the Crown's case was that the complainant was subjected to a violent rape from one then two men, who were holding her against her will, for over an hour.
In his address, he said: "When people commit crime, we all know this, it's common sense, they tend to hide, they try to conceal what they are doing. What did these two violent rapists do when a witness walked in, rumbling what they were doing? They invite her to join."
Kelly questioned what the complainant told both friends and medics in the immediate aftermath of the alleged attack. The barrister asked why she hadn't told friends or a doctor who examined her that she had been orally raped, and that a woman walked in on the incident.
'I am ruined'
This, the barrister said, was part of her lie that she had been raped, when in fact she had engaged in group sex. Setting out a reason for this lie, Kelly said she was thinking:
"If I talk about the witness or the oral, then I'm blown, I'm in trouble. They will not believe me.
"If this ever gets out on social media, they will not believe it was rape. I have to maintain the lie it was vaginal rape by two, because if I do not, I am ruined."
Kelly told the jury the complainant went to the police after being "pressured" by her friends, and branded parts of the police investigation – including taking no notes of the complainant telling officers at the end of her first interview she had something else to tell them and which wasn't pursued for weeks – as "slack" and "a shambles".
The barrister ended his submission by turning his attention to his client. Indicating Jackson didn't need to give evidence in the trial but chose to do so, Kelly spoke of Jackson's good character.
Saying "Paddy Jackson is not looking for special treatment, that has never been his pitch either," Kelly told the court that "everybody talked about their job" when called to the witness-box, adding "he plays for Ireland. So what? Should he ignore it?"
Character witness
Asking the jury to consider what the character witnesses said under oath about Jackson – including his future sister-in-law who said he got more placid the more drink he consumed – Kelly also asked the jury to ignore the headlines of rugby rape and to instead consider the evidence.
In addition, he asked the jury to cast their minds back to CCTV footage of Jackson outside Ollie's, where he politely poses for a selfie with a woman. Urging the jury to consider his demeanour, Kelly asked if within an hour, Jackson had "turned into a marauding rapist".
Rejecting the Crown's claims that what went on in Jackson's bedroom was a "throwback to the days of male entitlement", Kelly spoke of inconsistencies and untruths in the case.
He concluded by saying "20 months of his (Jackson's) life has been blighted by evidence of a poor quality".
After Kelly's submissions came to an end, Judge Patricia Smyth thanked the jury and told them to have a good weekend.
The trial is due to resume next Wednesday, when Frank O'Donoghoe QC – representing Stuart Olding – will begin his closing submission to the jury.
Comments are off as legal proceedings are ongoing.