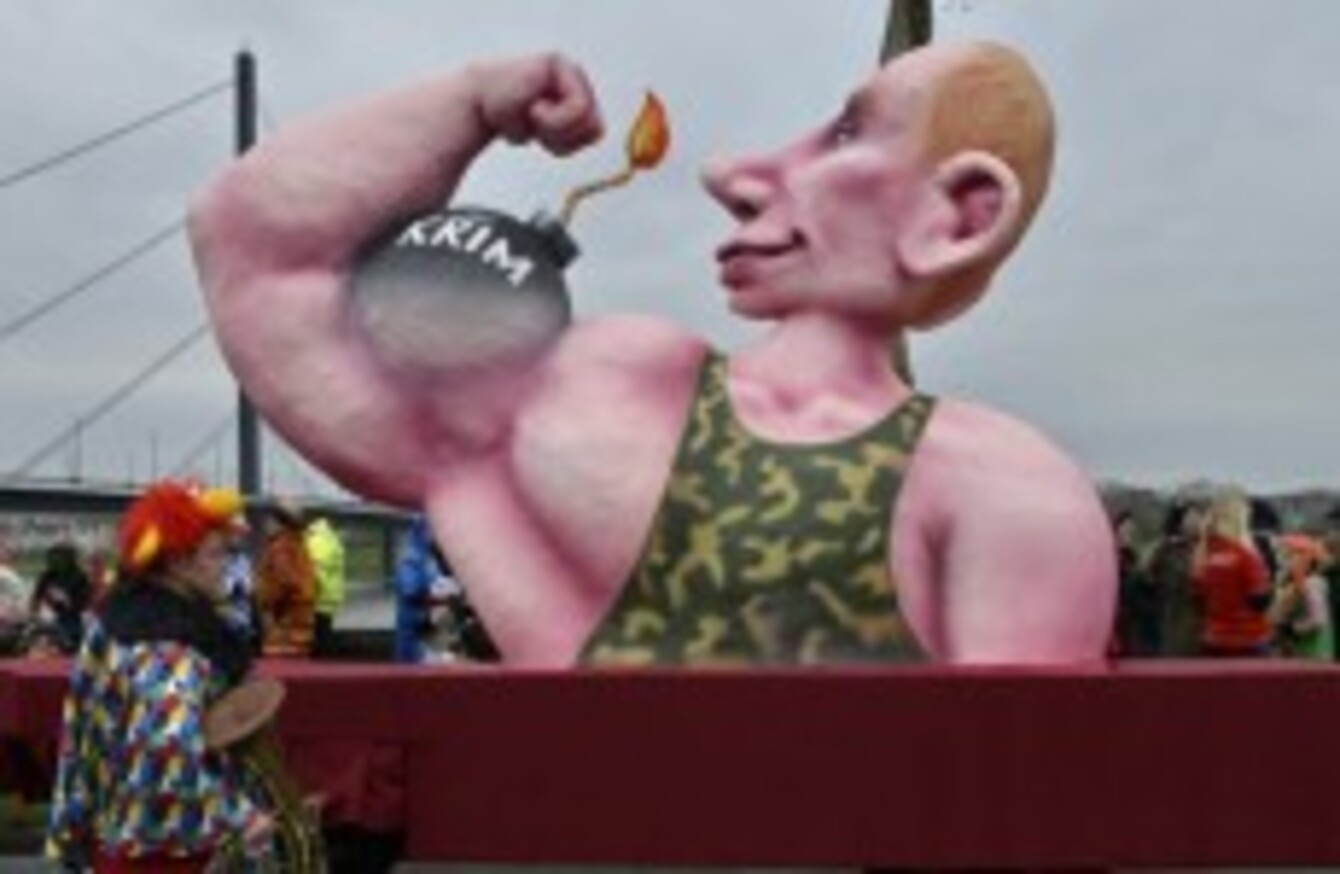 A float depicting Russia's president Vladimir Putin in Dusseldorf.
Image: AP Photo/Martin Meissner
A float depicting Russia's president Vladimir Putin in Dusseldorf.
Image: AP Photo/Martin Meissner
"F**CKED AND BRAINWASHED by the EU big time." That's what a Russian journalist and former Kremlin advisor thinks of the Irish people after an interview on RTÉ's Morning Ireland today.
Alexander Nekrassov made the comment in a tweet after being interviewed by RTÉ's Cathal Mac Coille about Russia's intervention in the Ukrainian crisis.
Nekrassov, who also edits a London based current affairs website , did say however that the Irish are "great people" and seemed energised by the debate with Mac Coille:
The interview started out as you might expect with Nekrassov saying that Russia was forced to intervene in Ukraine because "Russia doesn't want a country torn apart by violence and instability on its borders".
He said that the Russia is concerned about the rise of "neo-fascists and anti-Semites" following the overthrow of Viktor Yanokovych and claimed that there are four neo-nazis in the new unity Government.
Mac Coille accepted that the EU had concerns about some of the elements of the new Government but challenged Nekrassov on his contention that neo-fascism was widespread in the new Ukraine.
But the interview became heated when Mac Coille asked Nekrassov about a video that emerged yesterday of unmarked armed troops, believed to be Russian, preventing Ukrainian soldiers from entering their base in Ukraine.
Nekrassov claimed that the incident was seized upon by the Western media without examination and said there was "clear provocation" on the part of the Ukrainian troops:
One of them carried a Soviet flag and I have no idea what that was about. These people had brought a lot of press with them, a lot of them were singing and pretend that they were going to work.
Mac Coille asked him if the same thing happened in Russia what the response of the Russian troops would have been.
Nekrassov said that the situations are not comparable because there is no threat from neo-nazis in Russia as there is in Ukraine, he said that Mac Coille's question "sounds like propaganda as well".
Both men seemed to take the interview in good spirits as this exchange shows:
You can listen to the interview in full here.