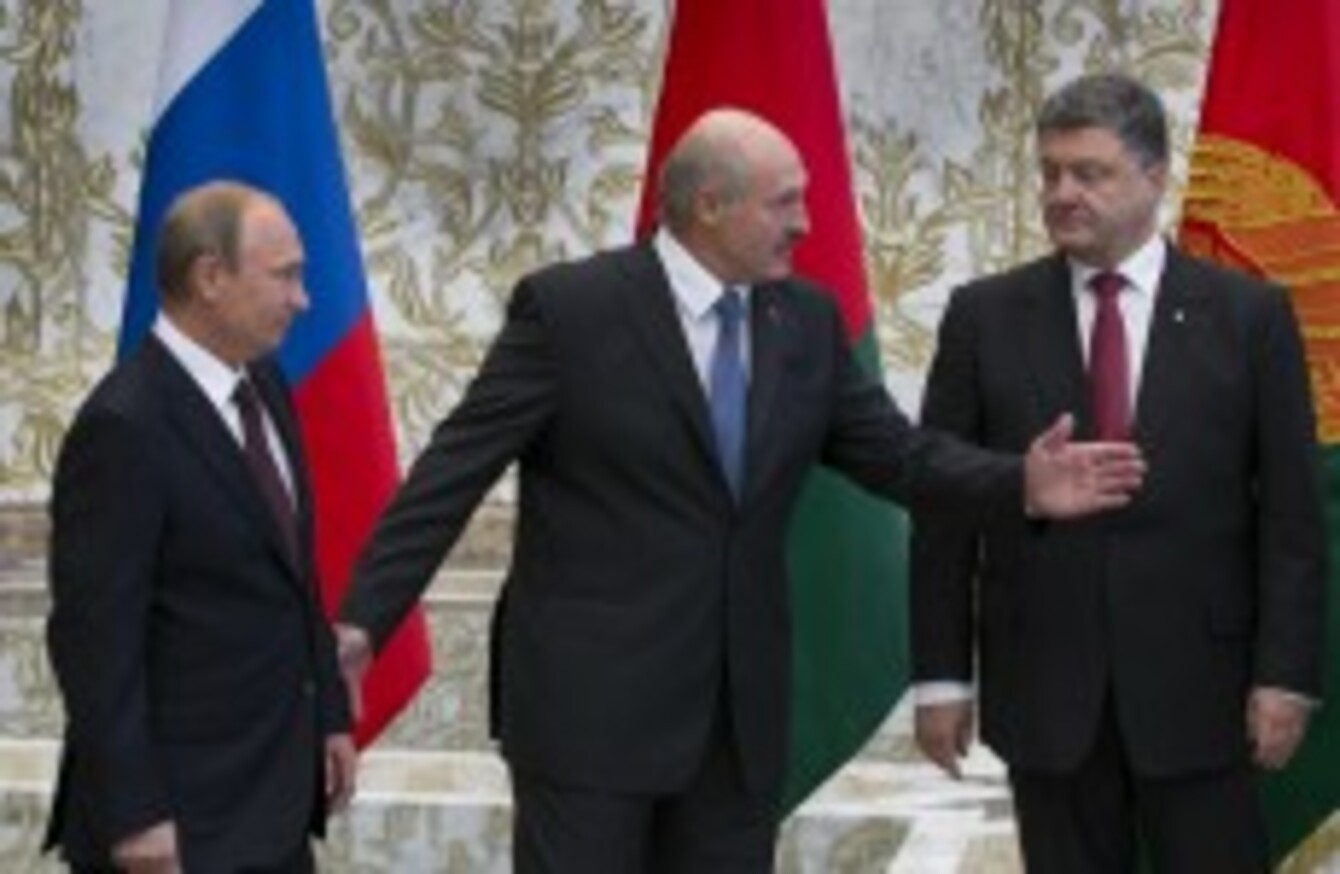 The two leaders last met in August.
Image: AP/Press Association Images
The two leaders last met in August.
Image: AP/Press Association Images
UKRAINE'S PRESIDENT PETRO Poroshenko said today that he will meet with Russia's Vladimir Putin next week.
Kiev has reported rebel attacks have subsided, signalling the possibility of rescuing a truce in the six-month conflict.
Pro-Russian rebels and the Ukrainian military in the eastern Donetsk region said they have agreed to a no-shooting period, and the army announced "progress" in negotiations and readiness to pull back forces.
Kiev has accused Moscow of fuelling the insurgency in Ukraine's Donetsk and Lugansk regions, including by sending regular contingents across the border which the government no longer controls.
Putin and Poroshenko will meet on Friday, for the first time since August, while attending the Asia-Europe Meeting (ASEM) summit in Milan, Poroshenko said on a visit to Kharkiv.
'Won't be easy'
"I don't expect that these will be easy negotiations," he said, adding that the talks will also include the prime ministers of Italy and Britain as well as German Chancellor Angela Merkel.
Poroshenko said he will discuss with Putin the the peace plan and ceasefire, and "the issue of controlling the fulfilment of the agreement," as well the gas dispute with Moscow that threatens to plunge Ukraine into a very cold winter.
"We are very close to regulating the issue of the gas dispute with Russia right now," he said. "I hope that there will be considerable progress" on that.
Putin and Poroshenko last met one-on-one in late August in the Belarussian capital Minsk, after which Kiev announced a truce accord with the pro-Moscow separatists, which has proven largely ineffective.
Newly appointed Donetsk governor Oleksandr Kykhtenko also said the meeting will address the threat of the region's population being cut off from Kiev's support ahead of a cold winter.
"There are various issues concerning education, health and social support. We cannot abandon our people and forget that we are responsible," he said, adding that he is ready to negotiate with the rebels if it will prove constructive.
"The president of our country will be meeting the head of Russia and will address these issues," Kykhtenko said at a press-conference on Saturday after Poroshenko sacked his predecessor Sergiy Taruta in the post on Friday.
 'No-shooting period' 
In Donetsk, dozens of people have been killed in recent weeks in crossfire long-range shelling as rebels appear to pound the airport from residential areas, blaming civilian casualties on Kiev's rocket launchers outside the city.
The United Nations has put the post-truce death toll at over 300 as both sides blame the other for violating the agreement which commits them to pulling back heavy artillery to create a 30-kilometre wide demilitarised zone.
Alexander Zakharchenko, the "prime-minister" of the separatist Donetsk People's Republic said this week that Kiev is ready to cede several villages near the airport, and that the rebels have agreed to a five-day no-shooting period.
The Donetsk rebels and Kiev-appointed governor Kikhtenko both announced today that an agreement has been reached to stop firing starting at 9am (4pm GMT).
In a sign that the foes could be haggling over the specifics of withdrawal, Kiev said its officers are meeting with Russian officers and separatist representatives as part of an established contact group, but also hotly denied that it will cede any territory to the rebels.
"We are ready to abide by the agreement on pulling back heavy equipment… as soon as the terrorists stop firing at our positions and residential areas," said military spokesman Andriy Lysenko.
"In general there is progress in negotiations," Lysenko said, adding that the "intensity of attacks appears to have subsided."
"But I have to say that we are not surrendering a single town, we are not retreating, we are staying put."
Four civilians have been killed since Friday, authorities of the Donetsk and Lugansk regions said, and a border guard died after a Ukrainian convoy was attacked by the rebels about 20 kilometres south of Donetsk, according to the military.