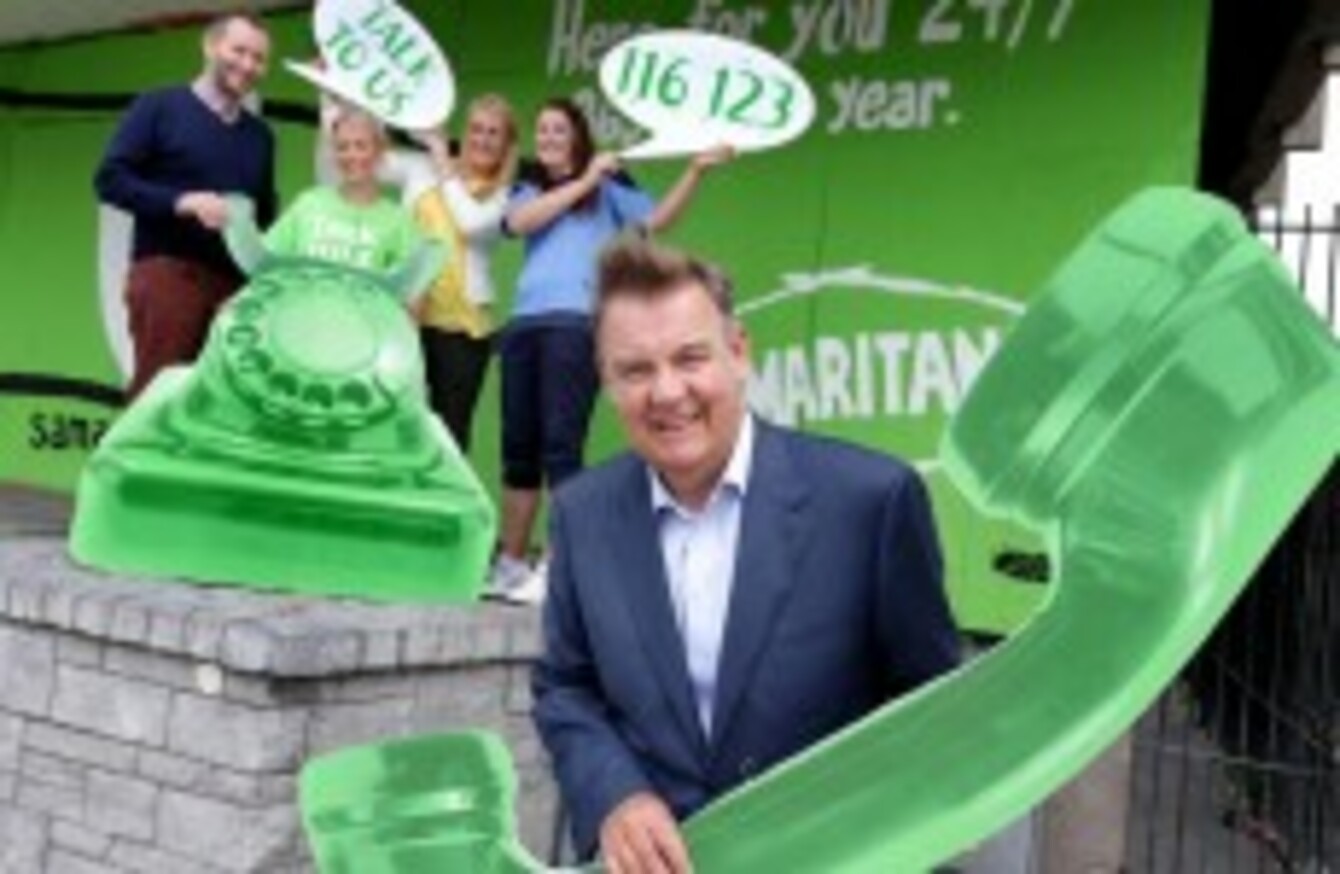 Image: Marc O'Sullivan
Image: Marc O'Sullivan
SAMARITANS' VOLUNTEERS WILL be taking to the streets of Ireland this summer to let people know more about the services they provide.
The awareness campaign 'Talk to Us', emphasises the importance of talking and highlights that the charity is available round the clock for anyone struggling to cope.
RTÉ's 'Six One' news anchor, Bryan Dobson, and Newstalk's 'Off the Ball' presenter, Ger Gilroy, were among those who launched the event earlier this week.
TG4's sports commentator, Deirdre Breathnach, and Sarah Ryan from the Dublin Senior Camogie Team also come on board to lend their support.
The launch marked the unveiling of a specially commissioned 45 foot by 10 foot, 'Talk to Us' mural.
It's painted in bright green along the side of River House on Chancery Street in Dublin's north inner city.
On average, about 80,000 Luas passengers pass by the space every day.
Bryan Dobson said:
Often those needing to talk can find it difficult to open up to those closest to them, and it can be easier to talk to a stranger. That's where Samaritans comes in, and they can be a real beacon of hope to those in need.​
As part of 'Talk to Us', Samaritans are teaming up with the GAA and will have a presence at the Leinster and Ulster football finals.
This will involve:
the charity's volunteers promoting the service
displaying information about the Samaritans on the big-screen and in the match programmes
distributing awareness posters to all GAA clubs nationwide
Newstalk's 'Off the Ball' presenter Ger Gilroy, added: "There is still a huge stigma in the sporting world around mental health issues.
The Samaritans' 'Talk to Us' campaign, in addition to their recent partnership with the GAA, goes a long way towards breaking down these barriers and encouraging people to talk to others when they are going through challenging times.
Volunteers
Samaritans' volunteer Majella Canty said: "Many of the people who contact us are not suicidal, but they may be struggling to cope with their problems.
Our volunteers are ordinary people who provide a safe space to talk. Calls are confidential and those who contact us can be themselves.
"We are so grateful to our team of well-known personalities for coming together to support the campaign, and reaching out to men in particular to encourage them to talk.
We know from our work that men are often more reluctant to talk about their problems and less likely to seek help.
Samaritans' branches throughout the country will be holding events in their communities over the months of July and August to raise awareness of the support they provide.
Highlights of the nationwide programme of activity include:
Galway: Volunteers from Galway Samaritans will be taking part in an awareness event on July 5 and 6 at the Galway Garden Festival at Claregalway Castle.
Cork: Volunteers from Cork Samaritans will be at Lee Swim on 12 July.
Waterford: Volunteers from Waterford Samaritans will hold an awareness night at the Kilcohan Greyhound Stadium on Saturday 12 July at 7.30pm.
Dublin: Volunteers from Dublin Samaritans will be on Pearse Street and in the Grand Canal area from 12 to 2pm each day from 21 to 23 July. They will then be on Grafton Street from 12pm to midnight on 24 July and O'Connell Street from 12pm to midnight on 25 July.
Limerick: Volunteers from Limerick Samaritans will hold an awareness event on Bedford Row from 2pm on 23 July.
Newbridge: Volunteers from Newbridge and Kildare Samaritans will be at the Whitewater Shopping Centre on 25 July from 1-3pm.
Sligo: Volunteers from Sligo Samaritans will be at the Lough Gill 10k Swim on 30 August.
More than 2,400 people volunteer with Samaritans Ireland.
The charity launched a new free to call number – 116 123 – earlier this year, which has resulted in an almost 20% increase in answered calls.
The number of answered calls has now risen from 39,479 calls in March to 46,691 in May 2014.
Canty added that, "Samaritans' services are highly professionalised but – unlike so many big, national organisations – they are delivered entirely by volunteers.
"Volunteers are the beating heart of the Samaritans organisation, delivering the core support service, running all branches, raising vital funds, and raising awareness of the work we do.
They come from all walks of life; live in different parts of the country; and range in age from early 20s upwards.
"Each volunteer commits 15 hours on average each month and undergoes a rigorous programme of initial and ongoing training."