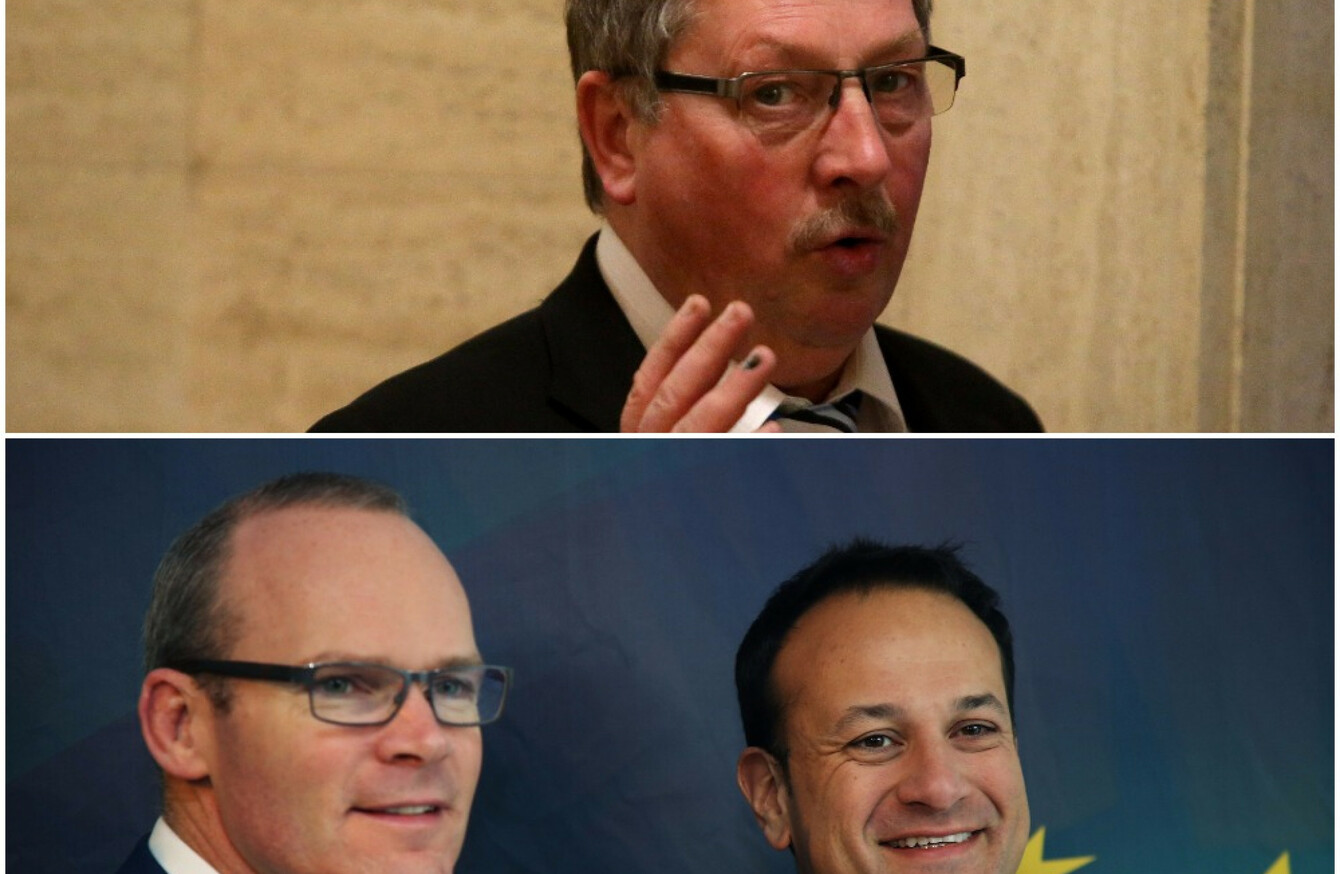 The DUP has been consistently criticising the Irish government.
Image: PA Images
The DUP has been consistently criticising the Irish government.
Image: PA Images
DUP MP SAMMY Wilson has claimed that the Taoiseach and Tánaiste have been "cynical, aggressive, green and partisan" in their approach to Brexit negotiations.
Wilson is one the DUP's most prominent voices in Westminster and was speaking to RTÉ's News at One following this morning's announcement that an agreement was reached between the UK and the EU about the Irish border post-Brexit.
The deal had appeared to be reached on Monday but this was scuppered at the last-minute by the concerns of the unionist party.
Wilson was among those in the DUP who blamed the Irish government for its approach during negotiations and again today claimed that Taoiseach Leo Varadkar and Tánaiste Simon Coveney had antagonised the unionist community.
"In Northern Ireland their handling of this has been seen as cynical, aggressive, green, partisan and has damaged relationships which were built up over a long period of time," he said.
And as a minister in the Northern Ireland Executive I had very good relationships with the finance ministers in the republic, but I can tell you none of them would have dealt with Northern Ireland in the way that those two, Coveney and Varadkar, have dealt with Northern Ireland.
"And whether they like it or not, they have damaged those relationships and are going to have to do a lot of work to convince unionists that they are not seeking to undermine Northern Ireland's position and using Brexit as a cover to do so."
In the past, Wilson has frequently made headlines for attacks on political opponents.
Last year he compared Sinn Féin to the so-called Islamic State group and he also made headlines when he said that public breastfeeding amounted to "exhibitionism".
(Click here if video doesn't play)
Disagreements between the Taoiseach and the DUP have been an undercurrent of the Brexit talks over the last six months.
Back in July, the DUP's Nigel Dodds claimed Varadkar's position on the border was "total nonsense" and there have been numerous other such examples since.
In the Dail this week, Varadkar said that the DUP does not speak for everyone in Northern Ireland.
Sinn Féin
Sinn Féin has also been giving its reaction to this morning's deal with party president Gerry Adams giving it a "cautious and qualified welcome".
"While the communiqué recognises the unique and special circumstances surrounding the issue of the Irish peace process, the Good Friday Agreement and the border it does not address key areas of concern for many citizens, especially nationalists living in the north and citizens in the border region," Adams said.
"The insistence by the British that Britain and the North must leave the customs union and the single market presents a real and live danger which cannot be understated."