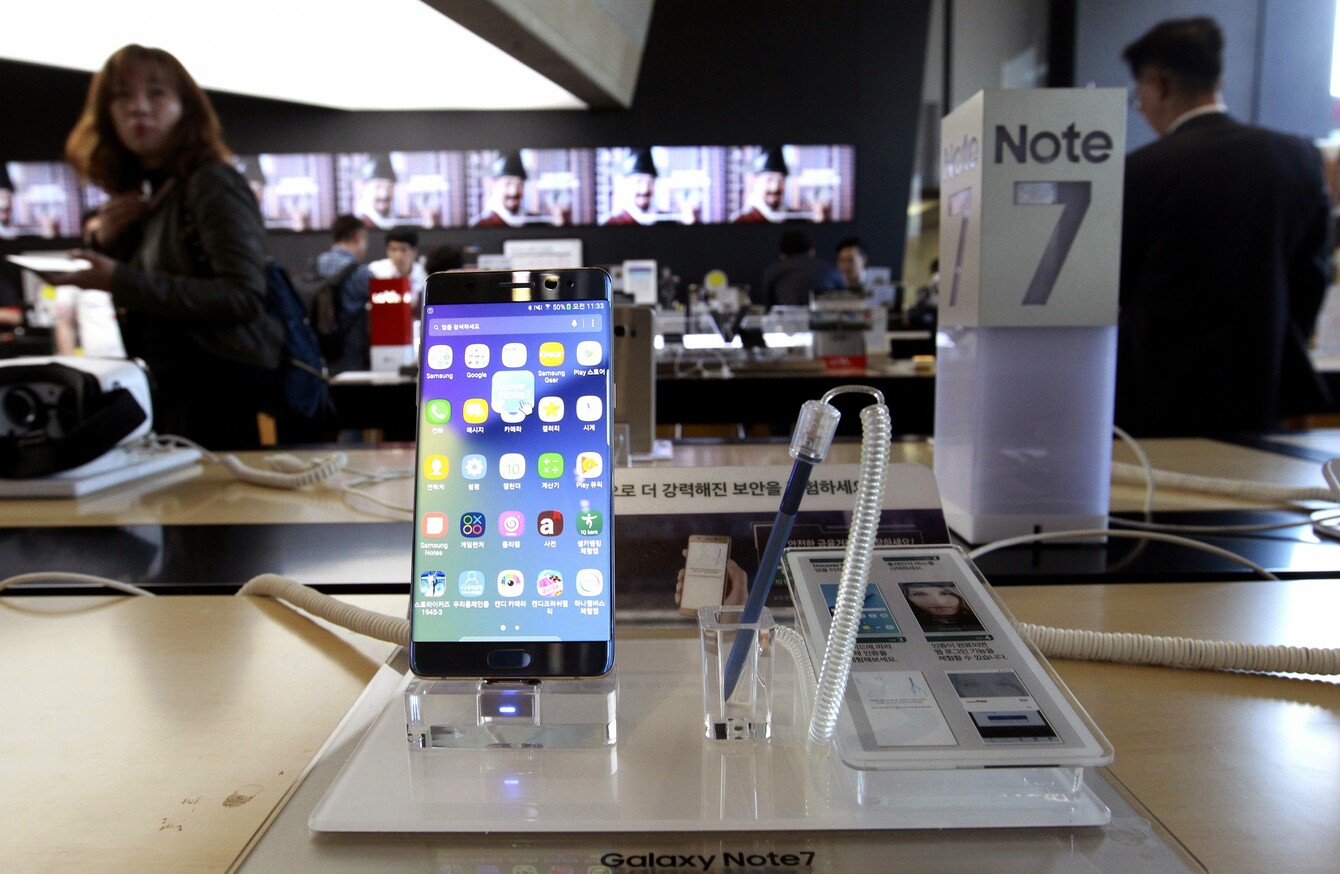 Image: Ahn Young-joon
Image: Ahn Young-joon
Updated 17.30pm
SAMSUNG ELECTRONICS TOOK another hit today over its recalled Galaxy Note 7 smartphone, acknowledging it was "adjusting" production of the device after major distributors stopped offering replacements because of continued safety concerns.
The South Korean electronics giant has struggled since issuing a global recall in early September for 2.5 million of its flagship Galaxy Note 7 "phablet" following complaints that the lithium-ion battery exploded.
Reports have since emerged of replacement units also catching fire, prompting US telecommunications firm AT&T and German rival T-Mobile to announce yesterday a halt to recall exchanges pending further investigations.
Their announcement prompted a steep dive in Samsung's share price, which fell more than 4% at one point in morning trade. It recovered later to close the day at 1.68 million won ($1,515) – down 1.52%.
The market was also reacting to a South Korean media report that Samsung had temporarily shut down Note 7 production lines after discussions with consumer safety regulators from South Korea, the United States and China.
In a statement, Samsung – the world's largest maker of smartphones – said:
We are in the process of adjusting production volumes, to enhance quality control and to enable thorough investigations following the recent cases of Galaxy Note 7 explosions.
Analysts have suggested that Samsung, battling ever-fiercer competition in the saturated smartphone market, may have rushed production of the Note 7 with bitter rival Apple's recently released iPhone 7 in mind.
The top-of-the-line Note 7 was crucial to Samsung's growth plans this year, with the company struggling to boost sales, squeezed by Apple in the high-end sector and Chinese rivals in the low-end market, as profit has stagnated.
Image problem 
With images of charred phones flooding social media, the unprecedented recall has proved a humiliation for a firm that prides itself as an icon of innovation and quality.
The recall process initially stumbled with some mixed messages, but seemed to be on track until last week when the reports of replacement phones catching fire began to emerge.
AT&T said it would still offer customers the option to exchange Galaxy Note 7s for another Samsung smartphone or other device of their choice, while T-Mobile said it was halting sales of the Note 7 as well as the exchanges.
"It's all got very serious again," said S.R. Kwon, an analyst at Dongbu Securities.
They could just pull the Note 7 off the market, but the real concern is that it might not even end there.
"It will damage Samsung's brand image and also affect the sales of other Galaxy smartphones," he added.
AT&T is the South Korean company's third-biggest customer while T-Mobile's parent is number four, according to estimates compiled by Bloomberg.
Bryan Ma, vice president of devices research for IDC, called the latest development "an ongoing nightmare".
"The question is, if they switched the (battery) supplier, why is this problem still happening?" Ma told Bloomberg. "In other words, was it really a supplier issue or is there something else going on?"
Management spotlight
The trouble with the Note 7 and the handling of the recall, which analysts say could cost up to $2.0 billion, has shone a spotlight on Samsung's management at a time when it is navigating a tricky generational power transfer within its founding Lee family.
Industry experts have criticised the Lee dynasty for controlling the vast group through a complex web of cross-shareholdings, even though they directly own only about five percent of total stocks.
And Samsung is also under pressure from one of its shareholders, the activist US hedge fund Elliott Management run by billionaire Paul Singer.
In a detailed proposal unveiled last week, Elliott laid out a strategy for streamlining Samsung, splitting the company in two, dual-listing the resulting operating company on a US exchange and paying shareholders a special dividend of 30 trillion won ($27 billion).
Elliott argued that Samsung, currently a maze of listed and unlisted companies with a notoriously opaque ownership and management structure, had suffered from a long-term undervaluation in the equity market.
Despite all its problems, Samsung on Friday issued a stronger-than-expected operating profit forecast for the third quarter, thanks largely to strong sales of memory chips and OLED display panels.