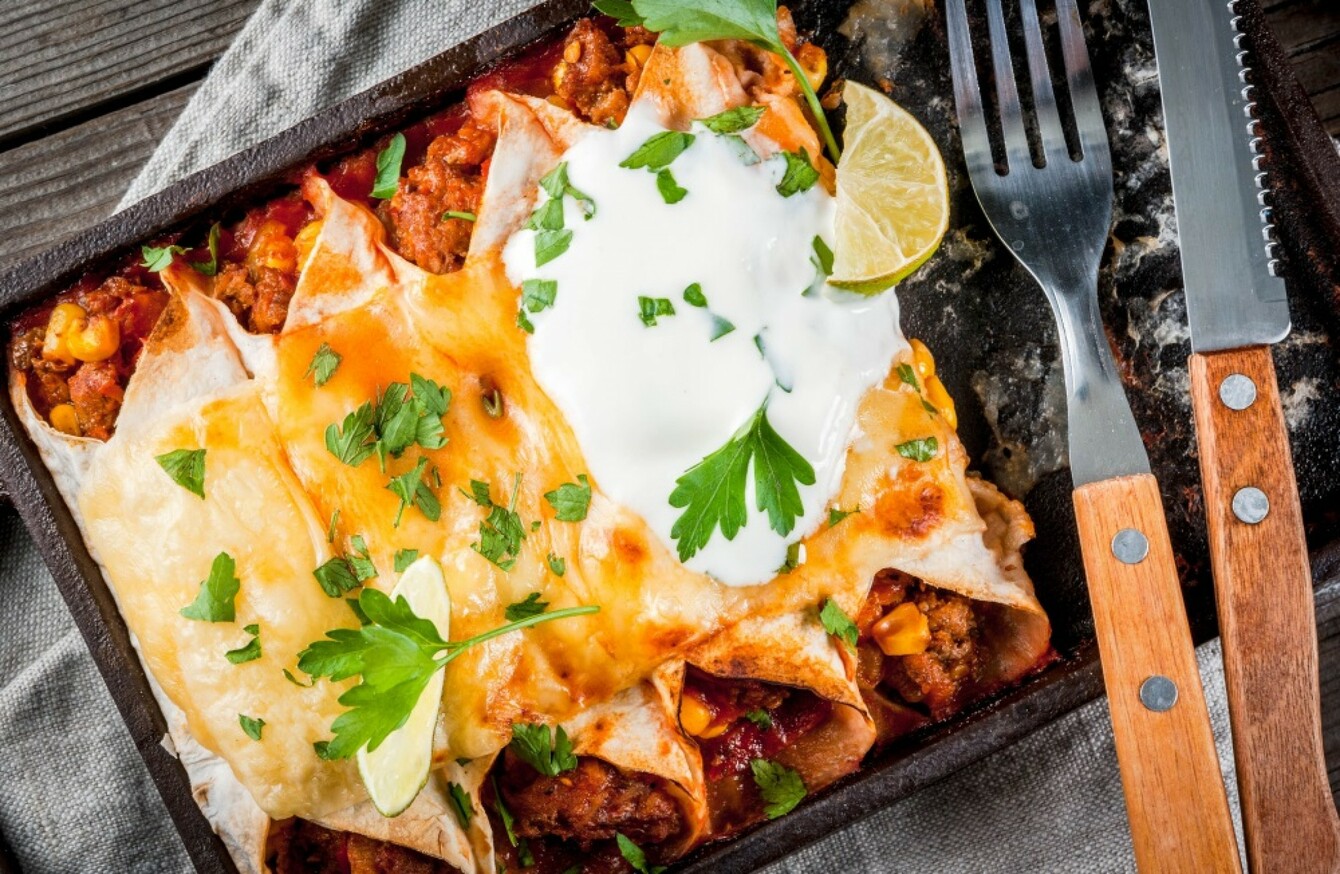 Image: Shutterstock
Image: Shutterstock
WHETHER YOU'RE A full-time vegetarian or a carnivore who just wants a break from meat, it's always a smart move to mix up your menus, cutting out chicken, beef, pork and other classic Irish dinnertime staples for a while.
Vegetarian recipes used to get a bad rap: people worried a recipe would be too complicated, too filling, not filling enough, or that it just wouldn't appeal to everyone at the table.
But by now there are so many delicious veggie-based recipes out there, it's simple to satisfy the taste buds of even the most diehard carnivore. And with the right recipe, you won't even think about whether your meal contains meat or not.
From enchilada bakes to flavour packed veggie burgers, most of the below meal ideas can be batch cooked and stored in the freezer for later. Try one of these for a vegetarian meal that's exciting, vibrant and full of flavour…
1. Lentil shepherd's pie: A meat free shepherd's pie is great for cooler evenings when you're craving something really comforting. First, heat some oil in a large frying pan and fry some finely chopped onion, garlic, carrots, mushrooms and celery. Add a glass of red wine and allow to simmer for a few minutes to boil off the alcohol. Pour in a tin of chopped tomatoes, a stock cube, thyme, tomato puree, Worcestershire sauce and season with salt and pepper. Next, add a tin of drained lentils and stir, adding hot water if the mixture needs more liquid. Bring to a simmer, then transfer to a gratin dish. Top with mashed potato, grated cheese, and bake in a hot oven for 20-30 minutes, until the topping is golden. Looking to go vegan? Skip the cheese, and swap normal potatoes for sweet potatoes for a moreish taste, as in Deliciously Ella's recipe.
2. Creamy gnocchi bake: Start off by boiling a pack of gnocchi in salted boiling water for about 2-3 minutes (or use your favourite pasta if you can't find gnocchi), then drain and set aside. Heat some olive oil in a large frying pan and sauté finely chopped onion and crushed garlic. Once soft, add a tin of tomatoes and some chili flakes, and simmer for 10 minutes until the sauce has started to thicken. Stir through a dollop of crème fraiche, a handful of spinach leaves and season with salt and pepper. Add the cooked gnocchi and mix everything together, then transfer to an oven proof dish. Top with grated mozzarella and bake for 30 minutes, until bubbling. Serve with garlic bread to soak up that wonderfully rich sauce!
3. Spinach and bean enchilada bake: Fry onion, garlic and peppers in a pan for a few minutes before adding the spices; a mixture of ground cumin, paprika and chili powder. Next, add a half tin of chopped tomatoes and simmer for 10 minutes, until the sauce has thickened. Add in a tin each of drained cannellini and black beans, a bag of baby spinach leaves, and stir to combine. Place a tortilla onto a board or plate and spoon the mixture into it, repeating until all of the filling has been used it. Pour the other half tin of tomatoes over the top, sprinkle with some grated cheese, and bake for 15 minutes. Serve with a squeeze of lime, sour cream and homemade guacamole.
4. Potato and chickpea curry: This creamy Thai curry is very speedy to make – perfect for weeknights! First, gently heat oil, crushed garlic and ginger in a pan, stir for a few minutes and add in a heaped tablespoon of Thai massaman curry paste and fry for a minute or two. Ambitious enough to make your own paste? Honestly Alessandra's recipe lists everything you'll need (much of which you may have to hand already). Next, add in the veg – a mixture of peppers, cubed parboiled potatoes and asparagus. Pour over a tin of coconut milk and simmer for 20 minutes, until the vegetables are cooked, then add a tin of drained chickpeas. Simmer for another 2 minutes, and serve with rice and some chopped coriander.
5. Halloumi and portobello mushroom burgers: Coat the portobello mushrooms with olive oil, then season and bake in a hot oven for 20 minutes. While they're cooking, prepare the rest of the ingredients; slice a block of halloumi, some red onion and tomatoes. Brush the halloumi with olive oil and fry for a minute on each side until caramelised. Top some burger buns (I use brioche buns here) with some pesto and mayonnaise, sliced onion and tomatoes, as well as the mushrooms and halloumi. Top with rocket, and serve straight away with sweet potato fries.