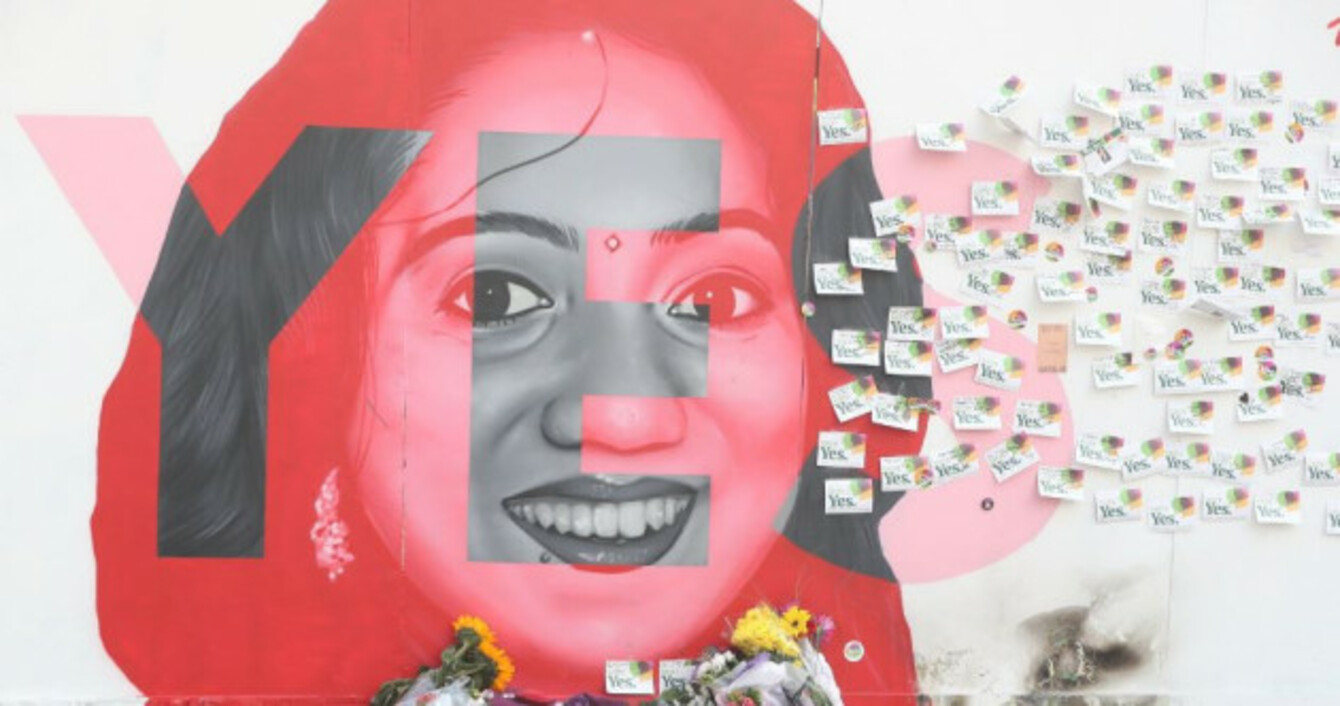 A mural in honour of Savita Halappanavar in Dublin.
Image: Niall Carson/PA Wire/PA Images
A mural in honour of Savita Halappanavar in Dublin.
Image: Niall Carson/PA Wire/PA Images
TOGETHER FOR YES has said it supports the call by Savita Halappanavar's parents to name Ireland's abortion legislation after their daughter.
Savita, who died at University Hospital Galway in 2012 while 17 weeks pregnant, became a central figure in the campaign to repeal the Eighth Amendment.
Ireland on Friday voted by 66.4% to 33.6% to remove the amendment from the Constitution, paving the way for the legalisation of abortion in some circumstances.
Speaking at their final press conference today, Together for Yes called for the legislation to be enacted without delay.
Orla O'Connor, co-director of the campaign, said the government should consider a special sitting of the Oireachtas so that the legislation can progress over the summer.
"We're calling on the government to start the process now, next week. The people have spoken and they've spoken very loudly.
And we now need to see this legislation happen quickly because, as we know, today as we're here, there are women who are planning their journeys and are having to travel to access abortion outside of Ireland.
When asked about the possibility of a special sitting of the Oireachtas, Fine Gael minister Regina Doherty told RTÉ Radio 1′s This Week: "I don't think it's a bad idea."
She added that she doesn't believe enacting the legislation "will take long", noting the landslide Yes vote in the referendum has given the government "a clear mandate … to do this and do it fast".
The legislation is expected to be drafted in the coming months and tabled in the Oireachtas after the summer recess, potentially become law by the end of the year.
Reacting to the result of the referendum, Savita's parents yesterday told The Irish Times they were "really, really happy". Her father Andanappa Yalagi, speaking from the family's home in southwest India, asked that the legislation be called 'Savita's Law' in honour of his daughter.
Gráinne Griffin, another Together for Yes co-director, today said the group would support this.
In terms of Savita and her family, I think our country owes them a great debt. We were so honoured and so touched by the support that they lent to the campaign over the course of it. I was really glad to see her father say that yesterday they felt that they had justice for their daughter.
Savita's parents previously voiced their support for the Together for Yes campaign, saying a Yes vote would be "paying a great debt to [her] departed soul".
https://www.facebook.com/Together4yes/videos/2044305905892227/
Sir Sabaratnam Arulkumaran, Professor Emeritus of Obstetrics and Gynaecology at St George's University of London, oversaw an investigation into Savita's death and concluded that the Eighth Amendment had played a role. He too called for it to be repealed.
Members of the public have been paying their respects to Savita at a mural in Dublin city in recent days.
'Bring it on'
Speaking at today's conference, fellow co-director of Together for Yes Ailbhe Smyth thanked the people of Ireland for so emphatically removing the "terrible, obnoxious, odious" Eighth Amendment.
"The people we really want to thank are the people of Ireland who, when the question was put to them fair and square, absolutely rose to the occasion with what I can only describe as magnificent determination and firmness," she said.
Smyth also thanked the thousands of volunteers and canvassers, as well as members of the medical profession, who supported a Yes vote.
She said young people all over Ireland were "very involved" throughout the campaign, stating: "There is no question of any 'snowflaking' going on with young people in this country, they are absolutely extraordinary."
Smyth also stressed how much the campaign owes to the women and families who shared their personal experiences of how the Eighth Amendment affected them.
"I know how very difficult this is to do ... none of us go around speaking about our health and very private matters in the public arena. And they did this because they believed so passionately in the importance of repealing the Eighth Amendment."
Griffin said that "the world was watching Ireland" yesterday and "we revealed a changed Ireland to the world", adding that Together for Yes members will now push for abortion access in countries such as Northern Ireland, Poland, Argentina, El Salvador and Brazil.
#Open journalism No news is bad news Support The Journal

Your contributions will help us continue to deliver the stories that are important to you

Support us now
O'Connor added the result of the referendum proves there is "huge momentum for driving forward equality for women and driving forward women's rights in Ireland", something that needs to be capitalised on when pushing for better childcare and pay parity.
When this was put to Doherty on This Week, the Jobs Minister said: "that is music to my ears so bring it on", adding that "[women] are equal, we just have to make sure everybody knows it".
Doherty said the roll-out of abortion services - as well as better sexual health education and free contraception, as recommended by the Oireachtas Eighth Amendment Committee - hasn't been costed yet but will be "a hell of a lot smaller than the cost emotionally for women who've had to travel for the last 35 years so I think it's worth every penny".