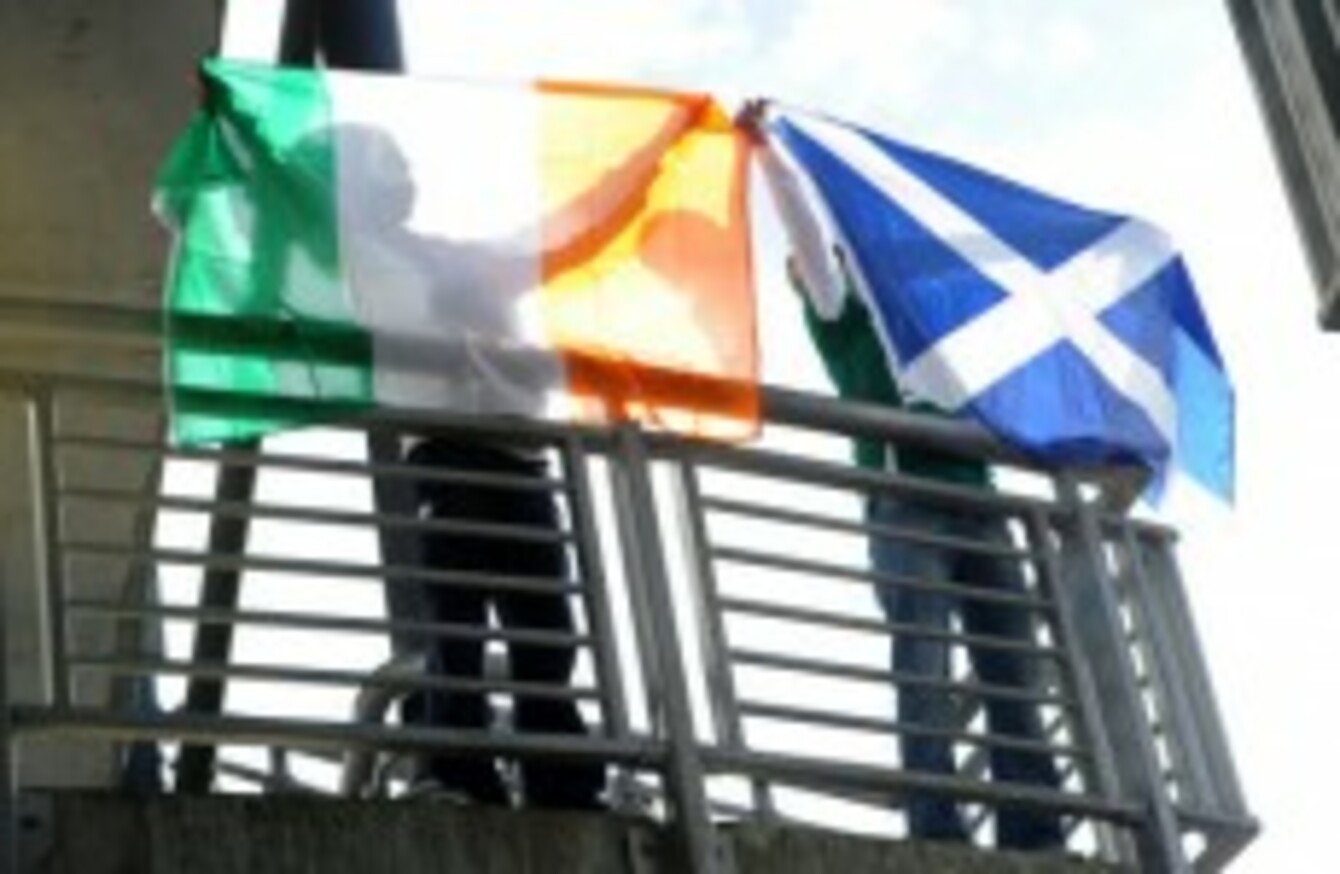 Scotland and Ireland fans hold flags outside Murrayfield in 2011.
Image: Owen Humphreys/PA Archive
Scotland and Ireland fans hold flags outside Murrayfield in 2011.
Image: Owen Humphreys/PA Archive
TDS WILL HOLD  a video conference with Scottish counterparts today who are looking into proposals for an independent Scotland and it's potential membership of the EU.
Members of the Oireachtas Joint Committee on European Union Affairs will be involved in the discussion but its's vice-chairman Dara Murphy TD has insisted that they have "no desire to impact on what is ultimately a sovereign decision for the Scottish people later this year".
Membership of the EU is a central part of the Scottish Government's plan for a independent nation if the 18 September referendum is passed.
Last week there was a degree of disagreement over the issue after the EU Commission President Jose Manuel Barroso said that it could be "impossible" for Scotland to join the EU because other nations with independently-minded regions would block it. Scottish First Minister Alex Salmond rejected his comments saying that the EU with resprect Scotland's democratic decision.
Today's discussion therefore is not planned to touch on whether or not Scotland may join the EU, but rather Ireland's experience of being a member.
"We hope that the diverse perspectives of the cross-party delegation will assist the Scottish European and External Relations Committee in their inquiry," according to Fine Gael's Murphy.
We expect to discuss how Ireland's engagement with the European Union has evolved since accession since 1973 and consider recent Treaty changes which have increased the role for national parliaments in European decision-making.
The Irish Government has also said that it will not be taking a formal position on the Scottish vote and Sinn Féin President Gerry Adams also said in a recent interview with the BBC that his party would not either.
The work to date of the Scottish Parliament's committee to look at independence proposals can be viewed here, with committee convener Christina McKelvie saying that Ireland is relevant example of how Scotland's EU future could work.
"Ireland has much it can share with Scotland about its experience as a small member state within the European Union. The contribution of the Irish parliamentarians will be most valued," she said.
The meeting takes place at 10:15 am this morning and can be streamed live on the Scottish Parliament's website.