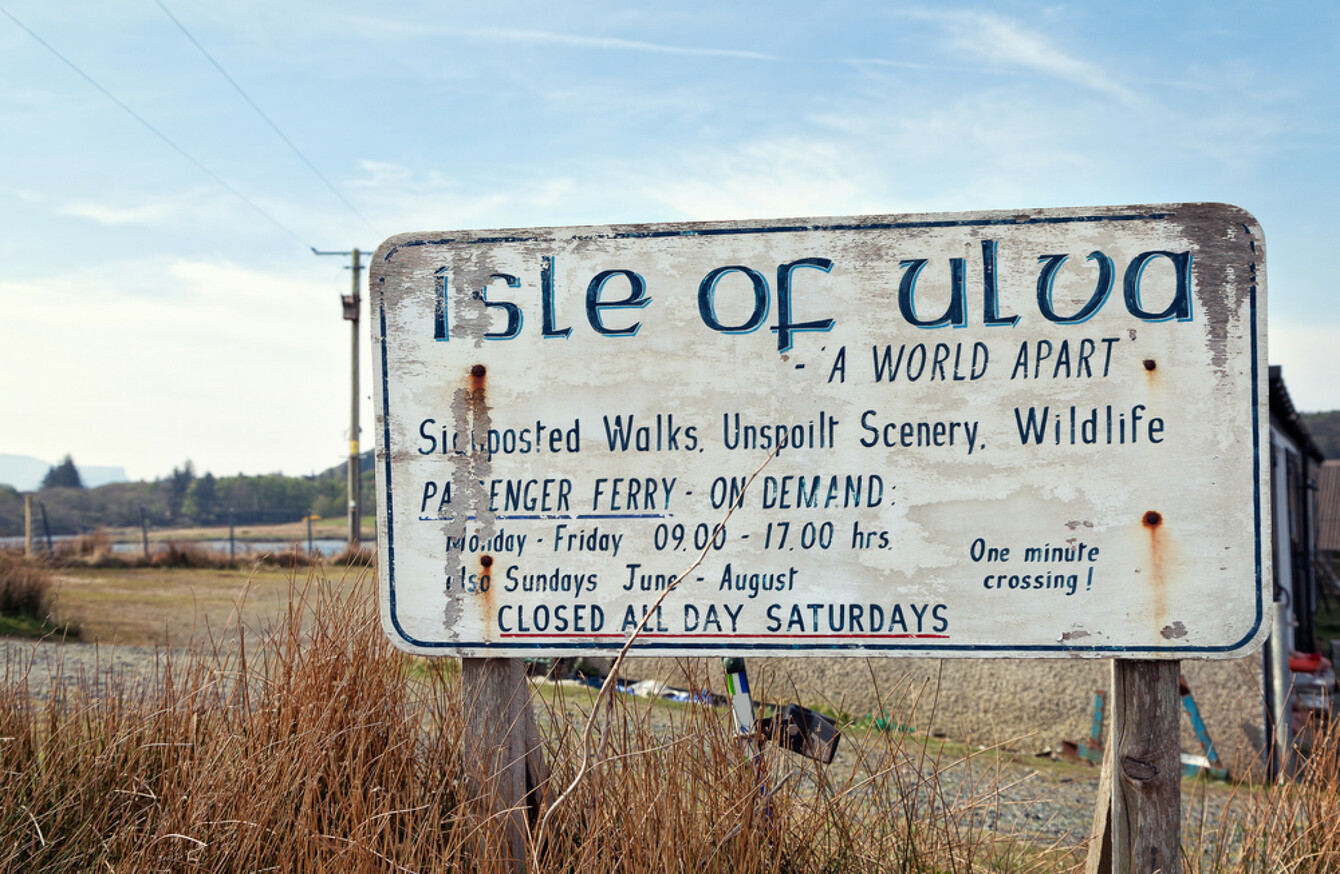 Image: Shutterstock/Spumador
Image: Shutterstock/Spumador
WHEN TYCOONS IN helicopters began landing on Scotland's Isle of Ulva, its five tenants feared their way of life might be coming to an end.
The remote island of pristine beaches, lush hills and craggy coastlines was put on the market this year after decades of ownership by an aristocratic family.
Now the islanders are using a law introduced last year by Scotland's nationalist government to suspend the sale and give themselves time to buy the land, hoping a government fund will help them do so.
"I think community ownership is the way forward," said Emma McKie, 33, who remembers a time when a thriving farming community lived on the 12-kilometre long island off Scotland's west coast.
They are facing a deadline of June 2018 to buy the island off its "laird" Jamie Howard, who put it up for sale for £4.25 million (€4.77 million).
The glossy sales brochure for Ulva offered prospective buyers the unique opportunity to own "one of the finest private islands in northern Europe", when it was first put up for sale in July.
Well-groomed tycoons with Russian and Middle Eastern sounding accents began flying in for viewings.
McKie said islanders were concerned that any outside buyer may remove the tenants and close off the island.
"If you have that kind of money, why would you keep the island open to the public, why wouldn't you keep it for yourself?", said McKie, who runs the island's only cafe with her sister-in-law Rebecca Munro.
The Land Reform Act passed by First Minister Nicola Sturgeon's government allows for the  sale of private assets to be suspended to give community bodies the right to buy the land.
The £10 million Scottish Land Fund gives annual grants to worthy projects and Ulva's residents are hoping the fund will go over its usual limit of £1 million.
The legislation has far-reaching implications in a region where half the land is owned by just 500 people, many of them absentee aristocratic landlords with castles and vast country estates.
From vibrant to derelict 
Ulva is an idyllic location with views of Ben More mountain and the spectacular Eas Fors Waterfall on the neighbouring island of Mull.
Visitors' first port of call when stepping off the ferry from Mull is The Boathouse cafe.
"My husband's family go back several centuries on Ulva," said Munro, 30, who is originally from Dumfries on the Scottish mainland.
"They would have Christmas parties and there were a lot more children going to Ulva primary school, so it was just a lot more vibrant."
The Boathouse attracts around 5,000 visitors a year.
But empty cottages, an abandoned church and the disused Ulva Hostel nearby are falling into disrepair.
At its height Ulva had a population of over 800 and its decline can be traced back to the Highland Clearances, when landlords conducted a wholesale eviction of Scottishfarmers in the 18th century and turned their lands over to sheep grazing.
Thousands of Scots emigrated to the British colonies.
One of Ulva's most famous sons is Lachlan Macquarie, a high-profile colonial governor in Australia in the 19th century.
#Open journalism No news is bad news Support The Journal

Your contributions will help us continue to deliver the stories that are important to you

Support us now
'People come together' 
Community purchase of land is not a new concept in Scotland.
Residents of the Isle of Eigg, also near Mull, still remember life under their playboy lairds before they did their own form of a community buyout under previous legislation in 1997.
Motoring tycoon Keith Schellenberg sold up in 1995, shortly after his Rolls Royce mysteriously caught fire, to a German artist called "Professor Maruma". He tried to turn the island into an artists' retreat until the 60 or so islanders bought him out with the help of an anonymous benefactor.
The bulk of Eigg's buyout was provided by that benefactor and the rest was raised through small donations from people all over the world, a significant feat in the days before widespread social media.
Eigg's population has almost doubled since the buyout and it now has its own renewable energy grid, fast internet, and an annual music festival.
The eight-kilometre long island continues to attract adventurous young souls keen to make a life 30 kilometres from the Scottish mainland.
"The community is the reason that I am here," said Eigg's newest resident Nan Fee, 33, who started teaching in the island's primary school in August.
"It's just so powerful and people come together. It's unlike anywhere I've ever been."