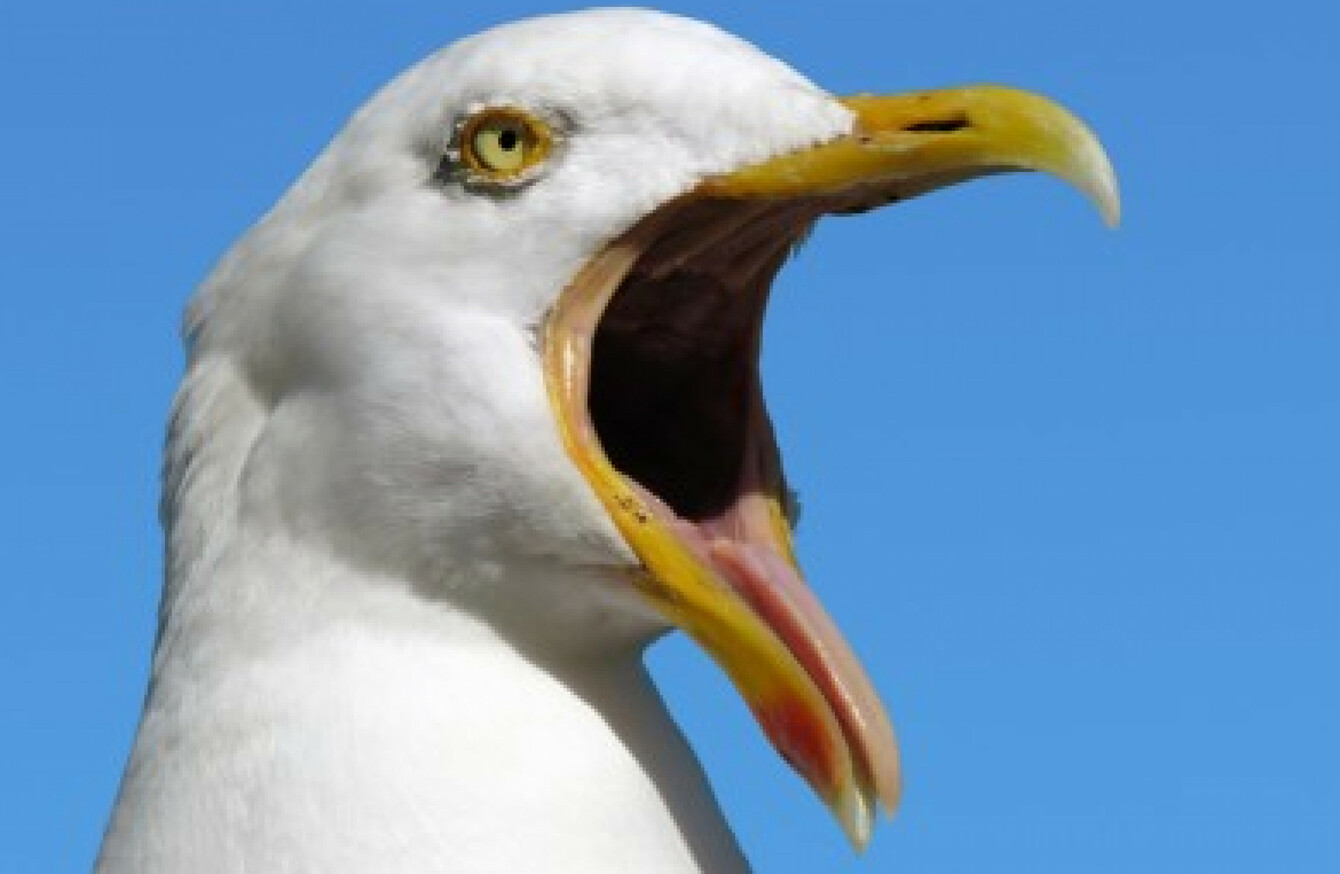 Seagull. Picture posed by model.
Image: Shutterstock/Stephen Rees
Seagull. Picture posed by model.
Image: Shutterstock/Stephen Rees
SEAGULLS ARE BACK harassing people in cities and towns across Ireland but experts say that it is human behaviour that has led to the birds being such aggressive scavengers.
The latest high-profile victim of a gull attack was none other than Louise Duffy, who presents the Lost in Music show on Today FM. Duffy was attacked on the balcony of the station's Dublin city centre studios, prompting a concerned staff email outlining a terrifying onslaught from a particularly combative bird.
News of the warning email was shared on Twitter by several Today FM and Newstalk employees and it generated considerable interest online as people sought to spread the word about the danger of bird attacks.
Newstalk journalist Sean Defoe was one of the many who shared the email. The intrepid reporter previously caught footage of a particularly brazen assault on a cyclist by a gull operating in the George's Street area of Dublin city centre.
Seagull attacks generate considerable headlines every summer as the birds engage in increasingly brazen offensives.
Perhaps the most notorious of Ireland's hostile gulls is a bird named Jonathan who carried out numerous attacks on the citizens of Waterford in the summer of 2014.
Jonathan was famous for his particular dislike of joggers and the characteristic "laugh" he emitted as he carried out his raids.
In an article on TheJournal.ie, Niall Hatch from Birdwatch Ireland explained that gull attacks are far more common at this time of year because gull chicks are getting ready to leave their nests and adult gulls are very protective of their young offspring.
"They will sometimes squawk and even swoop at people or pets if they feel that these pose a threat to their young, but this behaviour will cease within the next few weeks when their chicks have left home and are fending for themselves," Hatch explained.
Source: TheJournal.ie/YouTube
Bird expert Hatch outlined that the vast majority of seagulls have no interest in harassing people and the high-profile attacks are carried out by a very small number of so-called "rogue" individuals.
The birds go rogue because people feed them and they figure out that human beings can be an easy meal ticket.
It's no coincidence that one of the key hotspots for this type of antisocial avian activity in Dublin is around Grafton Street, right beside St Stephen's Green where large numbers of people go each day to throw food to the gulls.
Birdwatch Ireland strongly discourages people from feeding gulls because if they do not get used to being fed by humans they won't learn to associate humans with food and will maintain a healthy fear of people.
On 1 April this year, TheJournal.ie took the innovative step of launching a new feature that allows readers to plan their routes around Irish cities and towns so that they can avoid aggressive seagulls.
The patented technology, which uses Google's mapping API, works 365 days a year, not just on April Fool's day.