Former Ceann Comhairle Seamus Pattison.
Image: Gareth Chaney/RollingNews.ie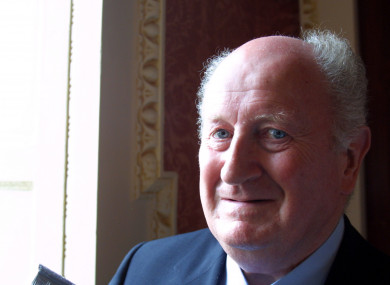 Former Ceann Comhairle Seamus Pattison.
Image: Gareth Chaney/RollingNews.ie
PRESIDENT MICHAEL D Higgins has led tributes to former party colleague and long-time TD Seamus Pattison, who died today aged 81.
Labour TD Pattison was first elected to the Dáil in 1961 and served Carlow-Kilkenny for an unbroken 46 years up to 2007.
His ever-presence as a TD during that period meant he was the ceremonial Father of the Dáil as the house's longest-serving representative.
In 1997 he was elected as Ceann Comhairle, holding the role for five years before being Leas Ceann Comhairle for a another five years until his retirement.
Pattison was also mayor of his home city of Kilkenny on three occasions.
Speaking today, President Higgins said that "Seamus served with great distinction in public life at every level" and was always forthcoming with advice when it was sought.
"As Father of the House in his final term in Dáil Éireann, he was regularly sought out by new TDs across the political spectrum for counsel because of his sharp political brain, and the wisdom he drew from many years of experience," President Higgins said.
I, with so many others have the warmest memories of Seamus as both a friend and colleague over a lifetime in politics and we shall all greatly miss his effortless charm and infectious sense of humour. Sabina and I send our deepest condolences to his family, colleagues in the Labour Party and the trade union movement, friends and all those who knew him.
Labour's current party leader Brendan Howlin said that Pattison helped him in his early days as a public representative.
"It is with sadness that I've learnt of the death today of my great friend and colleague Seamus Pattison TD," Howlin said.
Seamus was a stalwart in the parliamentary Labour Party that I joined as a young man. He was generous both with his time and his advice to this young parliamentarian.
"Seamus represented the best of an old Labour tradition. I was proud to have known him and worked with him," Howlin added.
Taoiseach Leo Varadkar also said that Pattison had "represented his constituents in Carlow and Kilkenny for nearly five decades with distinction" and passed his condolences to his family.
Fianna Fáil leader Micheál Martin said that Pattison was a "distinguished public representative" who was "fair and impartial" as Ceann Comhairle.
"I remember many conversations that I had with him down through the years, and one thing which always struck me was his strong sense of social duty. He was a passionate man who espoused the values of the Labour movement throughout his long career," Martin added.