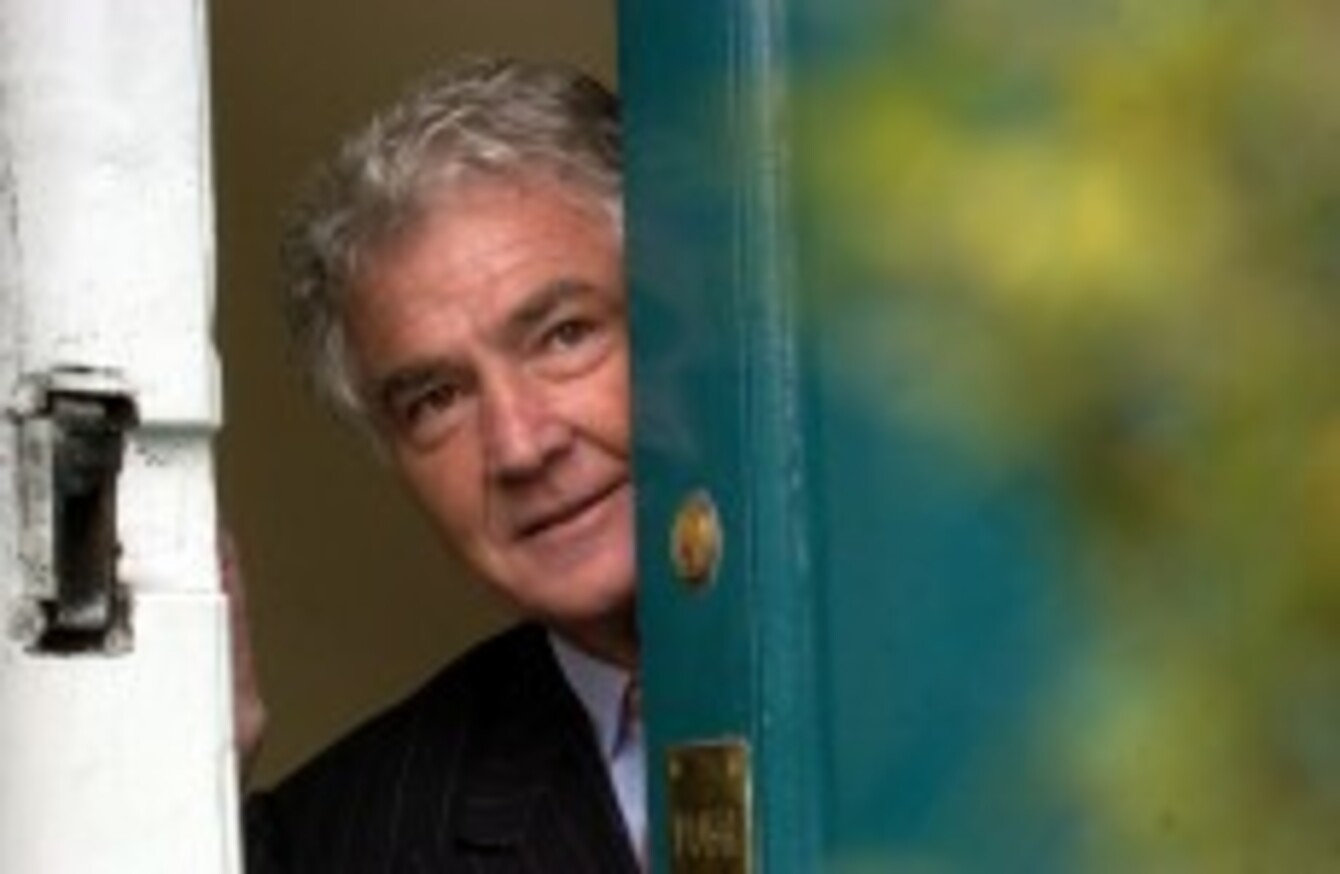 Seán FitzPatrick pictured in 2004
Image: Graham Hughes/Photcall Ireland
Seán FitzPatrick pictured in 2004
Image: Graham Hughes/Photcall Ireland
Update 24 July 2012: The former chairman and chief executive of Anglo Irish Bank, Seán FitzPatrick, has been arrested and is expected in court in connection with alleged financial irregularities at the bank. Below is a timeline of the investigation of the former banker that we published last Saturday, 21 July.
HE IS THE most infamous figure in Irish banking history who takes a good portion of the blame for the Irish banking crisis but to date there have been no legal proceedings taken against the former head of Anglo Irish Bank, Seán 'Seanie Fitz' FitzPatrick.
The Irish Mail on Sunday reported last weekend that the former chief executive and chairman of the bank is to face charges in connection with the collapse of the former Anglo Irish Bank – now Irish Bank Resolution Corporation – within the next two months.
The Director of Public Prosecutions is currently reviewing evidence gathered by fraud investigators about alleged financial irregularities at the bank which was once hailed as the world's best.
It has been established at this stage that investigators are looking at three key areas related to Anglo:
A series of short-term loans FitzPatrick got from the now-defunct Irish Nationwide Building Society that were allegedly used to hide money he owed to Anglo from director's loans.
Investigators are also scrutinising a near €7.5 billion lodgement by Irish Life and Permanent in 2008 which made Anglo's accounts appear more healthier than they were.
A transaction involving the so-called Maple 10 in which a number of developers and clients who were loaned money by the bank bought 10 per cent of shares that had been acquired by the now bankrupt Seán Quinn who built up a near 25 per cent stake in the bank as a result of complex share deals where he effectively bet on the share price of the bank continuing to rise. It didn't.
But what of Seán FitzPatrick since he resigned as the chair of Anglo in December 2008 amid controversy over the discovery of the hidden loans. We've been looking at the story so far:
15 January 2009: The government nationalises Anglo Irish Bank with finance minister Brian Lenihan saying it is "now the appropriate and effective means to secure its continued viability" as a functioning bank.
24 February 2009: Investigators from the Garda Bureau of Fraud Investigation and the Office of the Director of Corporate Enforcement raid the headquarters of Anglo Irish on St Stephen's Green. Lenihan says that the investigations will "be completed in a matter of weeks".
16 March 2010: Gardaí are given a court warrant to search FitzPatrick's house in Greystones, Co Wicklow.
18 March 2010: At 6.30am in the morning, FitzPatrick is arrested by the Garda Bureau of Fraud Investigation and questioned under section 4 of the Criminal Justice Act but he is later released without charge. The arrest draws considerable attention although Gardaí do not initially confirm the name of the person arrested, it is later confirmed that it was FitzPatrick.
Without mentioning any names, the Finance Minister Brian Lenihan comments on the arrest, saying: "I have always stated that there is an extensive Garda investigation underway. I have been cautious not to prejudice that investigation and am eager to see justice take its course."
19 March 2010: After more than 24 hours of questioning, Fitzpatrick is released. The Irish Times reports that he is making arrangements to protect himself from personal creditors.

YouTube: bennybrat
FitzPatrick is released from custody and drives away from Bray Garda Station in March 2010. Photo: Laura Hutton/Photocall Ireland
05 May 2010: Protesters, some of whom are affiliated to the Republican organisation Éirígí, gather outside the headquarters of Anglo Irish Bank to hang and burn an effigy of FitzPatrick:
Photos: Eamonn Farrell/Photocall Ireland
12 July 2010: FitzPatrick is declared bankrupt at the High Court in Dublin. Lawyers for the former banker tell the court that FitzPatrick is "bowing to the inevitable", according to RTÉ. It emerges that FitzPatrick owes the now State-owned bank around €110 million.
13 November 2010: Members of the public participate in a Socialist Party-organised protest outside FitzPatrick's home in Greystones with Gardaí in attendance:
Photo: Sasko Lazarov/Photocall Ireland
20 December 2010: It emerges that both FitzPatrick and his former CEO at Anglo, David Drumm, are to face disciplinary proceedings by the Chartered Accountants Regulatory Board (CARB) over their transactions and lending practices at Anglo.
Special investigator John Purcell says the pair, along with two other senior figures at the bank Willie McAteer and Peter Fitzpatrick, have "cases to answer" having established prima facie evidence against the four men.
09 January 2011: The Sunday Times reveals that FitzPatrick played golf with Brian Cowen in July 2008 as well as speaking to him over the phone in March of the same year when Cowen was finance minister and he was informed that there was an issue with the amount of shares held by Seán Quinn.
Breaking a two-year silence, FitzPatrick says he wants to apologise to "anyone who suffered" after the bank collapsed and says he felt "very serious regret" at what happened Anglo. He tells Tom Lyons and Brian Carey in an exclusive interview that he had been "one of the biggest victims" of the crisis and had lost many within his social circle as a result. The interview is published in full in the book The FitzPatrick Tapes which comprises of 17 interviews conducted with Fitzpatrick the previous year.
The revelations have huge ramifications for Taoiseach Brian Cowen who within days faces a heave within his own party before winning a confidence motion on 18 January. However, he resigns as Fianna Fáil leader four days later and an election soon follows.
Ian-John Coughlan re-stocks The FitzPatrick Tapes in Waterstones book store on Dawson Street in Dublin. Copies of the book were selling fast. Publishers Penguin Ireland took the highly unusual step of hand-delivering the book on a Sunday without any prior notice. Photo: Mark Stedman/Photocall Ireland
11 January 2011: Former Anglo chief executive David Drumm rejects much of FitzPatrick's account of what went on at Anglo in the months before the bank guarantee of September 2008. He tells the Irish Times that FitzPatrick's characterisation of his chairmanship as being back-seat is "bullshit".
14 January 2011: It is announced that a black BMW 3-series, registration number 92-D-38478, that was formerly owned by FitzPatrick is to be sold at auction with the winner getting the right to have the car crushed. The car had been acquired for €1,234 by National Recycling at auction in 2010 following FitzPatrick's bankruptcy case. The car has to be picked up with a truck because it wouldn't start:
National Recycling employee Graham Doyle loading the car onto the tow truck outside FitzPatrick's home Photo: Mark Stedman/Photocall Ireland
24 January 2011: The BMW is bought at auction for €3,150 with the successful bidder also getting a €150 voucher for Pichet restaurant in Dublin City Centre.
25 February 2011: As an angry electorate votes in a historic election, Sean FitzPatrick's car is crushed in Clondalkin. We reveal the man behind the crushing.
22 March 2011: Just over a week before it is due to begin, the CARB says that it has to postpone its public disciplinary tribunal into FitzPatrick and the three others following a request by the Director of Public Prosecutions as its investigation continues. The tribunal is adjourned until October.
09 December 2011: Sean FitzPatrick is arrested for a second time by Gardaí as part of investigations being carried out by the Garda Bureau of Fraud Investigation and the Office of the Director of Corporate Enforcement. Officers roll up to the 63-year-old's house at 8am to arrest him. He is questioned at Bray Garda Station.
10 December 2011: FitzPatrick is released with out charge and a file is prepared for the Director of Public Prosecutions.
FitzPatrick leaves Bray Garda Station on a cold December day last year. Photo: Laura Hutton/Photocall Ireland
21/22 April 2012: FitzPatrick attends the wedding of his son David at the K Club in Co Kildare with the Sunday Independent reporting that the former banker had stressed to friends that he was not 'living the high life' in the wake of his dramatic fall from grace. One source told the paper that you could "hear a pin drop in the room" when FitzPatrick stood up to deliver a speech to guests at the event.
13 May 2012: The Wicklow News reports that fire services attended the scene of a fire at a house on the grounds of FitzPatrick's home in Greystones. It is the second time emergency services have attended the scene in that week and the third reported since the previous September.
11 June 2012: The Irish Independent reports that Sean FitzPatrick was out in Poznan, Poland with the travelling Green Army as Ireland took on Croatia at Euro 2012. Fiach Kelly writes that the "disgraced" banker was wearing a green Ireland jersey and a green beret and was in the company of former government press secretary PJ Mara as he stayed at the €550-a-night Sheraton hotel in the Polish city.
15 June 2012: The Irish  Mail on Sunday reports that FitzPatrick is to be charged within two months.