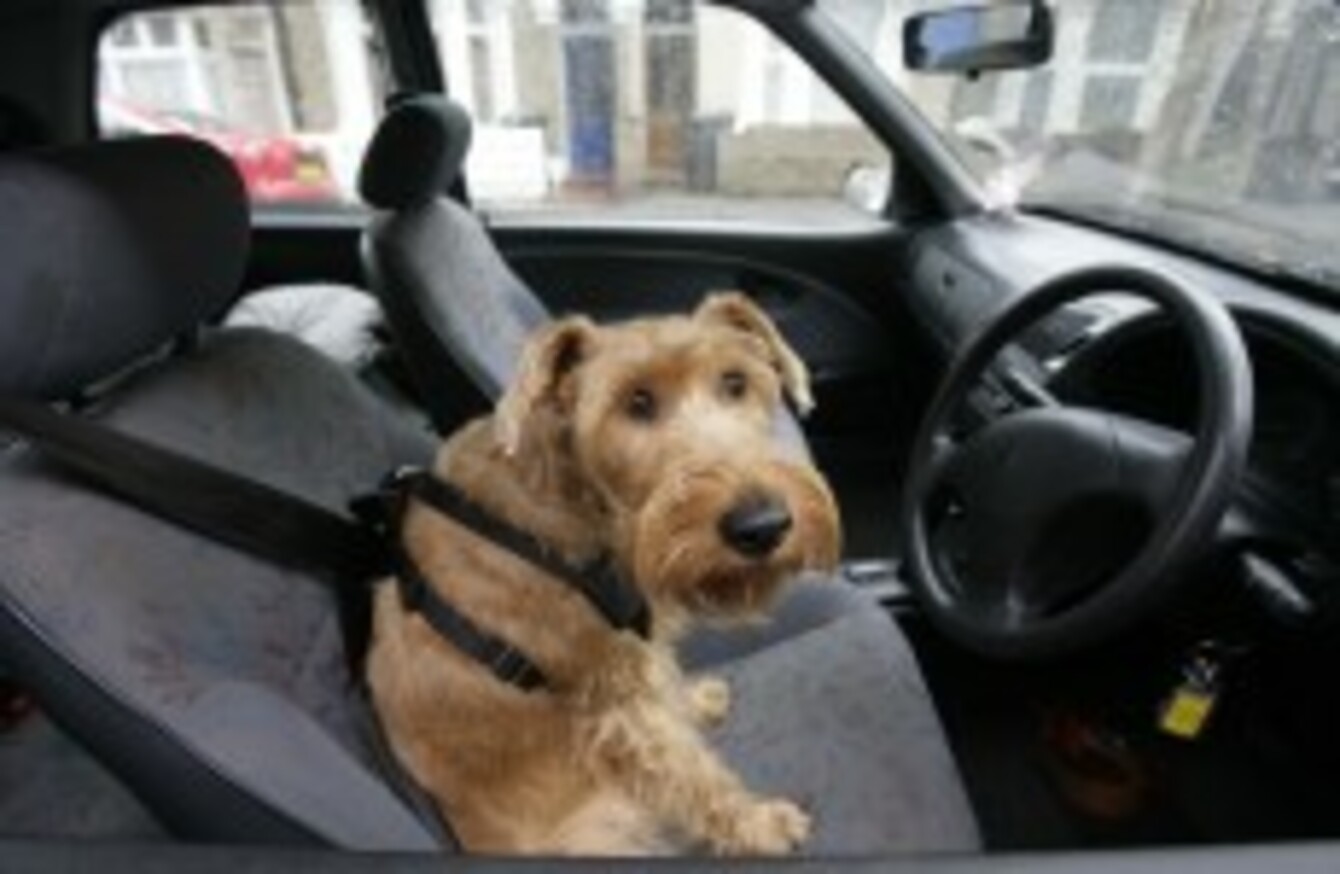 You should probably make sure your pet is restrained and that they're not driving either. (File photo)
Image: Jeff Moore/Jeff Moore/Empics Entertainment
You should probably make sure your pet is restrained and that they're not driving either. (File photo)
Image: Jeff Moore/Jeff Moore/Empics Entertainment
MOTORISTS FACE A new range of penalty points for not wearing their seatbelt or not ensuring others are safely restrained from midnight tonight, the Minister for Transport Leo Varadkar has confirmed.
Authorities are clamping down on drivers and passengers who do not wear seatbelts as well as children who are not properly restrained in a car as part of new measures being introduced at the start of the August bank holiday weekend.
Varadkar said that the new measures will bring to 48 the total number of road offences that carry with them penalty points.
He told RTÉ Radio's Morning Ireland earlier: "This year so far a quarter of all drivers who died on the roads weren't wearing a seatbelt and 30 per cent of passengers who died on the roads weren't wearing seatbelts.
"It's amazing in this day and age that people still don't wear their seatbelt and if they did they would probably survive these collisions."
The new measures will see penalty points applied in cases where.
A driver of a car, bus or a goods vehicle is not wearing a seatbelt.
A driver permits a person under 17 to occupy a seat while not wearing a seatbelt
A driver of a car or goods vehicle who allows a child under three to travel without being properly restrained.
A driver of a car or goods vehicle permitting a child to be restrained by a rear facing child restraint if there is a frontal air bag due to the potential harm and damage this can cause.
The Minister also said that "over-laden" vehicles and their drivers could also be subjected to penalty points where previously they were taken to court.
"To make it very simple, the rules should be to make sure that you're wearing a seatbelt, that everyone  else in the vehicle is and that any children are properly restrained," Varadkar said.
He added that it would be the Gardaí who would be responsible for enforcing the new rules over the weekend and beyond and said that the changes in the rules were "long overdue".