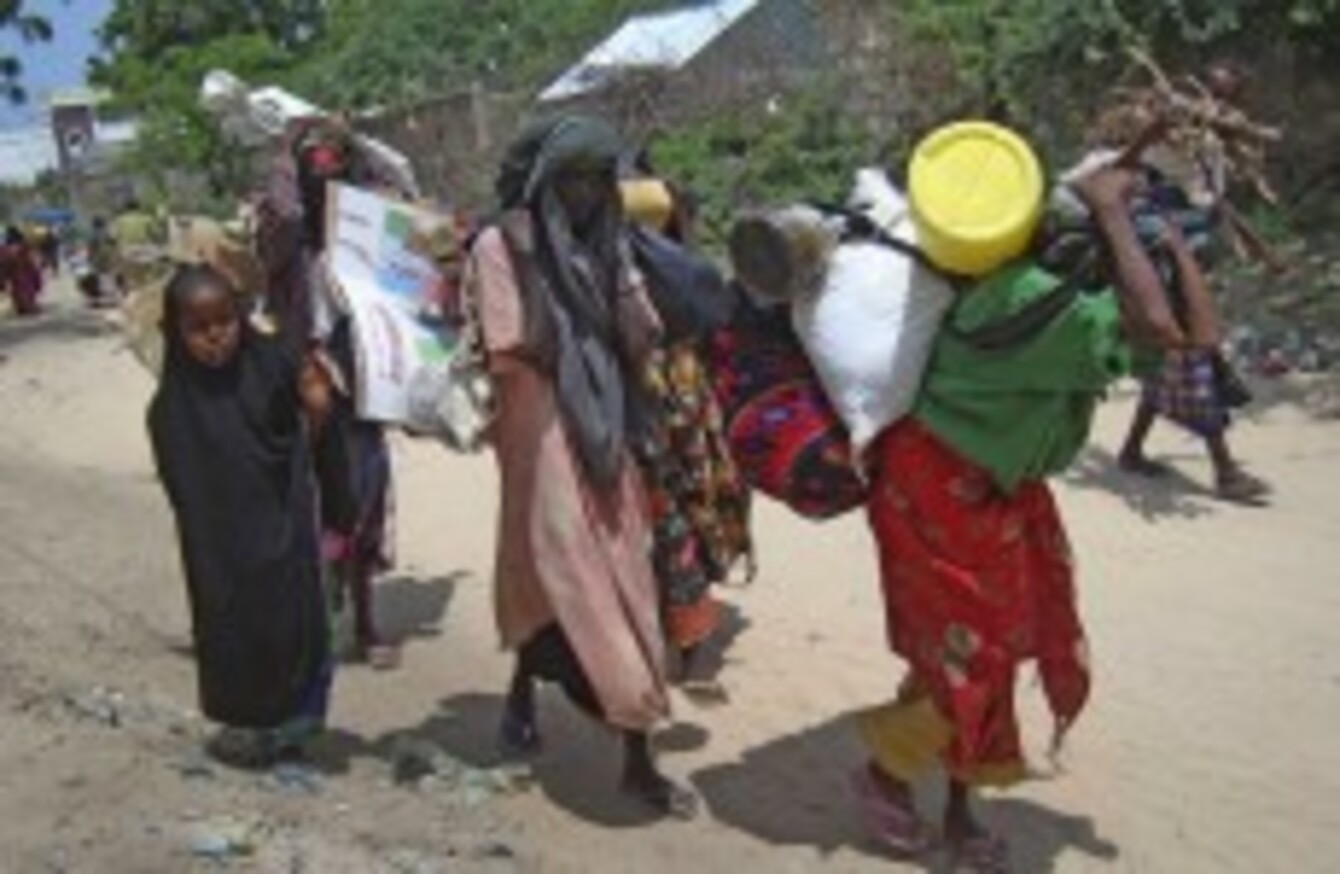 Somalis from southern Somalia carrying their belongings make their way to the refugee camp in Mogadishu
Image: AP Photo/Farah Abdi Warsameh
Somalis from southern Somalia carrying their belongings make their way to the refugee camp in Mogadishu
Image: AP Photo/Farah Abdi Warsameh
IRELAND HAS NOW provided aid worth €8.2 million to the countries affected by the humanitarian crisis in the Horn of Africa.
A second emergency airlift has been delivered. One thousand tents have arrived in Kenya and are being transported to the Dadaab Refugee Camp in the north of the country.
Up to 1,500 Somali refugees have been arriving at the camp daily, with many families walking for days. More than 400,000 people are now in the Dadaab Camp.
Thirteen members of the Irish Rapid Response Corps are now stationed in the region, with a further eight due to travel in the coming weeks.
The aid agency GOAL has called for United Nations peacekeeping intervention in Somalia in order to assist international relief efforts. GOAL CEO John O'Shea has said that the Security Council have some questions to answer.
He's asked why Ban-ki Moon has not publicly commented on the "stricken millions in Somalia". He said:
Whay is the there reluctance on the part of the United Nations Security Council to sanction peacekeepers, who would be tasked with ensuring a safer environment so that thousands of lifesaving tonnes of food and medical aid might be delivered directly to the starving people of Somalia?
O'Shea said that the international community "has no stomach to tackle the terrorists who wield control over the lives of millions of starving people".
He has previously expressed similar sentiments writing for TheJournal.ie, saying that the UN needs to stand up to the militants who are blocking aid going to those people trapped inside the country's borders.
The UN declared famine in parts of Somalia in mid-July and warned it would spread.
Today the United Nations warned that al-Shabab militants were conscripting children.