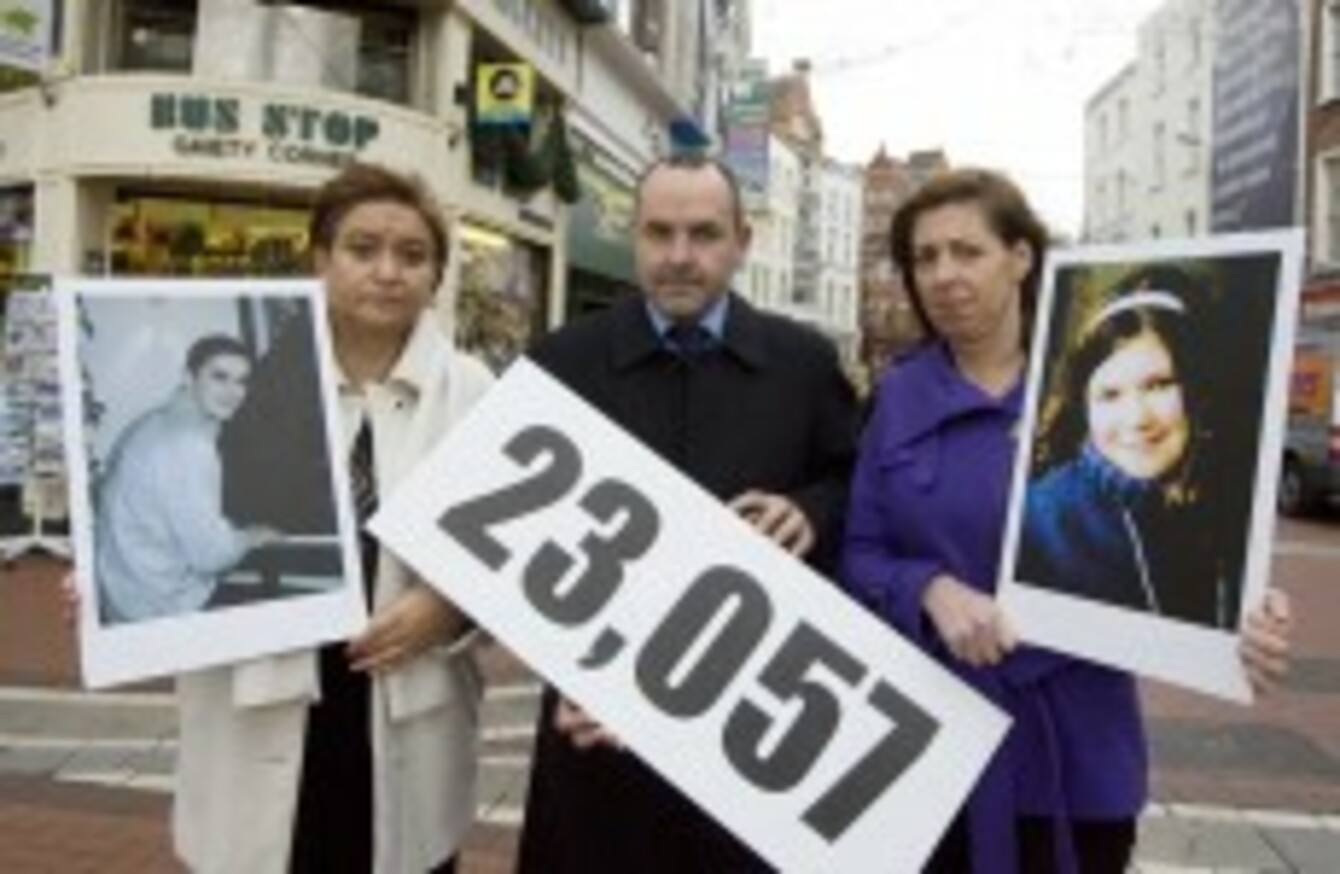 ( L to R) Donna Price with a photo of her son Darren (18), who died in 2006 , Noel Brett, Chief Executive of the Road Safety Authority and Caitriona Quinn with a photo of her daughter Cait (11) who died in 2009
Image: Photocall Ireland
( L to R) Donna Price with a photo of her son Darren (18), who died in 2006 , Noel Brett, Chief Executive of the Road Safety Authority and Caitriona Quinn with a photo of her daughter Cait (11) who died in 2009
Image: Photocall Ireland
SERVICES WILL TAKE place across the country today to remember those who have lost their lives on the country's roads.
The events form part of World Day of Remembrance for Road Traffic Victims. According to Dr. Etienne Krug, chair of the UN Road Safety Collaboration, 1.3 million people have lost their lives globally in road traffic collisions this year.
In Ireland so far this year 165 people have lost their lives on the roads according to the Road Safety Authority, while more than 23,000 have been tragically killed since records began in 1959.
A multi-denominational ceremony is being held in St. Thomas the Apostle Church in Castleknock in Dublin at 2pm this afternoon, organised by the PARC road safety group. Family members and friends of victims are invited to bring along photos of loved ones. PARC will also release 'Remember Me' balloons in memory of each person killed on the roads this year.
There will also be a service at Knock in Mayo, and across the country throughout the day.
Gay Byrne, chairman of the RSA is urging drivers and road users to…
Take a moment to think about your behaviour on the roads and the changes we all can make to keep our roads free from carnage. Because all it takes is a split second for lives to be changed forever.
The Gardaí are urging those on the roads to reflect on their behaviour, especially as the festive season approaches.
UN Secretary General Ban Ki Moon has said that every day 3,500 people die on roads around the world, and that road accidents are the leading cause of death for young people aged between 15 and 29. He said it is an "unacceptable price to pay for mobility".
The Road Safety Authority has set up a Wall of Remembrance, where people can light a virtual candle in memory of their loved ones.