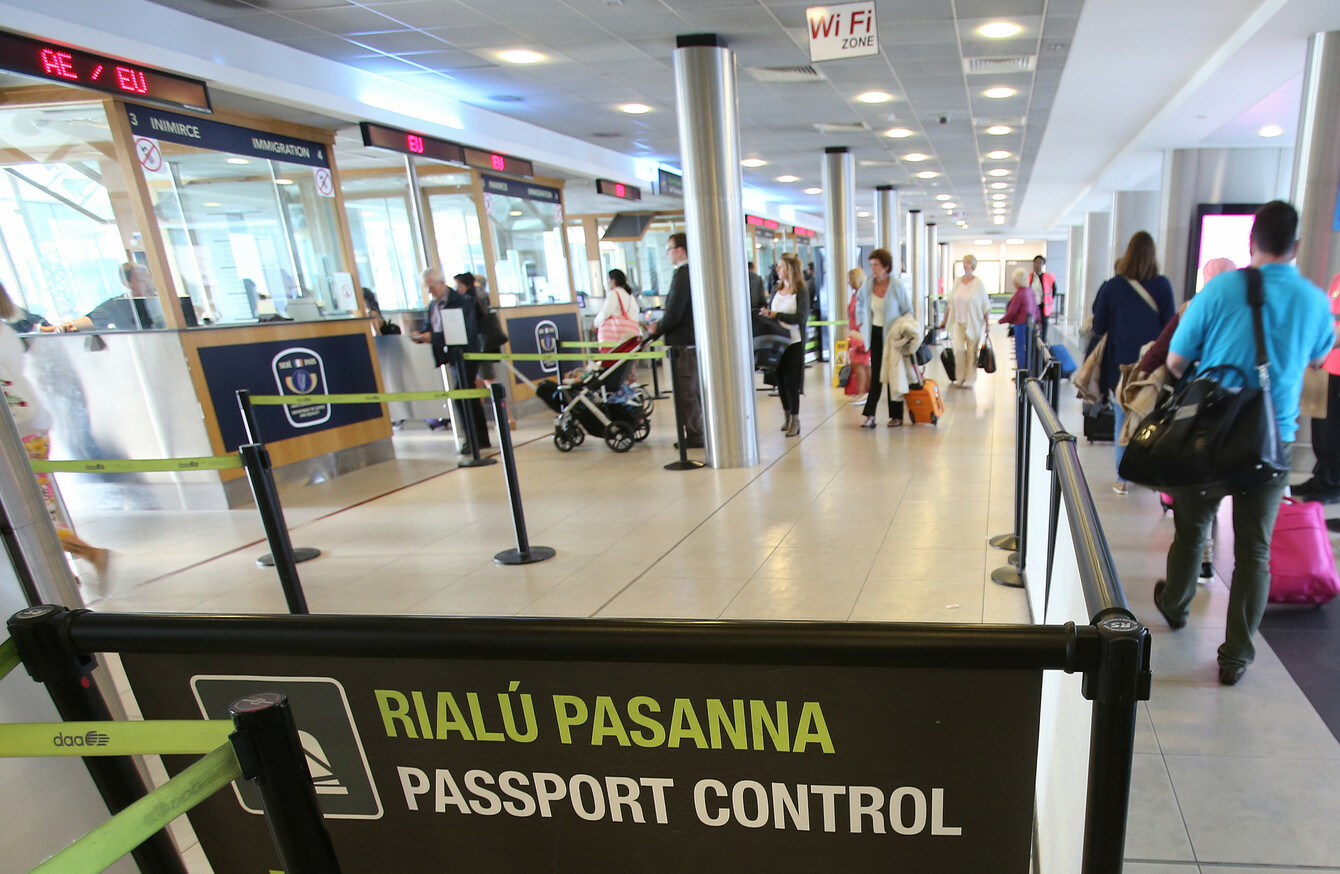 Image: Niall Carson via PA
Image: Niall Carson via PA
A PAKISTANI MAN was refused access to Ireland after he had his phone checked by immigration officials who found he was planning on taking part in a sham marriage. 
Moeen Akram took the State to court saying it was unfair that immigration officials got to check his phone and scupper his plans. He also said being placed in Cloverhill Prison was against his human rights.
A judgement in the case handed down this week – one of the first of its kind in the State – stated that Moeen Akram was not entitled to any relief.
He had maintained that he was coming to Ireland to visit his brother and had a travel visa in his possession.
However, immigration officials at Dublin Airport were sceptical and, using a part of law under the 2004 Immigration Act, accessed his phone and found a number of messages which suggested he was about to take part in a sham marriage.
He was refused entry to Ireland and was brought to a nearby garda station.
He was then processed and brought to Cloverhill Prison where he spent four days in custody before being removed from the jurisdiction.
Akram this month failed in his bid for the Irish State to deem an immigration official looking through his phone as unlawful. He took the Garda Commissioner as well as the Minister of Justice to court for five different reasons. He failed in every way. 
Delivering judgement last week, Justice Max Barrett said:
The principal reliefs sought by Mr Akram are (i) an order of certiorari quashing the decision refusing him permission to enter the State, a declaration that his detention was unlawful, a declaration that the search of his phone breached his rights under Article 8 [of the] European Court of Human Rights and damages. All the reliefs sought are respectfully refused.
Addressing the claim that his detention in Cloverhill breached his human rights, Justice Barrett was pointed in his judgement. 
Not a lot was made at [the] hearing of the complaint about conditions at Cloverhill. Prison doubtless is not pleasant. But there is nothing in the evidence to suggest, nor was it especially pressed, that the conditions of Mr Akram's detention at Cloverhill breached Art. 5(1) ECHR.
Over 400 sham marriages have been stopped in the last year, according to gardaí. 
Gardaí set up a dedicated operation – codenamed Vantage – in 2015 to tackle an alleged trafficking ring which was using women who had been trafficked illegally into Ireland to take part in sham marriages.
#Open journalism No news is bad news Support The Journal

Your contributions will help us continue to deliver the stories that are important to you

Support us now
Since the operation was set up in August 2015, General Registrar Offices can alert gardaí if any doubts arise about the legitimacy of any potential marriages.
The latest figures from An Garda Síochána show that since August 2015, there have been more than 250 objections to marriages raised by registrars.
Gardaí confirmed that over 80 marriages have been cancelled by the General Registrar and An Garda Síochána following enquiries and investigations by Operation Vantage.
When "no shows" on the date of the ceremony are added to the picture, an excess of 450 marriages have not been completed since Operation Vantage was launched.
"Operation Vantage has supported the marriage registrars in compiling a large number of marriage objections," a garda spokesperson said.