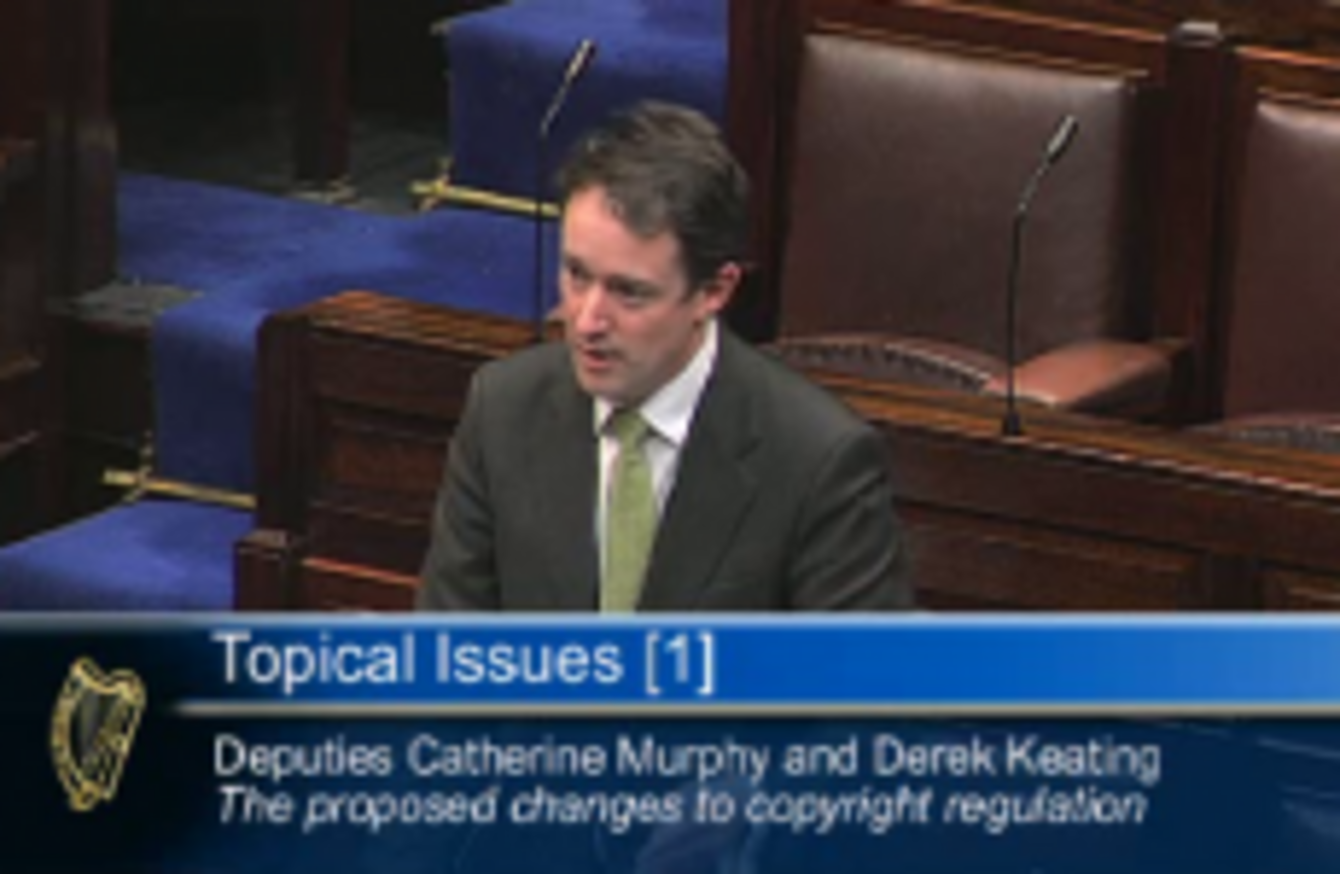 JUNIOR INNOVATION MINISTER Seán Sherlock has said he remains committed to implementing new internet copyright legislation – but has said he is personally willing to bring forward full primary legislation, which would allow for full Oireachtas debates.
Speaking in the Dáil this afternoon, Sherlock insisted that as a member state of the European Union, Ireland needed to implement the copyright directives laid down by the EU, which allowed copyright holders to take measures to ensure their intellectual property was not being infringed.
The minister assured independent TD Catherine Murphy, who had raised the matter during the Dáil's 'topical issues' time, that this right was "not superior to the right of the individual user" to use the internet, nor the right of an internet service provider to conduct their business.
An Internet Service Provider (ISP) could not be asked to monitor all the data of each of its customers in order to prevent copyright infringement, Sherlock said, referring to a recent European Court of Justice ruling.
"Nobody wants to limit the freedoms of the internet – it is counter-intuitive," Sherlock said. "We live in a democracy."
Sherlock said the introduction of the statutory instrument – a form of law which can be enacted without the need for Oireachtas approval – was "imminent" and that he understood it would be discussed at cabinet next week.
The minister said he was "personally" not opposed to the idea of introducing a full Bill to try and legislate for the issue, but argued that any government would be unable to legislate properly unless copyright holders and ISPs came together "in an organic fashion" to agree a common platform.
This is not SOPA legislation. Absolutely not. What this is is a restatement of what the Irish government held to be the case anyway, in relation to copyright.
The government's push for new legislation is required after the High Court last year ruled that Irish law did not provide copyright holders with the ability to seek an injunction stopping inappropriate access to their material online. This is in contravention with an EU directive.
'Pretty vague language'
Catherine Murphy had opened the debate by saying the "pretty vague language" of Sherlock's draft legislation had caused "serious concerns for the established online freedoms in Ireland."
The language was "open-ended" and did not give judges "any instructions by way of legislation that will set boundaries".
Murphy argued that the current wording would give a court the power to "block a site where any user had even linked to copyrighted material… it's entirely up to the courts, the grounds under which an injunction can be granted."
Murphy added that Ireland was "about to have a hurricane storm" if the difficulties were not ironed out. "If this Topical Debate is the start and end of this debate, it will be absolutely deficient," she said. "We need to have a debate, and we need to have debate within the next week, on this."
The Kildare North TD said there appeared to be a contradiction between Sherlock's desire not to give courts the power to enforce unlimited blocking of websites, but still offer the ability to grant injunctions which could do just that.
There is a very important and strong need to have a complete clarification, before any statutory instrument is signed – because this has the potential, because of its vagueness, of doing damage.
TJ McIntyre of Digital Rights Ireland, which opposes the current format of the proposals, said the new draft published today showed "no substantive change" that he could see.
He argued that the new draft shows how the concerns of his group, as well as those of ISPs and the telecoms industry "have all been ignored".