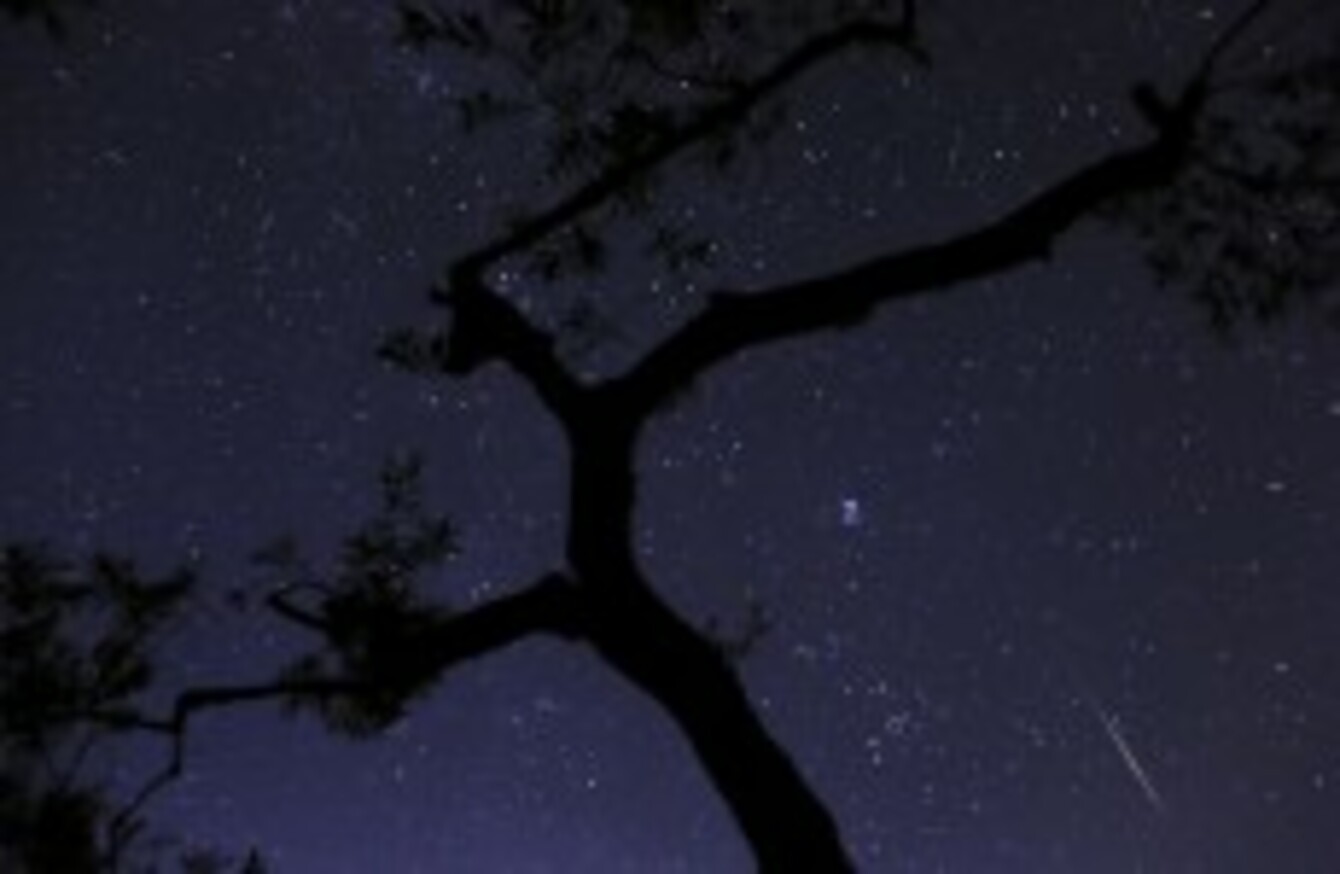 A photo of the Perseids shower.
Image: AP/Press Association Images
A photo of the Perseids shower.
Image: AP/Press Association Images
IRISH PEOPLE ARE being urged to look up tonight, as shooting stars will be visible all night.
What astronomers are called the "best meteor shower of the year" is active all this week and next week. Technically, however, it peaks tonight when around 20 times more shooting stars than normal should be seen.
It will be most visible between 11pm and 1am.
"Even in a dark sky away from streetlights you only expect to see one shooting star every 10 minutes. You see far less from bright city skies.
"But this weekend even city dwellers could see a shooting star every couple of minutes and those in dark rural skies could see more than one every minute. " said David Moore, editor of Astronomy Ireland magazine.
This is the best shooting star shower of the year and we want everyone in Ireland to count how many they see every 15 minutes and

send the results in to our website

because it is only by members of the general public counting the numbers seen that we know that this December shower called 'The Geminids' has become stronger than the August shower 'The Perseids' which used to be the best of the year.
"This is how important these counts by members of the public can be."
Meteors are tiny bits of dust about the size of a grain of sand that hit the atmosphere at speeds around 100,000 km/hour and burn up high in the atmosphere as fiery streaks. In this case the body causing all the dust is a 'rock comet' called Phaethon. We pass near its orbit each year around December 13/14 and hit the swarm of dust that it has left behind it.
The Geminids are known for particularly bright meteors called fireballs and these can be extremely impressive.
No equipment is needed to view the celestial fireworks display which will be visible from all of the Earth's northern hemisphere.
Astronomy Ireland's advice is that Geminids can be seen anywhere in the sky.
"Give your eyes a couple of minutes to get used to the dark and wrap up well as you watch this spectacle of nature unfold before your very eyes."