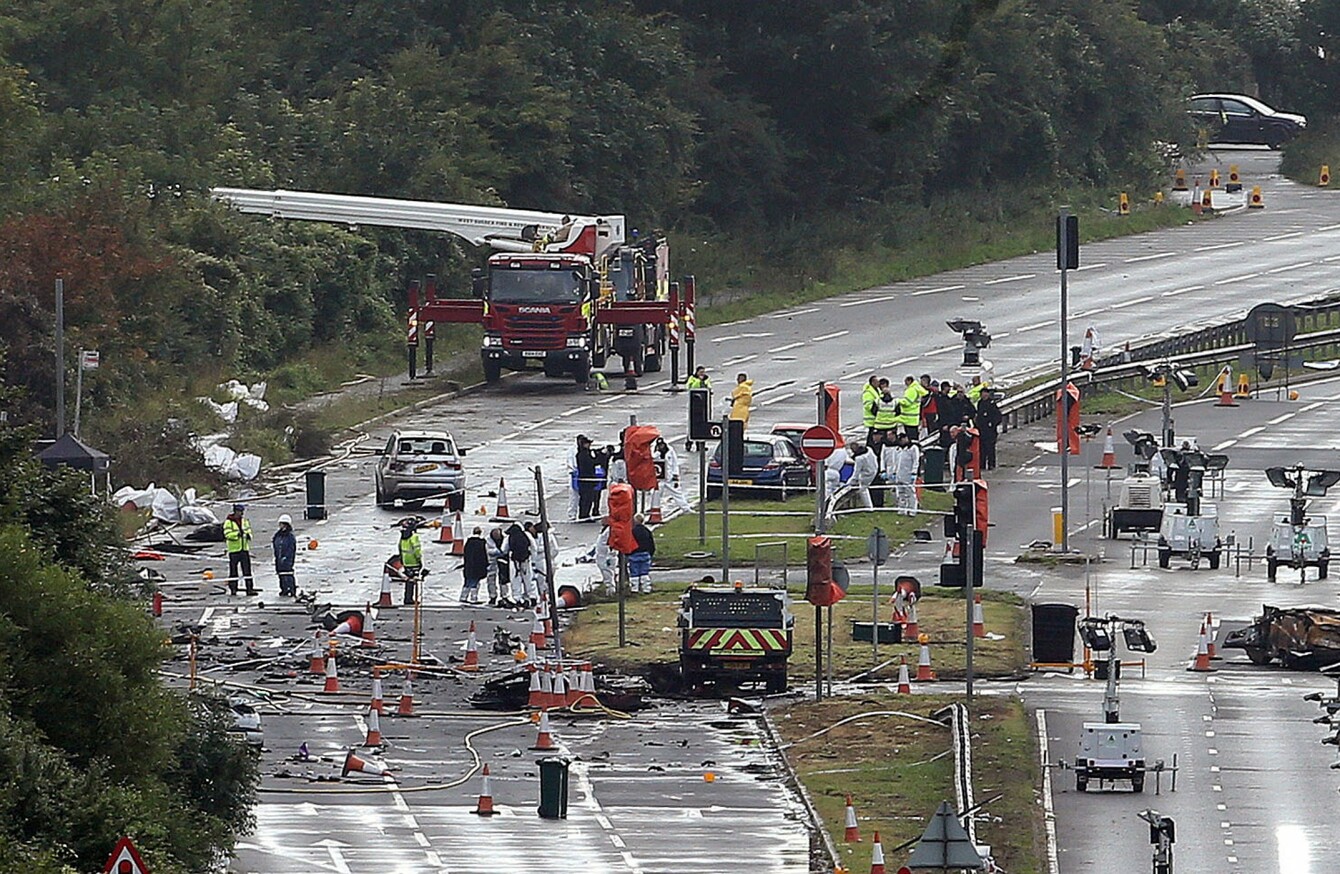 Emergency services attend the scene in the aftermath of the August 2015 crash
Image: Steve Parsons PA Wire/PA Images
Emergency services attend the scene in the aftermath of the August 2015 crash
Image: Steve Parsons PA Wire/PA Images
AIR ACCIDENT INVESTIGATORS have found that errors from the pilot were a key contributory factor to the fatal crash that killed 11 people during the Shoreham Air Show in August 2015.
The Hawker Hunter jet crashed on the A27 road in Sussex on 22 August 2015.
The jet appeared to wobble slightly and lose height at the bottom of its loop before ploughing across the A27, a major road that runs along England's southeast coast.
While pilot Andy Hill survived the crash, 11 people were killed and 13 were injured.
In their report, the Air Accidents Investigation Branch (AAIB) identified a series of contributory factors that caused the crash.
These included:
The pilot either did not perceive that an escape manoeuvre was necessary, or did not realise that one was possible at the speed he achieved.
The pilot did not have formal training to escape from the accident manoeuvre in a Hawker Hunter and had not had his ability to do so assessed.
He had not practised the technique for escaping from the accident manoeuvre, and did not know the minimum speed from which it could be carried out successfully.
The manoeuvre took place over a public area over which the flight organisers had no control.
The AAIB said: "The investigation found that the parties involved in the planning, conduct and regulatory oversight of the flying display did not have formal safety management systems in place to identify and manage the hazards and risks."
The parents of 23-year-old victim Matthew Grimstone told the BBC: "Apart from anything that the pilot may have got wrong, it is very evident the Civil Aviation Authority (CAA) and the Shoreham Air Show organisers have got much to answer for.
Rules laid down by the CAA were clearly inadequate and those that there were, in some cases, not fully adhered to by the air show organisers.
Caroline Schilt, whose son Jacob also died in the crash, said that questions would remain unanswered until an inquest is held.
She said: "The AAIB has given us as a very comprehensive and factual report of their investigation… but there are still questions and they are ones for the coroner, and she is still waiting for all the inquiries to finish before she can go further."
A pre-inquest review is set to take place on 20 June at West Sussex Coroner's Court.