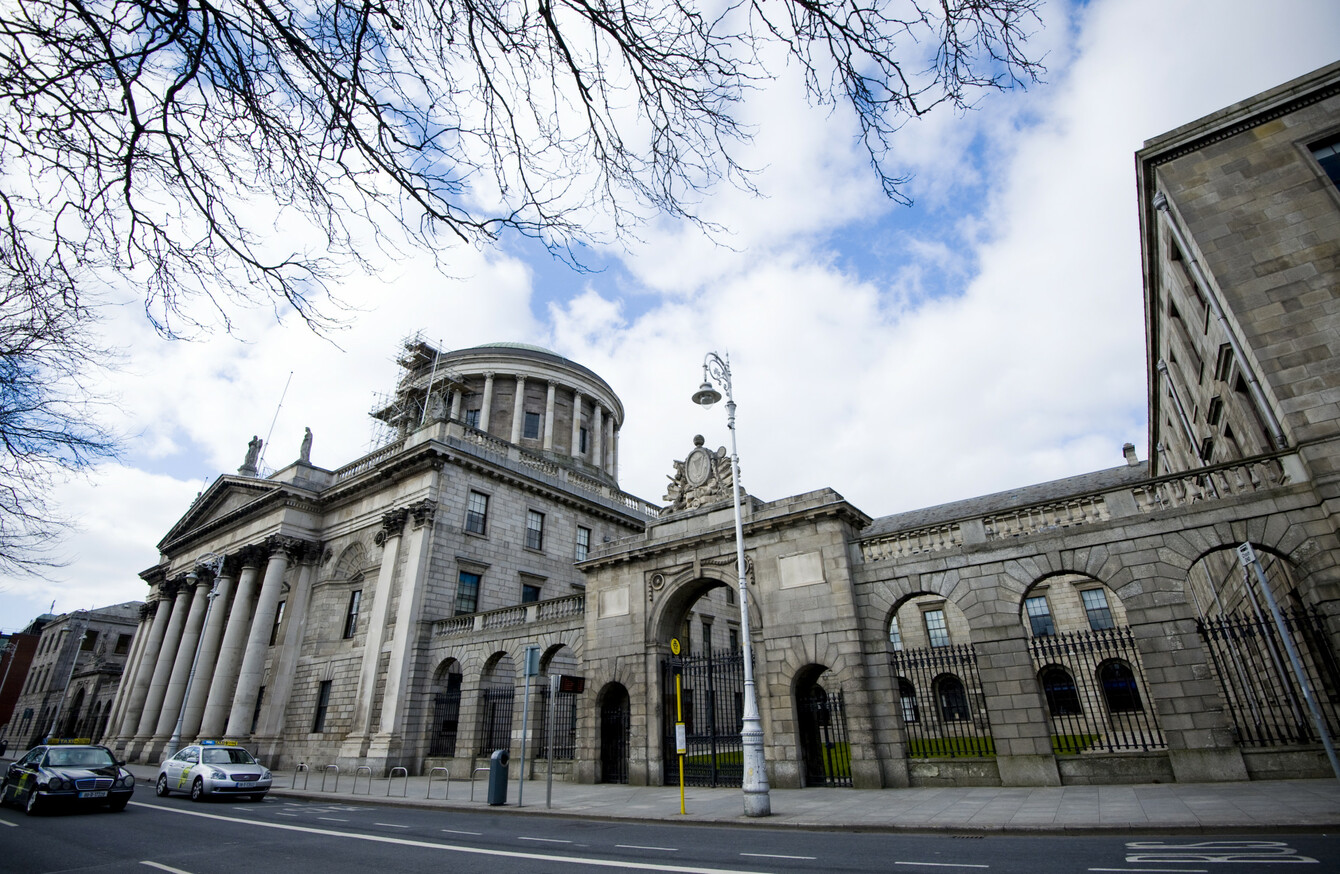 Dublin's Four Courts
Image: Laura Hutton/Photocall Ireland
Dublin's Four Courts
Image: Laura Hutton/Photocall Ireland
AN IRISH-BORN CHILD whose mother fought his deportation order for most of his life because of his severe form of sickle cell has died.
The nine-year-old boy was taken to hospital on Sunday night but died the following day.
His Nigerian mother still faces deportation.
The pair fought the initial orders, made in 2011, in the High Court but were not granted leave to seek a judicial review of the Minister's decision to deport. The Supreme Court dismissed their subsequent appeal of that decision in March.
However, a fresh application on health and humanitarian grounds has since been made to the Minister for Justice.
Brian Burns, the solicitor acting for the mother and son, told TheJournal.ie that the mother is still at risk of deportation but is just "absolutely devastated" by her son's death.
"He was a very sick little boy," he explained.
He had a very severe form of sickle cell. He'd had numerous treatments and blood transfusions in hospital. He had a life full of pain and suffering.
The boy's funeral Mass and burial were held today, where a large group of family and friends gathered with their pastor to pay their respects.
Sickle cell disease is an inherited red blood cell disorder. It can cause fatigue and pain, as well as damage to the internal organs.
Court cases
During the court proceedings in March, an affidavit from the mother was read out which stated that she had been so desperate in order to fund his treatment that she had resorted to prostitution.
"What would happen to (my son) if we were to be deported?" it read.
In order to pay for my son's medication I became involved in prostitution.
A 2014 letter written by consultant haematologist at Our Lady's Children's Hospital, Crumlin, Dr Corrina McMahon, was also read out. It said that the young boy "is at risk from the most extreme condition of sickle cell disease".
"I would say that if (the boy) is deported to Nigeria it is very unlikely that he would survive."
From that year, the State began to fund his healthcare.
In his March judgement, Chief Justice Frank Clarke said that due to a decision in a separate case by the European Court of Human Rights (ECtHR), another application which focused on the medical evidence could now be presented to the Minister for Justice.
"It is worth noting that the Minister retains an important discretion under the relevant legislation to grant leave to remain on general humanitarian grounds," he said.
He noted that the fresh application to revoke the deportation orders would include issues identified in that ECtHR case – including the circumstances that the boy has spent all of his life in Ireland and "has at least a significant medical reason for not being returned".
"…the Minister might well wish to consider whether it would be appropriate, in the exercise of his general discretion, to grant humanitarian leave to remain without having to engage in the kind of assessment which is mandated by Paposhvili. However, that decision is one entirely for the Minister and is not one which the courts can either make or require the Minister to make," he concluded.
Burns said that fresh application has recently been made to the Department of Justice.
Whether the mother will be allowed to stay in Ireland now "completely depends on humanitarian considerations", he added.
Comments are closed as legal proceedings are ongoing.