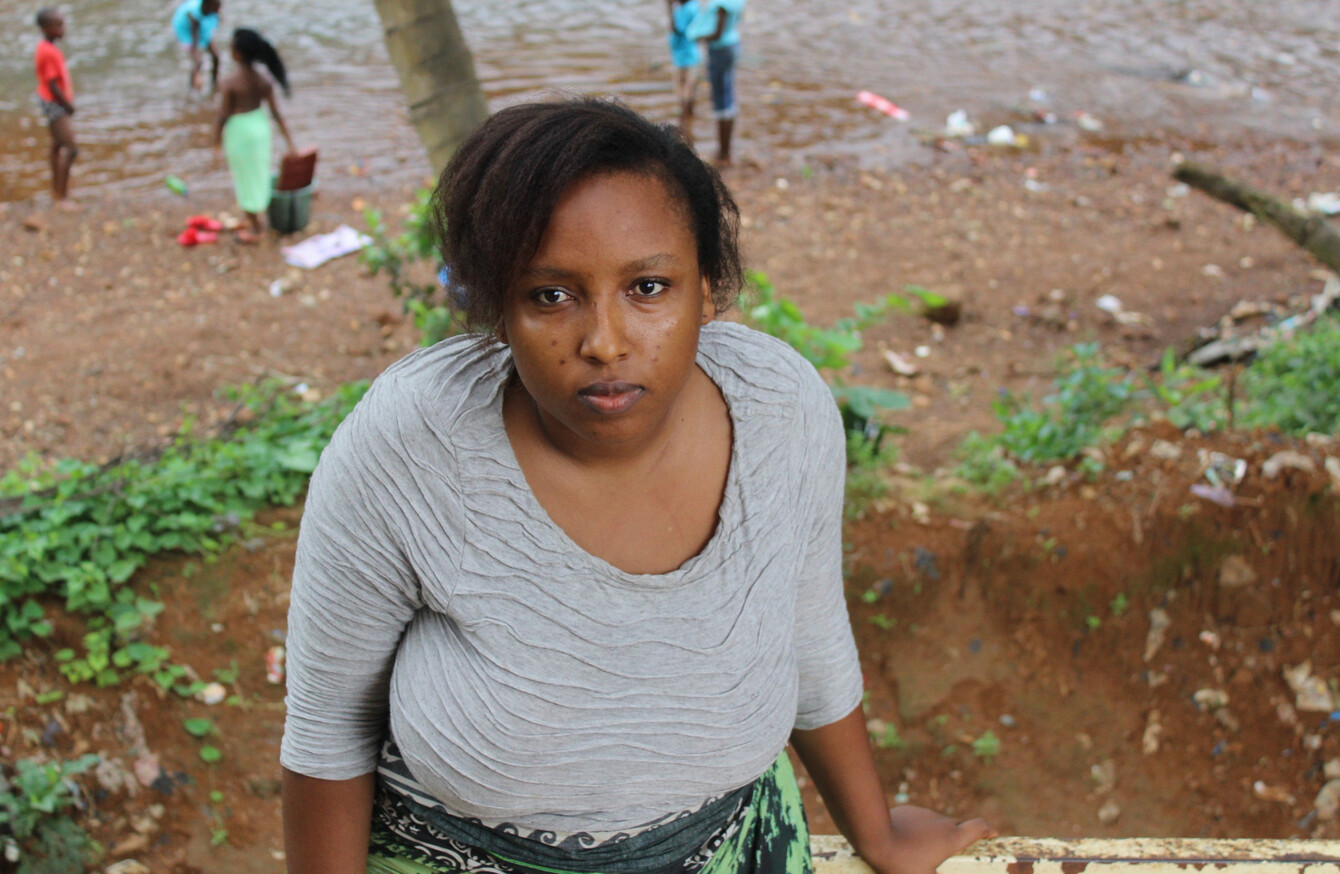 Kadija Sesey
Image: Shauna Bowers
Kadija Sesey
Image: Shauna Bowers
Shauna Bowers reports from Sierra Leone
IT WAS THE middle of the night just over one year ago when Kadija Sesey, a mother of four, woke with a start. She looked around her small room, two storeys up from the ground, and saw water filling the room, surrounding her and rising steadily. 
She, and the other 7 people who were living in the house, knew that the only way to ensure their safety was to climb onto their roof as the water continued to rise. They made it, and ended up staying on their roof for five hours while heavy rain fell, destroying their house and all of their belongings.
This was a reality for many of the people in Sierra Leone when the massive mudslide hit the capital city of Freetown in August 2017, killing over 1,100 people and destroying hundreds of buildings. However what is uncommon is that the Sesey family continue to live in the house that was destroyed, and in an area that is completely unsafe.
"We lost everything and had to try and repair it all by ourselves because we have no place else to go," said Kadija.
"It's scary because a mudslide will probably happen again and we are still living here. It's scary but it's our life now. We have nowhere else to go. We don't have enough money and it's lonely."
"We don't even have any protection around the house because fences are too much money. We just have to hope we can survive each day."
Massive loss of life
Building houses in areas that aren't equipped to deal with their infrastructure is one of the reasons behind the mudslide, and many environmentalists believe it's not a case of if another mudslide will occur but rather when it will happen.
There have been other landslides in the past but none of them have caused such a huge loss of life. A study by the World Bank cited climate change and human interference such as deforestation as defining factors of the severity of the landslide.
Aram Kazandijan, development manager at the Tacugama Chimpanzee Sanctuary, which specialises in environmental protection in Sierra Leone, said that the sanctuary and its founder has been warning the government about the impact of building houses in protected areas of the capital for the last 30 years.
"Our founder has been a voice of advocacy for many years, warning the government that if this negligence continues then landslides will happen," Kazandijan said.
"Encroachment especially is having an effect. A lot of housing is being built in the national park. A lot of these people have the proper papers to build here but that shouldn't be happening. The land can't sustain it."
The importance of homes
Kazandijan argues that it is time to take action to protect the lands so that there aren't any repeat events in the near future. The sanctuary wants to counteract the deforestation that has happened in the areas surrounding Freetown by increasing the number of trees being planted.
"In terms of the landslide, if you look at how best to quickly fix that, one of the easiest ways is to reinforce the area and plant trees along the axis. If we do that in a very strategic manner and on a scale that would make a difference, then nature would take care of the rest."
Hege Land, a technical advisor with Handicap International – Humanity & Inclusion, a charity that has helped many locals affected by the events of last summer, said that houses "mean everything" to these people and that they don't want to be separated from the main towns.
"Across the world, most people want to live in urban areas and that's the same in Salone," Land said. "The biggest problem is trying to convince people that they don't have to live in central areas."
"The city is not big enough to facilitate the infrastructure for so many people. It was built for 400,000 and now we have three times more than that."
#Open journalism No news is bad news Support The Journal

Your contributions will help us continue to deliver the stories that are important to you

Support us now
She added: "This is in part as a result of the war and also because of the global phenomenon of wanting to live in urban areas. They want to go where all the opportunities are."
The biggest challenge
The Ministry of Lands, Housing and Planning has erected signs in what they believe are danger areas, advising locals not to live there. The government are also trying to relocate families and people to new houses in less dangerous areas.
On the anniversary of the mudslide, President of Sierra Leone Julius Maada Bio announced a ban on the construction of new houses and buildings in the area. He said that anybody building houses in these areas will be prosecuted and that the buildings will be destroyed.
However, the biggest challenge they will face will be trying to convince people to relocate when they are so accustomed to living in these areas. Many of the locals said that they want to continue living near Freetown and don't want to be moved anywhere else.
Sesey understands why she and many other people don't want to be relocated. She said: "This is our home, even if the mudslide and flooding ruined a lot of it. You just can't leave your home. We have friends, families and a standard of living that we wouldn't have if we moved away from Freetown."
This article was supported by the Simon Cumbers Media Fund.