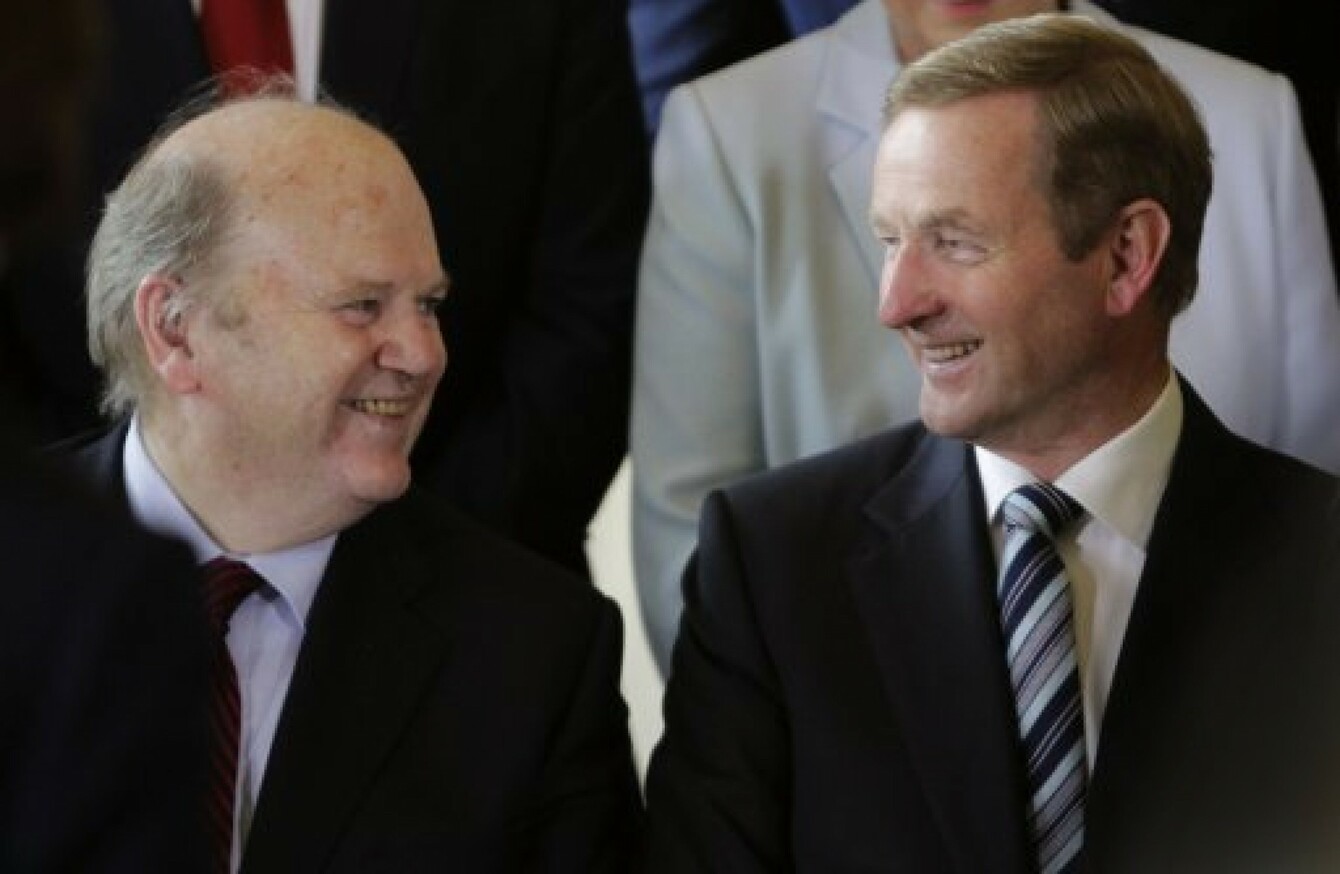 Noonan has given Kenny his backing.
Image: PA Archive/PA Images
Noonan has given Kenny his backing.
Image: PA Archive/PA Images
Updated 7.03pm 
FINANCE MINISTER MICHAEL Noonan has said that he thinks Enda Kenny should stay on as Taoiseach until at least the summer.
Noonan wants Kenny to stay on as Taoiseach past the initial Brexit negotiations until Ireland's position is made clear.
"We saw this week in the United States an example of how good Enda Kenny is in international negotiations. His speech on immigration has been lauded internationally, and to be able to make such a strong speech in the company of President Trump when we know his position on immigration shows how diplomatic the Taoiseach can be," Noonan told RTÉ's Six One news.
So certainly for the primary principles of the negotiations which won't conclude until end of April/early May, the Taoiseach should be in position. But it's my own opinion that he should stay on until the second phase as well, when the details of Ireland's negotiation position have been established and have been signed off on, and that's the end of May/early June.
Meanwhile, Housing Minister Simon Coveney has says his is feeling "relaxed" about Enda Kenny staying on as Taoiseach.
One of the two top contenders for the Fine Gael leadership told Drivetime this evening that he wasn't shocked by Kenny's comments that he was staying on.
To be honest, I'm pretty relaxed about what the Taoiseach has been saying. He's really doing and saying what most of us expected him to say.
"I think anyone who knows the Taoiseach, anyone who is involved in Fine Gael's discussions in recent weeks, is expecting the Taoiseach to attend the first leader's meeting after Article 50 is triggered, and that is what he's signaled his intent to do now.
"There's no surprise there."
Speaking in New York after marching in the city's St Patrick's Day parade, Kenny said that his immediate priority is dealing with political instability in Northern Ireland and the uncertainty Brexit would create for Ireland.
"What I did say to my own party was I would deal with this matter effectively and conclusively, and that is my intention, but I think these are priorities that take precedence over everything else," he said.
Coveney denied this evening that this was a turn around from Kenny's previous comments around his departure and signalled a prolonged stay for the leader.
Well I don't think there's been a big change, to be honest with you, in the last two weeks. I think people are interpreting this as some change in policy – I don't see it that way.
#Open journalism No news is bad news Support The Journal

Your contributions will help us continue to deliver the stories that are important to you

Support us now
"The idea that An Taoiseach would be taking a personal interest in ensuring that the Assembly gets back up and running in Northern Ireland in the context of Brexit and many other things, that we need that Assembly up and running isn't a surprise either."
Coveney said that he trusts the Taoiseach to put in place a timeline for departure in the next two weeks.
He admitted that there was a small minority of members who wanted the leadership challenge to be brought forward, but he said that it was "very unlikely" someone might put forward a motion of no confidence in the Taoiseach, as they'd "get no support".
During his St Patrick's Day visit to the US, a previous draft version of Enda Kenny's speech was circulated to the media by accident, which included a line stating that this would be his last visit to the US as Taoiseach.
But that line was removed from the final version – causing speculation about when exactly Enda Kenny plans to resign as the head of government and leader of Fine Gael.
With reporting from Christina Finn and Rónán Duffy