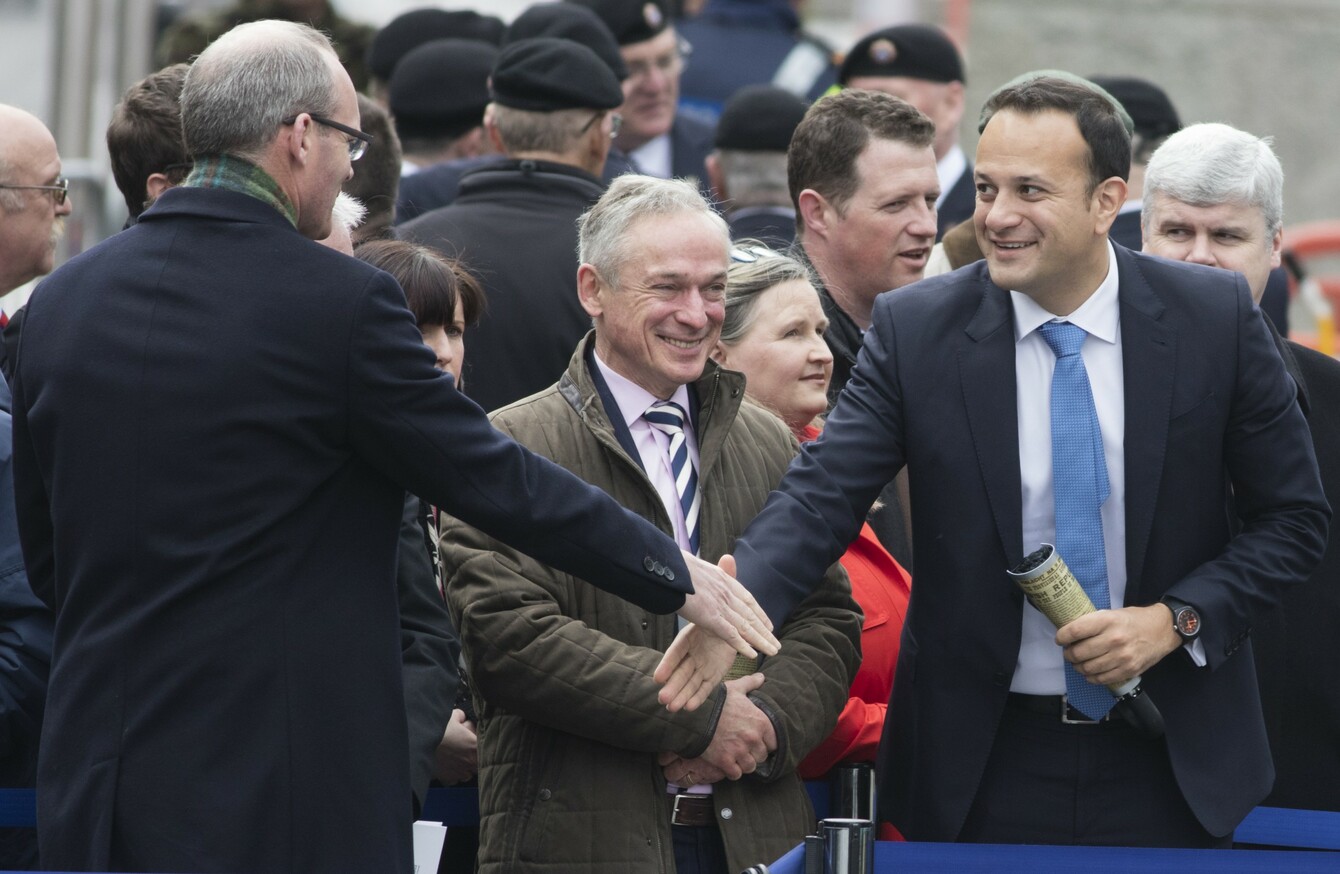 Image: Eamonn Farrell
Image: Eamonn Farrell
SO FAR, IT'S been all niceties, with a few sly remarks in the Fine Gael leadership race. But, the hustings (debates) kick off on Thursday, so there is still time.
Yesterday was the first Cabinet meeting after a weekend in which declarations of support flooded in for Minister for Social Protection Leo Varadkar.
Making his way into Government Buildings, Varadkar told waiting reporters "he hopes it won't be awkward at Cabinet" now that the leadership contest is underway.
So, was it a case of the ministers sitting on opposite sides of the table during discussions, and was it awkward?
Coveney said such reports were "rubbish".
In an interview with TheJournal.ie, the Housing Minster said:
I saw Leo being quoted on the way in saying that, and there was no awkwardness – we are professional politicians, we are also colleagues and friends in the party. There was no awkwardness today, we just got on with the job and that is what we will do when this process is over as well.
While the end of this contest seems to be a lifetime away, what can we expect afterwards?
There has already been speculation that some supporters could be relegated to the back benches, but what about the relationship between Leo and Simon? Can fences be mended or will there be any animosity between the pair?
Well, let's wait and see. I hope there won't be, but let's just be clear, this is a contest –  it is a contest of ideas and a contest in terms of the direction this party is going and I intend to make a pretty compelling argument in relation to that. But I am not going to get personal. I have huge regard for Leo Varadkar and many of the people who are supporting him. But whoever wins, if I win, I expect Leo to work with me to rebuild the party and, if he wins, I will certainly do the same.
Answering a question during a rally this week, Coveney said he was more concerned about his supporters' future than his own.
"I have huge admiration for colleagues who are committed to not only me, but my message, who in a way, commit their careers to me," he told TheJournal.ie, adding:
If you look back in history, generally people who support the winner tend to do better in terms of appointments. I would like to think that isn't driving the choices that many people make, but I am not naive enough to think that it is not a factor.
#Open journalism No news is bad news Support The Journal

Your contributions will help us continue to deliver the stories that are important to you

Support us now
"I don't hold grudges against anyone for the decisions that they've made and really I think it is a waste of time and space to begin talking about that," said Coveney.
He said the party needs to have a more important discussion now about where Fine Gael politics is going to take the country over the next two decades.
Coveney said he is passionate about creating a country that is unified and a lot fairer.
"I hope I get the opportunity to take us there," he said.
You can read the full TheJournal.ie interview with Simon Coveney later tonight.