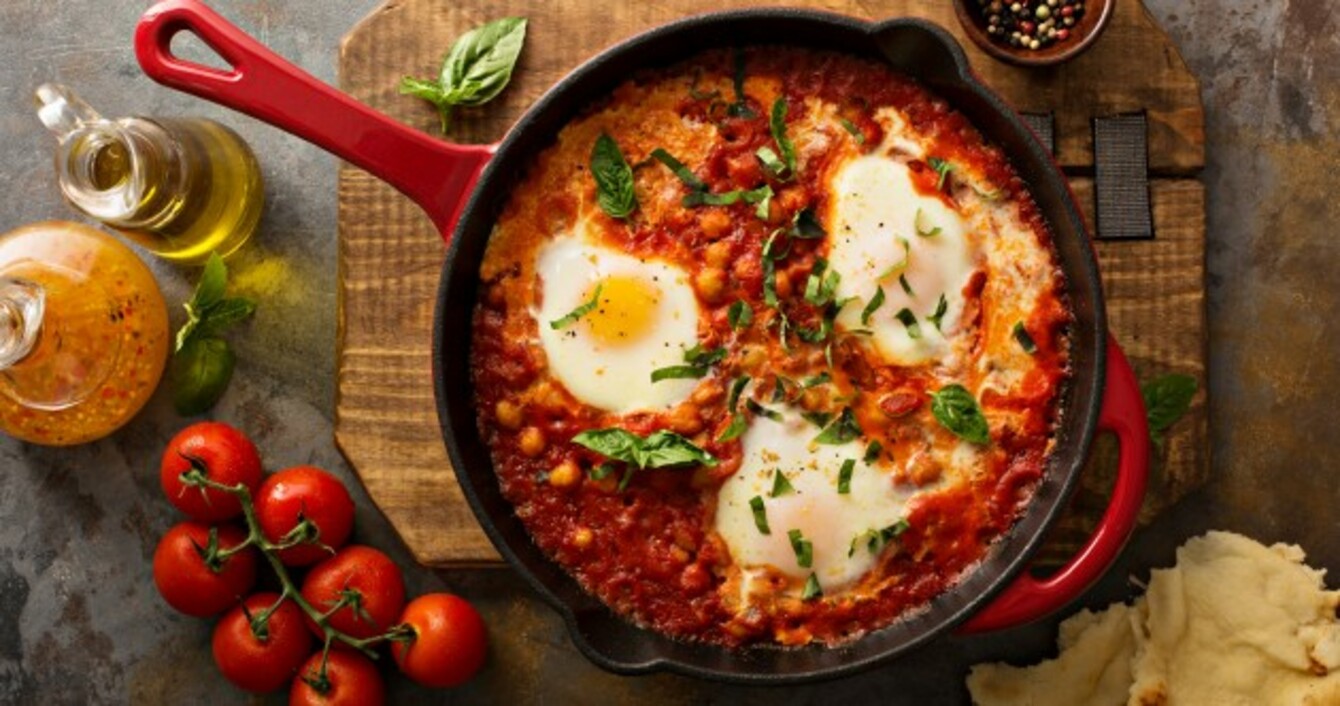 Image: Shutterstock/Elena Veselova
Image: Shutterstock/Elena Veselova
IT'S SAFE TO say we're not all as confident in the kitchen as Jamie Oliver. So, when it comes to hosting the next dinner party or Sunday brunch, a feeling of dread can set in.
On the one hand we want to make something that not only looks but tastes seriously impressive. On the other… it can be difficult to know where to start.
There are some simple things you can do to ensure a stress free cooking experience, like preparing ingredients in advance and serving food sharing style. And of course, don't ever be afraid to delegate (we've all got that one friend who can whip up a cake out of nowhere!).
But to help you along, we've rounded up 10 great tasting recipes that will seriously impress your guests, and look like you've spent hours in the kitchen. We'll say nothing…
1. Whole Roasted Spiced Cauliflower
If you haven't yet made a whole roasted cauliflower, it's time to change that! Cauliflower is great for absorbing flavours and, cooked in the oven, transforms into a moreish alternative to a roast chicken.
In a bowl, make a spice paste by mixing together paprika, cumin, crushed garlic, lemon zest and olive oil. Trim the outer cauliflower leaves, then baste the cauliflower in the spice paste, season well, and place in a roasting tin.
Cover with tinfoil and bake for one hour, then remove the tinfoil, baste the cauliflower with any excess liquids, and bake uncovered for another 20 minutes. Serve with cous cous and greens.
2. Beetroot Risotto with Crumbled Feta
This vibrant pink risotto is seriously insta-worthy! This recipe requires 500g of cooked beetroot, so you can either bake raw beetroot in the oven for about 80 minutes, or buy it pre cooked.
Heat some vegetable stock in a saucepan and, while this is heating, place just over half of the beetroot in a food processor and blitz until smooth. Add a few spoonfuls of stock to the beetroot so that it isn't too dry.
Once blitzed, place the pureed beetroot into the pot of stock and stir. Heat some butter in another pot and add finely chopped shallots and crushed garlic. Soften for a few minutes, then add in a spoonful of the risotto rice and a dash of white wine. Next, add in some more rice and stock, and stir until absorbed, then continue this process until all of the rice has been used and it's cooked.
Finally, stir through a knob of butter and the remaining diced beetroot. Serve straight away topped with crumbled feta.
3. Halloumi, Peach and Green Bean Salad
Summertime allows us to get creative with salads, and combinations of sweet and savoury flavours work deliciously together.
Boil some green beans for about two minutes until al dente, then drain, rinse with cold water and set aside. Make the dressing by mixing together olive oil, honey, balsamic vinegar and the juice of a quarter of an orange. Fry some sliced halloumi on a griddle pan for about a minute on each side, until golden. Tip the cooled green beans along with some rocket into a salad bowl, toss through the dressing, and top with sliced peach and halloumi.
4. Shakshuka
If you've guests staying over, why not impress them with a flavour packed shakshuka for brunch?
Heat some oil in an ovenproof pan, and fry sliced peppers, garlic, onion and chorizo (optional) for about five minutes. Add in some paprika and cumin, and fry for another minute, then pour over a tin of chopped tomatoes and some tomato puree. Stir to combine, then simmer for 10 minutes, until the sauce has thickened.
Make four wells in the mixture and crack an egg into each one. Allow to simmer for another 2 minutes, then pop into a hot oven for 5-10 minutes, depending on how you like your eggs cooked. Sprinkle over some crumbled goats cheese and coriander, and serve sharing style with lots of fresh bread.
5. Shrimp Tacos
The joy with tacos is that you can get really inventive with toppings, and make them as simple or loaded as you like! To start off with, toss some fresh prawns in olive oil, lemon zest, seasoning and cajun spice, and fry in a pan for a few minutes until they turn pink.
Spoon into warmed corn tortillas or taco shells, and top with shredded iceberg lettuce and homemade guacamole and a squeeze of lime. If you want to load them up with even more toppings, some corn salsa and pickled red onion would be delicious!
6. Miso Baked Aubergine
Miso aubergine is one of the simplest meals to make, and is ideal for entertaining veggie guests. To make the marinade, mix together 1 tbsp miso paste, soy sauce, grated ginger, crushed garlic and a dash of sesame oil.
Cut an aubergine in half lengthways, score it diagonally, and spread the paste all over the flesh. Allow to marinade for 30 minutes if possible, which will allow for the flavours to deepen. Bake in a hot oven for 25-30 minutes until the aubergine is cooked through, then serve with some fresh green salad and steamed jasmine rice.
7. Buddha Bowl
Buddha bowls are a bit of an Instagram sensation at the moment – you just need to search the hashtag for some seriously beautiful bowls. If you've got some friends coming for a last minute lunch, this is a great dish to whip up, since it can be made with a variety of vegetables, protein, grains and some sliced avocado.
Why not try a Mexican inspired mixture of grilled chicken, quinoa, grated carrot, corn salsa, roasted sweet potato and sliced avocado. Top with some chilli-lime dressing for a lunch bursting with flavour and colour.
8. Brioche French Toast with Caramelised Banana
This one will earn you serious brownie points with whoever is lucky enough to try it! Beat some eggs together with a dash of milk and soak slices of brioche bread in this mixture until they are thoroughly coated.
In a nonstick pan, melt some butter and fry the bread for about 3 minutes on each side, until golden. Pop the slices on a baking tray in a warm oven while you make the caramelised bananas. Add sliced bananas to a pan with a little butter and fry for about a minute, until golden.
Stir through a squeeze of honey and orange juice, and toss around until the liquid has turned to a syrup, which only takes about 2 minutes. Place the toast on plates and ladle over the bananas and syrup. A few slices of streaky bacon makes this extra impressive!
9. Baked Cod Parcels
This fresh and summery dish can be prepared in advance, and popped into the oven 20 minutes before you're ready to eat.
Cut out some large squares of baking parchment and tinfoil, lay them on top of each other (with the tinfoil under the parchment), and place a piece of cod in the centre of each one.
Drizzle over a mixture of olive oil and pesto then top with some cherry tomatoes, fresh basil and a slice of lemon. Season with salt and pepper, then scrunch up the parchment and tinfoil to create parcels. Bake in a hot oven for 20 minutes, and serve with roast baby potatoes and a side salad.
10. Fig, Prosciutto and Ricotta Bruschetta
Creamy ricotta, salty prosciutto and sweet figs marry beautifully to create this simple dish that's great for entertaining. It's all about the ingredients here – so opt for a freshly baked ciabatta for the base, ripe figs and good quality prosciutto.
Slice the bread and brush it with olive oil, then toast it lightly on a griddle pan. Spread over the creamy ricotta, then top with prosciutto and sliced figs. Drizzle with some good quality aged balsamic vinegar for an extra flavour kick.