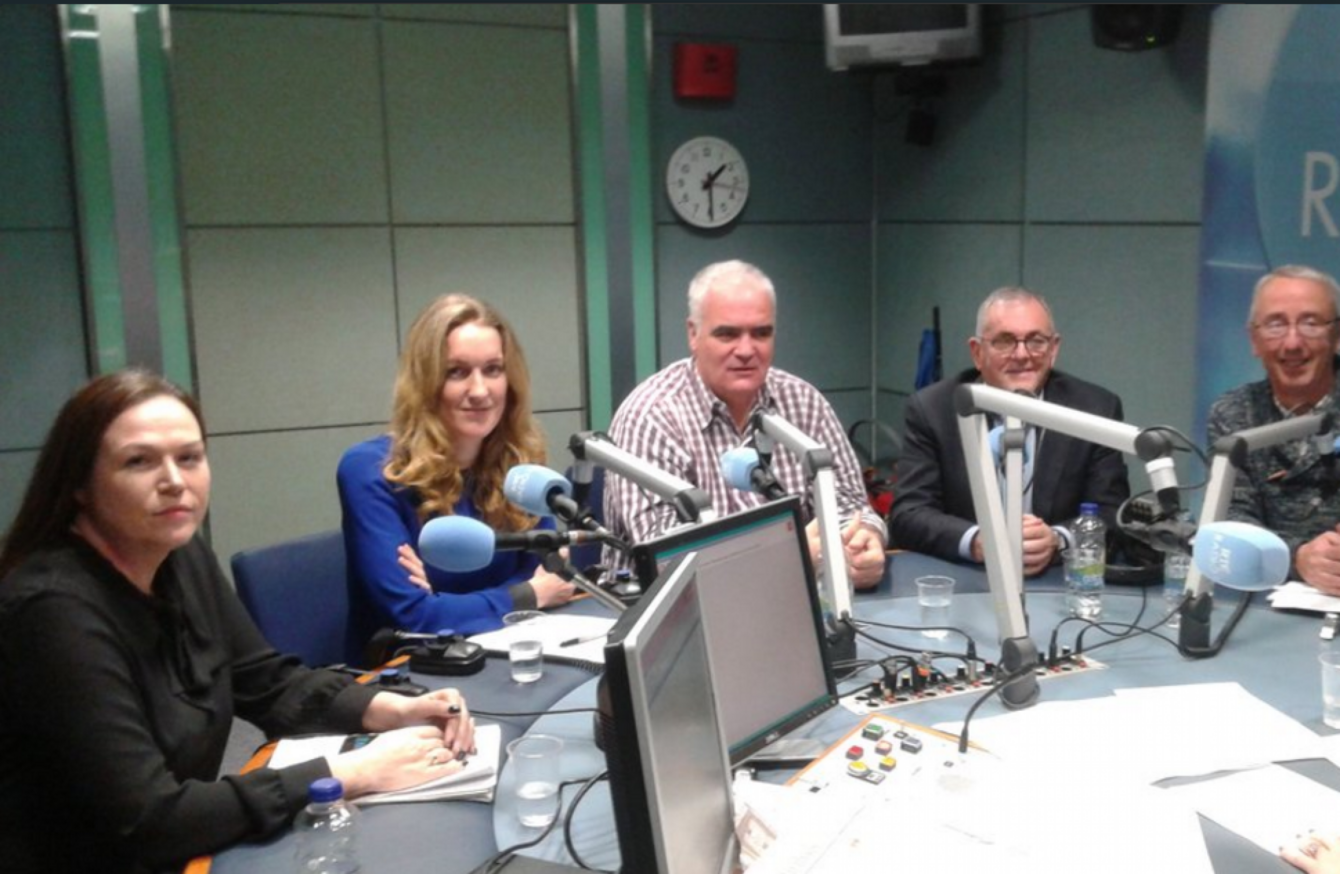 Louise O'Reilly, far left, with the rest of the panel this morning.
Image: Saturday with Claire Byrne
Louise O'Reilly, far left, with the rest of the panel this morning.
Image: Saturday with Claire Byrne
Updated 6.48pm
SINN FÉIN ELECTION candidate Louise O'Reilly has this evening clarified that she does, in fact, condemn the murder by IRA man Pearse McAuley of Garda Jerry McCabe in an attempted robbery in 1996.
Her clarification comes after she took part in this morning's Saturday with Claire Byrne panel on RTÉ Radio 1 and showed a reluctance to condemn the garda's killing.
It was suggested during the panel discussion than even the newer members of O'Reilly's party were slow to criticise actions of the past, to which she responded:
"I find this absolutely hilarious to be frank with you because – I'm sorry I shouldn't have used the word hilarious, that was wrong of me."
She went on to explain that she believed it was "incredulous" for politicians and journalists to continue to raise these issues when other, more pressing topics, were being brought up on the doorsteps.
However she was pressed by members of the panel and by Claire Byrne, who asked her if she saw the garda's killing as an act of war or as murder.
"Claire, war is very, very complicated," she said. "We don't have the time or the scope to go into that."
"Not that simple"
Again, when asked if she thought his murder was right or wrong, the Dublin Fingal candidate responded: "I don't think it's that simple".
She said there had been "rights and wrongs on both sides".
The murder of any person and the taking of human life is wrong.
This evening, O'Reilly clarified her comments:
Earlier criticisms
Following the radio show, there had been criticisms of her reluctance to condemn the garda's killing outright, with Fine Gael TD Alan Farrell saying he wanted to state his "utter abhorrence that a person seeking election to Dáil Éireann would not condemn the murder of a member of An Garda Síochána".
"This is a chilling but timely reminder of why Sinn Féin is not fit to govern our country," he added.
Fianna Fáil candidate for Dublin Fingal Lorraine Clifford-Lee also described remarks made by O'Reilly as "disgusting".
"I know from engaging with people on the ground in Dublin Fingal that they are deeply concerned with the difficult job that gardai are expected to do day in and day out. They recognise that gardaí are under enormous pressure.
"Communities across Dublin Fingal were shocked following the murder of Garda Tony Golden in Louth and there was an outpouring of grief in the area at the time."