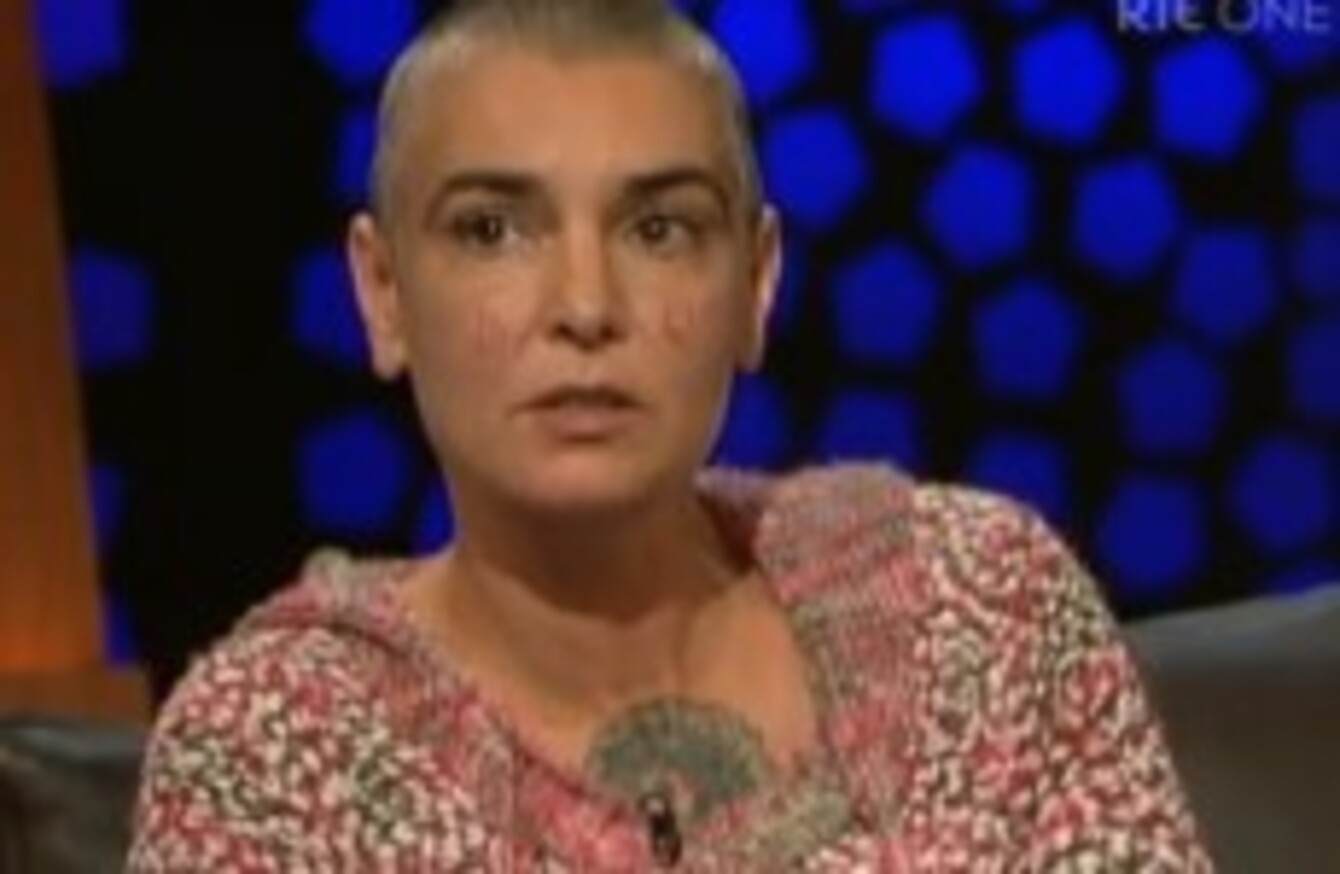 Sinéad O'Connor on The Late Late Show this weekend.
Image: Screengrab/RTE
Sinéad O'Connor on The Late Late Show this weekend.
Image: Screengrab/RTE
Updated 3.56pm
A FINE GAEL TD, who called Sinead O'Connor 'mad as a brush', has apologised to the singer in a message posted on his website this afternoon.
In a brief statement, Dublin-based deputy Alan Farrell said to O'Connor: "I would like to apologise to you for any hurt that I have caused you by my remark on twitter on Friday night.
"I should not have said it, I have deleted the tweet and I hope you will accept my apology. I agree completely with what you said about the exploitation of young women."
His ap0logy came after O'Connor wrote an open letter to Farrell following his comments about her during her appearance on RTÉ Late Late Show last Friday.
The Fine Gael TD referred to her as being 'mad as a brush' in a tweet which has since been deleted.
Farrell told TheJournal.ie this afternoon he has tried to contact O'Connor to make the apology personally but has been unable to reach her.
Asked if he thought it was a silly thing to do Farrell said that he is "not commenting any further".
Miley Cyrus
Last week, O'Connor wrote an open letter giving advice to the American star Miley Cyrus, telling her not to "prostitute" herself for the music industry.
Cyrus posted a message on Twitter making light of the Irish singer's history of mental health problems, prompting criticism from charities working in that area.
O'Connor would not be drawn on the issue too much, but said that she thought Cyrus made great records and was just offering some motherly advice, which she said, perhaps was not her place.
Farell came under much criticism after posting this message on the social media site:
In another tweet he stated, "…what is far more worthy of our concern is the willingness of our 'national' broadcaster to give such a person an airing".
He replied to the criticism by stating that he stood over the initial tweet, stating "… my opinion stands".
In her most recent open letter, O'Connor asks Farrell to explain his tweets, stating:
Could you discuss please and explain both of your tweets.

I'd like an explanation (detailed) and I'm sure many people who struggle with mental health issues would like one also.
- additional reporting Hugh O'Connell
First published 10.07am