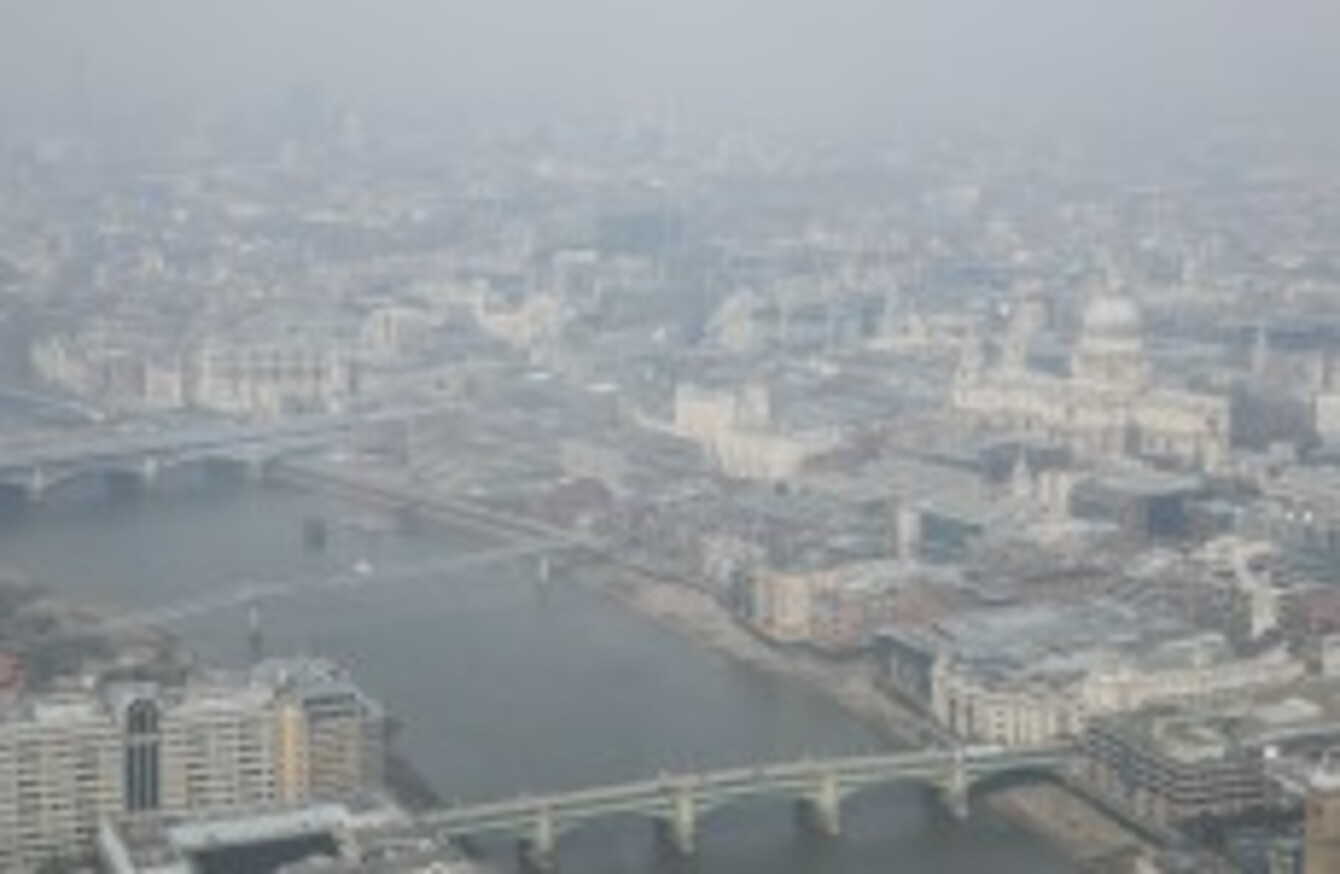 General view of smog over the London cityscape
Image: Jeff Moore/Jeff Moore/Empics Entertainment via PA
General view of smog over the London cityscape
Image: Jeff Moore/Jeff Moore/Empics Entertainment via PA
HEALTH WARNINGS HAVE been issued across parts of England because of high air pollution levels and there are fears for Irish health as pollution crosses over.
Ireland's air quality suffered from dust that was carried from the Sahara desert over the weekend.
Many people woke on Sunday to find their cars covered in the dust and there are fears it could be detrimental to people's health.
The Environmental Protection Agency (EPA) said they recorded slightly elevated "particulate matter readings" in Dublin that were "consistent with a contribution from the Saharan dust".
They also reported "some instrumentation issues" in Cork yesterday but it was confirmed last night that they were corrected. EPA stated, "Air quality is good in all regions."
The pollution, a mix of local and European emissions and dust from the Sahara, was forecast to be highest in southeast and central England and Wales.
In parts of England, asthmatics were warned to keep their inhalers handy as they could be prone to attacks, while older people and people with lung or heart disease were urged to avoid strenuous exercise outside.
(Kirsty Wigglesworth/AP/Press Association Images)
A cyclist wears an anti air pollution mask as he cycles along The Mall in London. British authorities have warned people with heart or lung conditions to avoid exertion as a combination of industrial pollution and Sahara dust blankets part of the country in smog.
DEFRA, the environment ministry, has a 10-point scale for measuring air quality, ranging from one for a "low" risk of air pollution to 10, which signifies "very high" levels.
Most of England was rated as five yesterday but forecasters said pollution levels could reach eight or nine.
The public can check out Ireland's air quality readings on the AQIH map and on Twitter @EPAairquality.
An Index reading of 10 means the air quality is very poor and a reading of one to three inclusive means that the air quality is good.
Although skies above London were turned hazy by the smog, authorities said there were no plans to restrict car use, as Parisian authorities did last month when the French capital was hit by air pollution.
(Jeff Moore/Jeff Moore/Empics Entertainment)
General view of smog over the London cityscape from the Shard.
Doctor Helen Dacre, a meteorologist at the University of Reading, said: "Saharan dust gets blown over to Britain several times a year.
The current episode has been whipped up by a large wind storm in North Africa. This has all combined to create high concentrations of pollutants in the air.
Includes reporting from AP.