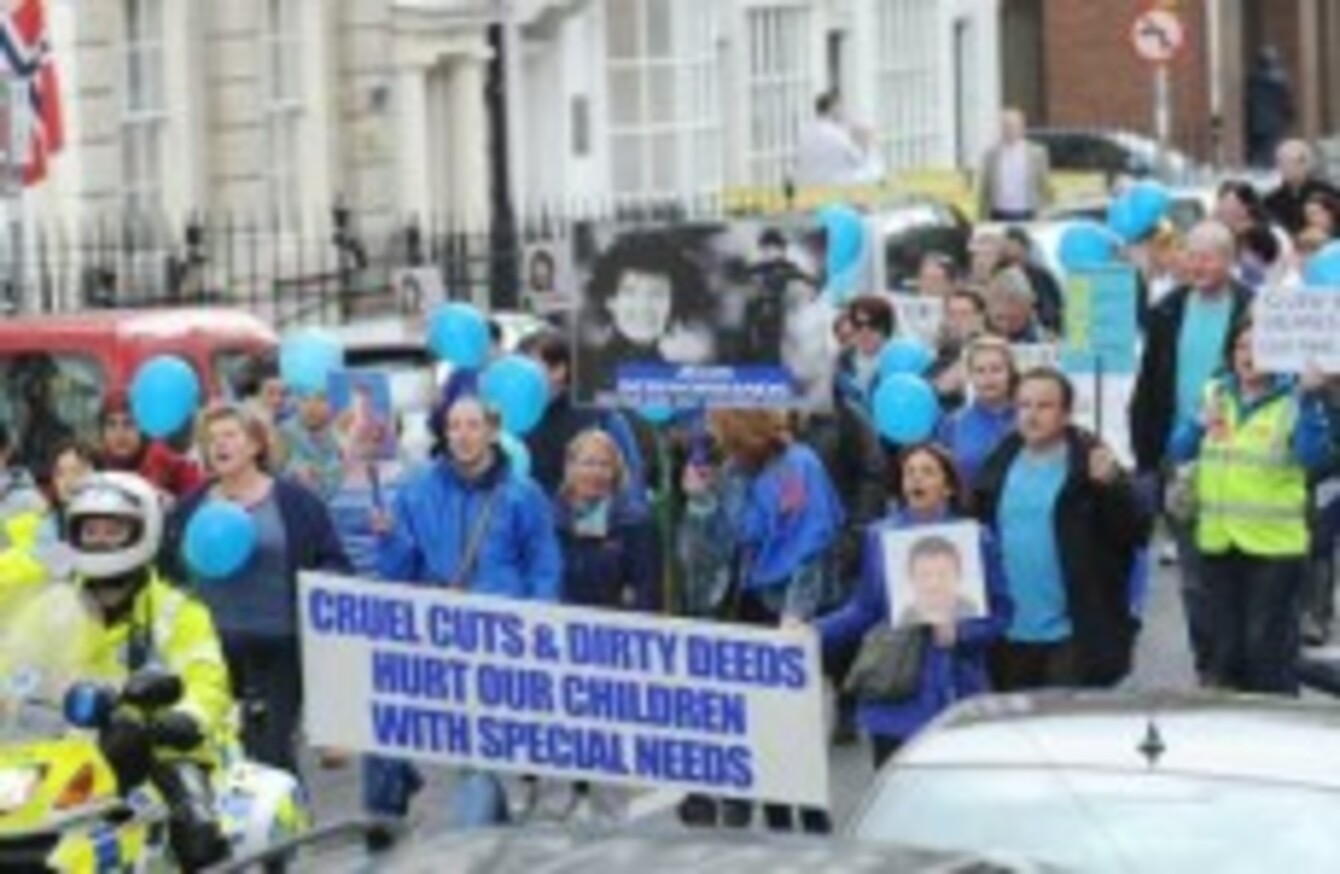 Parents of children with special needs protest earlier this year.
Image: Laura Hutton / Photocall Ireland
Parents of children with special needs protest earlier this year.
Image: Laura Hutton / Photocall Ireland
THE NATIONAL COUNCIL for Special Education has revealed that 10,311 special needs assistant positions have been approved for the next school year.
That number is broadly in line with last year. The council also said it would be able to respond to urgent applications for SNA support that may arise during 2012 and 2013, possibly adding an additional 264 posts.
Teresa Griffin, CEO of the NCSE, noted that the number of SNAs in each individual school will vary from year to year and this may cause confusion if it is misinterpreted as a cut.
"For example, a primary school may have six SNAs in one school year. At the end of that year, four SNAs are freed up because children leave to go to other schools," she explained. "If no new children with disabilities and significant care needs enrol, the level of SNA support allocated to the school is adjusted from six to two. This is often misinterpreted as a cut when the reality is posts have been re-allocated to new schools receiving the pupils concerned."
At today's publication of the allocations of Resource Teacher and Special Needs Assistants, Griffin also announced that a major strategic review of special educational supports has been underway since earlier this year on the request of the Minister.
Despite the number of learning support and resource teaching posts remaining at 9,950, the NCSE confirmed that demand has increased so teaching hours will be reduced again.
A school enrolling a pupil with severe emotional or behavioural difficulties, which was allocated four-and-a-half additional teaching hours per week this year, will receive 15 minutes less teaching support per week in 2012/13. In 2010/2011, this same school would have received five hours per week in additional teaching support.
Griffin advised schools to maximise their use of additional teaching hours "through careful planning, team teaching and/or the withdrawal of students to work in small groups" in order to minimise the impact of this adjustment on individual students.