Image: Shutterstock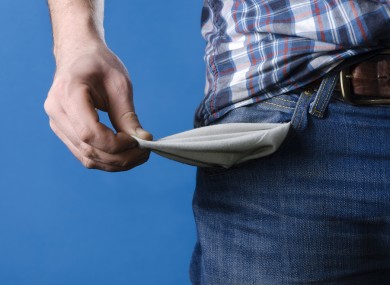 Image: Shutterstock
A CARLOW-KILKENNY by-election candidate is accusing the Department of Social Protection of implementing a policy of 'age discrimination'.
Adrienne Wallace was referring to the case of a 24-year-old who is seeking up to €4,000 in what he feels are due back payments from social welfare.
James McDaid says he feels he was 'discriminated against' because of his age.
Wallace says his case demonstrates a clear question of unfairness in the system.
"If women or black people were told that they had to accept a lower rate of social welfare than whites there would be outrage," she said.
McDaid has been unemployed for over a year and applied for support in 2014. He was placed on Jobseeker's Allowance of €100 per week.
This is the new standard level of Jobseeker's Allowance for 18-24 year-olds.
"I was delighted at the time, a bit of financial burden was lifted from me," he says.
The ITC graduate is from Donegal but has lived in Carlow since attending college and says he doesn't receive financial support from his parents.
After a while, he says, it became a struggle to continue to live on the €100-a-week payment.
I found it increasingly difficult to live on €100 a week and eventually asked in the social welfare office was I claiming as much as I could. She asked me if I was claiming rent allowance to which I replied that I had a claim in. Then she turned and shrugged her shoulder saying sorry that's all. I told her about how others could claim €188 a week and asked her why I couldn't claim this. She told me that it was due to my age.
McDaid, who says he canvasses for People Before Profit (PBP), then applied to the Free Legal Aid board for help in seeking an increased weekly amount from social welfare.
He told TheJournal.ie that when he was originally applying for support it wasn't made clear to him whether he could claim for Jobseeker's Benefit or Jobseeker's Allowance.
"That's basically what I thought at the time. I thought that it was all just what I was able to claim. You get one form which is for Jobseeker's Allowance and Jobseeker's Benefit, the two claims go hand in hand together."
Jobseeker's Allowance is means tested and the maximum rate for people aged 26 years or over is €188. The rate for people aged 25 is €144 per week while the personal rate for people aged 18-24 is €100 per week.
The Department of Social Protection says it does not comment on individual cases but outlined that €100 is the regular reduced payment for 24-year-olds.
#Open journalism No news is bad news Support The Journal

Your contributions will help us continue to deliver the stories that are important to you

Support us now
There are a number of exceptions to this including claimants with dependent children or people who who were getting a higher rate before 15 January 2014.
McDaid says he wrote to social welfare laying out that he was told he was placed on the lesser payment because of his age. This, he says, contravenes his right not to be discriminated against because of his age.
Since that, he received a letter saying that he will receive €188 a week. A fortnight ago, when collecting his payment, he received a total of €1100, €188 plus €912 in back payment.
He was not informed, however, exactly what this back pay was for and whether it meant a mistake was made with his original award.
He says that he "would like to see the good in people" and assume it was a clerical error but that his experience from talking to people is that this often happens unless people challenge decisions.
McDaid says he is still waiting to hear a reply from social welfare about whether he is entitled to the the over €4,000 is seeking.