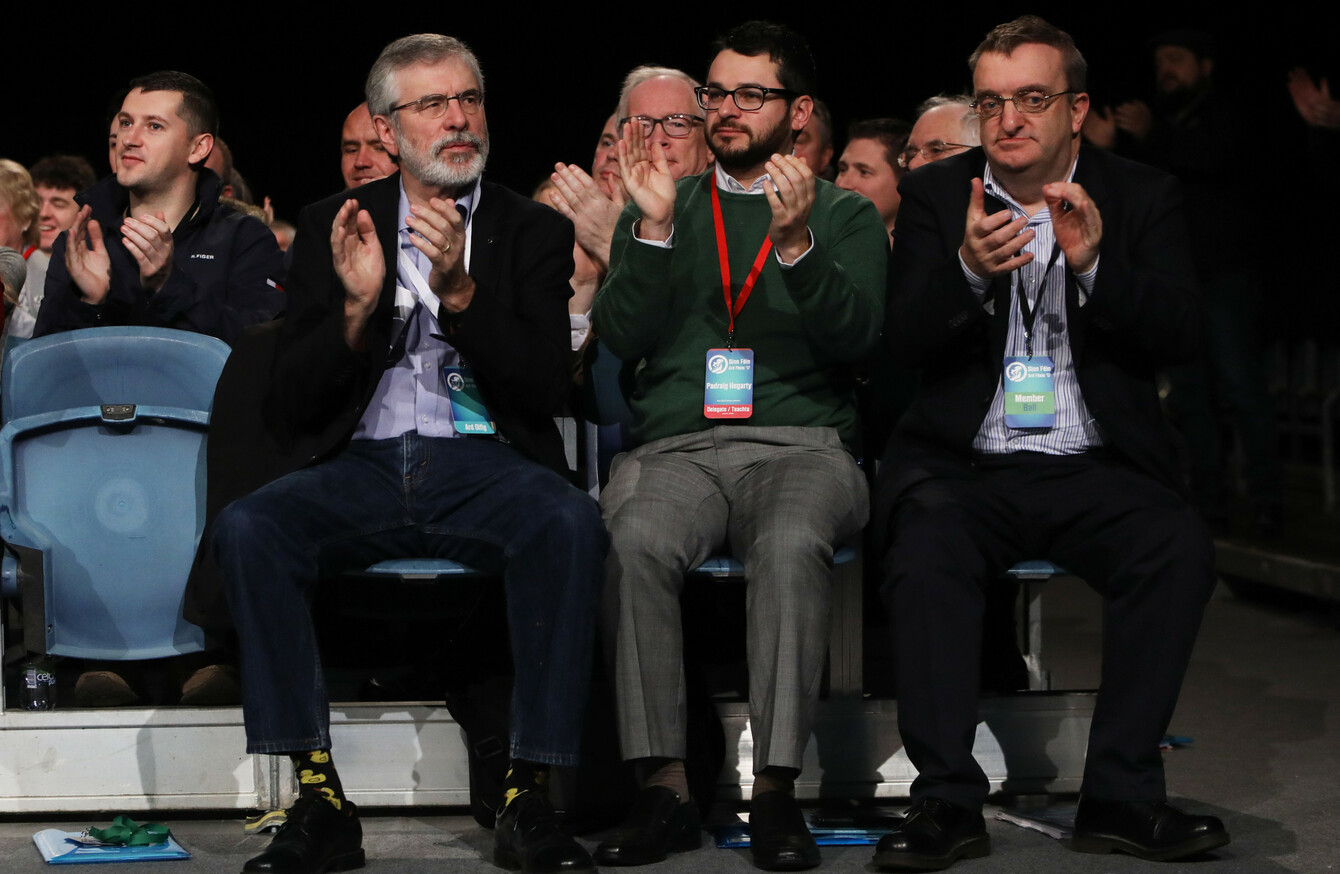 Party President Gerry Adams.Padraig Hegarty and Mícheál MacDonncha, Lord Mayor of Dublin at the Sinn Fein Ard Fheis in the RDS In Dublin
Image: Leah Farrell
Party President Gerry Adams.Padraig Hegarty and Mícheál MacDonncha, Lord Mayor of Dublin at the Sinn Fein Ard Fheis in the RDS In Dublin
Image: Leah Farrell
SINN FÉIN'S NATIONAL chairperson Declan Kearney has defended the party's ethical record, highlighting recent media criticisms relating to bullying within the party.
He states that the party is governed by a charter of ethics.
"The discipline and behaviour of our membership is subordinate to, absolutely subordinate to, that positive ethos," he told party members.
He said Sinn Féin members must hold themselves to the highest standards within the party and in wider society.
However, he did state that some join Sinn Féin for the wrong reasons.
Some people join our party for the wrong reasons some join and then they fall out with others because they don't get their own way.
The Sinn Féin Ard Fheis voted to "reinvigorate" the National Councillors Forum and to roll out a series of training, education and policy briefings to elected representatives.
Going against Ard Comhairle
Delegates also passed a motion acknowledging that councillors or co-opted members are allowed to continue to work in other jobs, keeping their council pay, as well as take up work with the party and TDs.
Current policy prohibits councillors from holding other jobs within the party, or working for TDs. However, three cumainn called for the rules to be relaxed.
The motion, which Sinn Féin headquarters attempted to shelf, was passed at the party's Ard Fheis this afternoon after a number of councillors spoke out against the rule.
Dundrum Councillor Sorcha Nic Cormaic, took to the stage with her ten-day old newborn baby in her carrier, to state that the "unwritten rule" makes "no sense".
Sorcha Nic Cormaic joined by her newborn baby on stage to call for support for motion to allow councillors to have other paid jobs #SFAF17 pic.twitter.com/Axkpm5zPeI

— Christina Finn (@christinafinn8) November 18, 2017
She said the party was losing out on talented people who wanted to join the party.
The councillor said unless the ban is lifted the main loser will be Sinn Féin "a victim of its own daft policy".
Sinn Féin councillor Mark Ward, who was co-opted when Eoin Ó Broin vacated his seat upon election to the Dáil, said he came under pressure to resign his council seat when he took up a job with the party.
During a debate on party governance at this year's Ard Fheis, resulted in members endorsing the new rules and Constitution for the party.
The party also ruled out a free vote on abortion for TDs and senators, and voted to support Catalonia.
In a significant move, Sinn Féin voted to hold an extraordinary Ard Fheis within three months of the party president Gerry Adams stepping down  – paving the way for the long time leader, who has led the party for 35 years, to step down.
Adams is due to make a speech about his future plans this evening.
Unlike other years, no embargoed speech has been provided to the media.
Instead the Sinn Féin leader is keeping his intentions under lock and key until 8.30pm tonight when his speech will be broadcast on RTÉ.