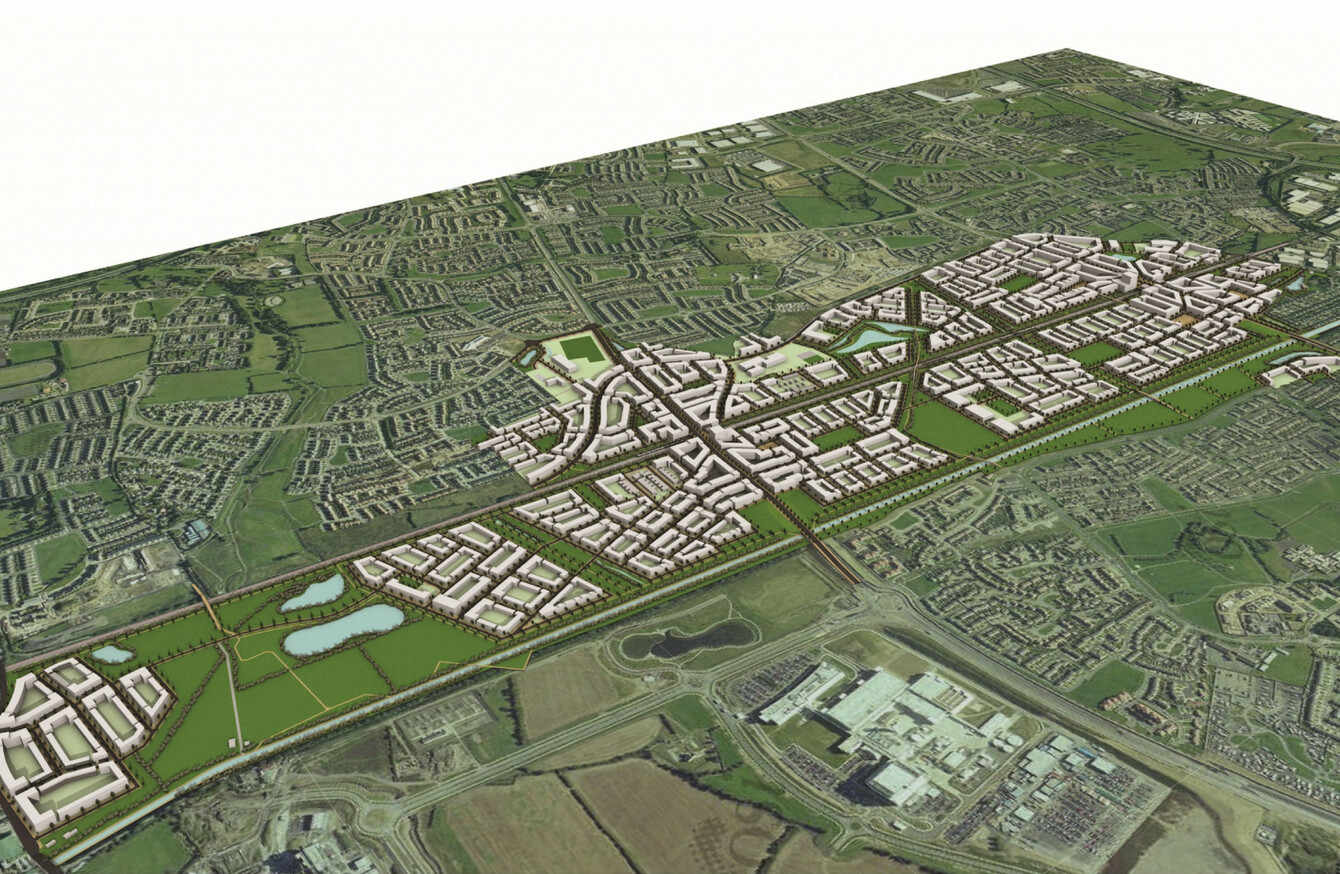 The proposed layout of Clonburris.
The proposed layout of Clonburris.
FOUR SOUTH DUBLIN County Councillors have reacted with anger, confusion and frustration after they were removed from a formal alliance on the council following tense meetings about Dublin's newest proposed town.
Independent councillors Paul Gogarty (who is Mayor of the area), Liona O'Toole, Guss O'Connell and Deirdre O'Donovan have all been removed from the Progressive Alliance on South Dublin County Council (SDCC).
The councillors were voted off the alliance by their fellow councillors after heated debates last week around the Clonburris Strategic Development Zone.
The Progressive Alliance was formed at the beginning of the new term in 2014 by councillors from Sinn Féin, the Labour Party, one Green Party councillor and a number of Independents.
The goal of the alliance was to have councillors work together towards common policy priorities in areas of jobs, housing, protecting public services, social & economic sustainability, empowering communities and promoting equality.
While councillors said the alliance had become strained over the past four years, it had managed to stay more or less intact until this week.
Cathal King, the Sinn Féin group leader on South Dublin County Council, said yesterday that the alliance would no longer include the four councillors due to what he said were their efforts to "limit the delivery of social and affordable housing on the Clonburris Strategic Development Zone site".
Clonburris is a new town planned for south Dublin to be situated near to Clondalkin and Lucan. The land has the potential to see 8,437 homes built, with the plan launched last September.
"Sinn Féin's objective through the SDZ process was to ensure that the diverse needs of the communities in Lucan and Clondalkin would be met," King said.
"This means providing an adequate supply of social and affordable housing, improving transport and public transport infrastructure, ensuring adequate supply of green space and community facilities and working with other agencies to deliver jobs and quality public services.
Unfortunately Councillors Gogarty, O'Connell, O'Toole and O'Donovan set their face against this balanced approach and used the process to limit the delivery of much needed social and affordable housing.
The councillors in question all strongly dispute this characterisation of their approach to Clonburris.
Removing the councillors from the alliance has the backing of the Sinn Féin and Labour councillors as well as a number of other Independents.
Clonburris 
The row is over the four marathon council meetings and debates in relation to passing the Clonburris Strategic Development Zone that were held earlier this month.
Four lengthy debates were held between Friday 2 February and the early hours of Friday 9 February.
According to local paper the Dublin Gazette, over 350 motions were tabled during these debates. There was a lot of back and forth between councillors, and things became heated on a number of occasions, according to those present.
(Unlike Fingal County, Dublin City and Dun Laoghaire Rathdown County Councils, South Dublin County Council does not have webcasting of its meetings).
The plan was eventually passed on for public consultation, where it is believed aspects of it will be challenged to An Bord Pleanála.
Councillors had opposing views on various aspects of the Clonburris plan.
During the meetings, which were chaired by Paul Gogarty, councillors clashed over infrastructure, amenities, zoning and the number of private houses, affordable houses and social houses to be built (and where they would be built).
Sinn Féin councillors and others were looking for close to 4,000 of the homes built in Clonburris to be either social or affordable housing.
A total of 22% of the land at the SDZ is actually owned by SDCC, which Sinn Féin councillors said presented a unique opportunity to build a significant number of social houses.
Other councillors opposed this level of social housing build, however. In the end a motion for about 32% social and affordable housing across the entire site was passed by councillors.
The four Independent councillors believed that greater infrastructure and amenities were needed ahead of large scale social housing builds.
There were also key disagreements as to where the housing will be located – with Gogarty and others preferring that it be located in higher density developments closer to train stations that are supposed to service the area (Kishoge and Clondalkin/Fonthill).
Sinn Féin's Cathal King said that this would lead to too much concentration in one area and leave "nothing around the edges".
Local community groups in Lucan have also been vocal in raising issues with the Clonburris plan. One group called for no more than 10% of houses in Clonburris to be social housing units.
The aftermath 
Following all this, Sinn Féin and Labour councillors (as well as a small number of Independents) said that they felt that they were no longer aligned with the views of the four Independents and decided to remove them from the alliance.
For their part, Councillors Gogarty, O'Connell, O'Donovan and O'Toole strongly reject assertions that they were seeking to limit social housing and all take issue with being removed from the alliance.
#Open journalism No news is bad news Support The Journal

Your contributions will help us continue to deliver the stories that are important to you

Support us now
"To clarify: There were NO discussions in the Progressive Alliance about policies relating to the SDZ," Gogarty said in a statement.
This is because, just like a development plan, it is left up to each individual member to make up their own mind whether to support, co-sponsor or oppose a motion
He said there had been no collective attempt by the councillors to restrict the delivery of social and affordable housing.
Deirdre O'Donovan said in a statement that the Progressive Alliance had achieved a lot in its time, but the once the Clonburris debates started "it became clear that there were differences in our views".
O'Donovan agreed with Gogarty in saying that adequate transport links and infrastructure was needed in the area before large numbers of social homes could be built.
She said that Labour and Sinn Féin "couldn't consider an alternative viewpoint to their own" and decided to remove her and the others from the alliance.
"I have never voted against social housing and I make no apology for voting how I did in the Clonburris SDZ process.  I stand over my political ideology of learning from the mistakes of the past," she said.
Councillor Liona O'Toole agreed with the others in saying that she was forced out of the alliance for holding an opposing view. She also said that additional infrastructure and facilities were needed ahead of large scale social housing.
"As Sinn Fein and Labour could not see beyond their own policies the end result was accusations that Independents were blocking housing," she said.
"I am on record supporting all types of housing including social and affordable housing but I want to see it delivered in a correct and sustainable way.
I will not apologise for fighting for that and doing what's in the best interests of the people I represent and not the political mantra of a political party.
Finally, Guss O'Connell said that he was "totally taken aback" by the decision to remove him from the alliance.
"I and others had endeavoured to peg the delivery of houses to the realistic amenities and facilities so that those residents could have a good quality of life," he said.
I want to see houses built as fast as anyone else.
O'Connell also said that he had wanted a large percentage of social and affordable housing too, but that he disagreed on how this should be delivered.
"I can't understand why I was expelled because I have not reneged on anything I signed up to," he said.