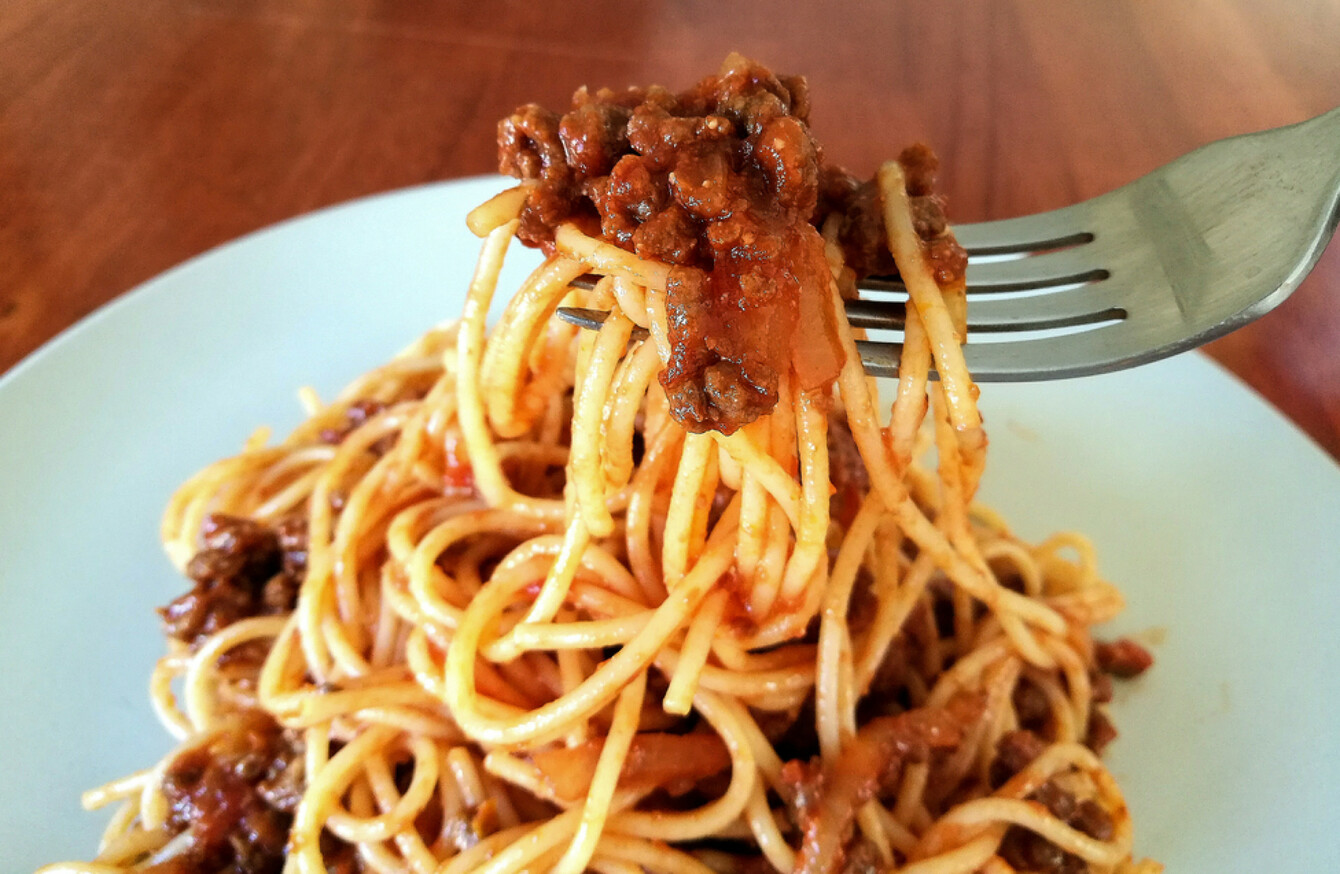 Image: Shutterstock/Maliflower73
Image: Shutterstock/Maliflower73
EVERY HOME COOK has their own kitchen hacks, cheats and traditions, and we want to know yours.
Each week as part of our Kitchen Secrets series, we'll be asking readers to share their cooking tips and go-to-dishes. From the secret to quick-and-easy dinners, to the best way to scramble an egg, we'll have a new question every seven days.
This week, we're asking…
What's your recipe for super spaghetti bolognese?
As usual, our home cooks had lots to say. If you'd like to join the panel (and be in with the chance to win Lidl prizes), send us your name and a bit about yourself to food@thejournal.ie! 
Throw in a Parmesan rind (but don't forget to fish it out at the end):
I always make bolognese sauce in a large, heavy pot and start off by frying diced pancetta in a little olive oil until it browns and releases lots of it delicious pork fat. Add your minced meat to this; usually a mix of beef and steak mince and brown. Remove all the meat from the pot and set aside. Then in go the holy trinity of finely diced carrots, onions and celery – sauté for about 15 mins.
Then it's the minced garlic and dried herbs – basil, oregano, thyme and a bay leaf. Stir in tomato paste and add a glass of decent red wine and let the alcohol burn off. After this, I add all the meat back in, along with 2 x tins of peeled whole tomatoes. I glamorously crush these with my hands to break them down. Season with salt, pepper and sugar, I also throw in an old Parmesan rind from the fridge at this point as I heard somewhere that it adds depth and I'm here to tell you, it does. Just don't forget to fish out what's left of it at the end.
Bring the sauce to a simmer and cook for about 2 hours. Yes, you read right…start making this before you even think of getting hungry! We enjoy this with a decent quality spaghetti, loads of grated Parmesan and the rest of the red wine.
- Donna Connolly
You'll need at least 45 minutes for the sauce to simmer:
With four young kids, the days of making things like passata, pasta or stock are home are "temporarily" behind me! But bolognese is still a regular in our house.
To start add diced onion, carrots and celery to a large pan and gently fry with a little sunflower oil. Add two cubed rashers of smoked back bacon, then your beef mince. Once it's brown, add your salt, pepper and a good dash of Worcester Sauce. From there, just add the passata, a mug of boiled water, some tomato purée and a beef.
You can then add in any chopped herbs you like before allowing it to simmer for a *minimum* of 45 minutes. There's nothing quick about a good bolognese sauce. You can reduce the sauce cooking time for a quicker meal, but in my opinion, it'll turn out less tasty!  
- Ross Boxshall
Here's a great veggie-friendly option:
I love to make my delicious veggie alternative to spaghetti bolognese. I start with finely chopped onion, carrot, celery and red pepper in the pan. Then I stir in 100g of red lentils, 400g tinned tomatoes, 550ml of beef stock, and some mixed herbs. Bring to the boil and allow it to simmer for 25 minutes, season and add a splash of worcestershire sauce.
- Jennifer Dillon
Make your sauce the day before to allow the flavours to deepen:
Brown your minced beef, then add onions ,garlic, carrots and celery. If you've got fussy children and want to add "hidden" vegetables, this is the time to do it. Grate courgettes or any veg into the mix, these will disintegrate during cooking and they won't even know they're there. 
I like to add in some chopped smoked bacon and an optional splash of red wine before the beef stock, two tins of whole (not chopped) tomatoes and dried basil. Simmer for at least an hour but longer is preferable – I sometimes make my bolognese sauce the day before to allow the flavours to mature. 
- Angela Nolan 
And add in some lentils to extend your leftovers:
The right mince for bolognese is important, I always use minced round steak. It's usually low in fat (about 5%) with just enough for a bit of flavour. 
I make my own homemade hidden vegetable tomato sauce, which I add into the bolognese with passata and a couple of tins of peeled plum tomatoes. Because I like the flavour of tomatoes, but not the texture of lumps of tomato, I blend it in the mixer.  
I steep some lentils in cold water and add those to simmer with the meat, veggies and sauce.  They really extend the bolognese and help to cut down the amount of meat you need to use – great if you're on a budget. 
Recently I've started adding some cornflour that I've blended in cold water. It just thickens up the sauce a little bit without being gloopy.
- Olly Keegan