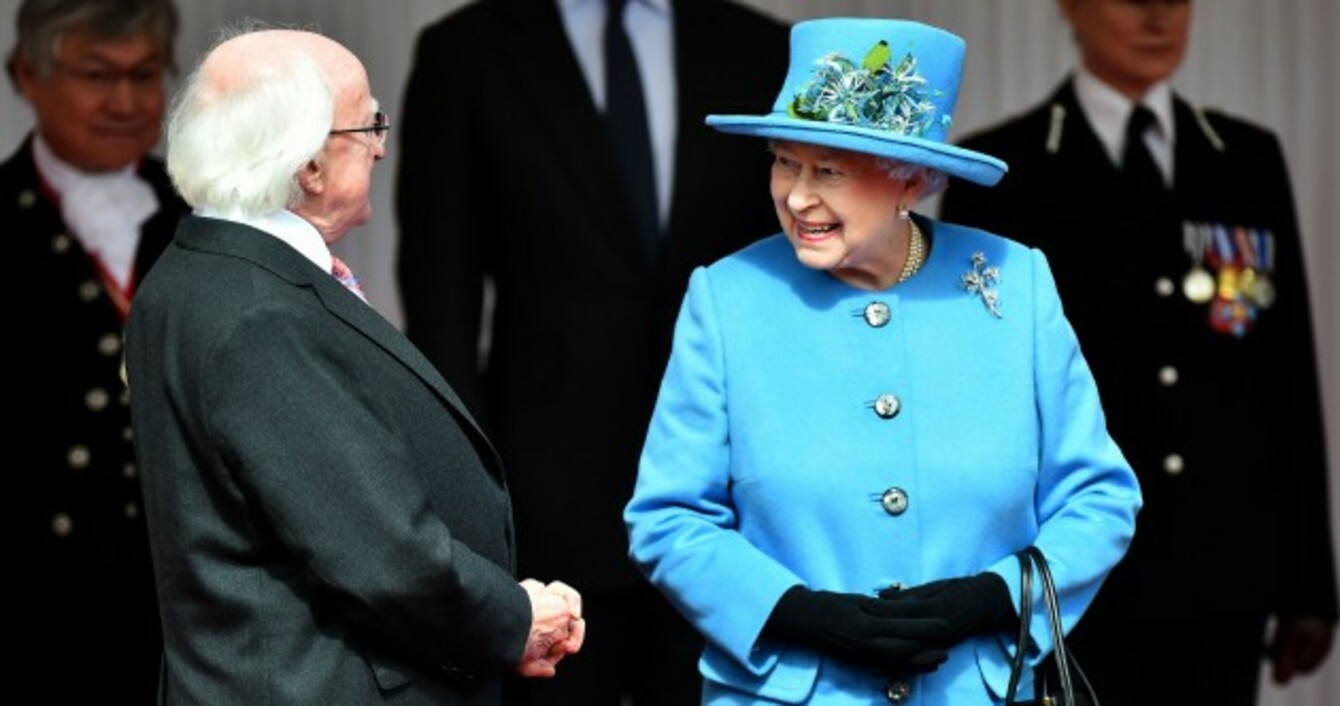 Michael D and Queen Elizabeth get acquainted on day one of the State visit.
Image: BEN STANSALL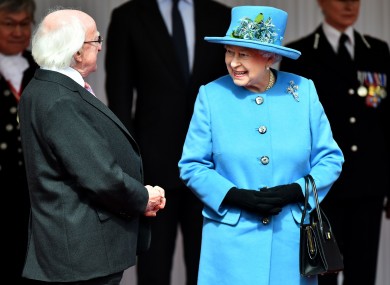 Michael D and Queen Elizabeth get acquainted on day one of the State visit.
Image: BEN STANSALL
AS MARTIN MCGUINNESS, dressed in a dashing tailcoat and dickie bow, did as hundreds of others in the Guildhall did and raised a glass to the Queen of England last Wednesday night, we had to take a second glance. Was this really happening?
Yes, yes it was, and the funny thing was that it was the second time in 24 hours it was happening. Even more incredible was that this was neither ground-breaking nor, for most people, controversial. That's just how it is these days.
Though it generated some remarks the following day, few batted an eyelid when McGuinness was pictured shaking hands with the Queen – for the second time – at Windsor Castle. Again, that's just how it is these days.
This is the new normal.
Various Irish poets and writers were quoted in speeches this week but the words of one, WB Yeats, carry a particular resonance. He famously wrote in the poem 'Easter 1916′, albeit in a different context, that "all changed, changed utterly".
Indeed all has changed and changed utterly in recent years and this week was not so much a realisation of that, but a confirmation that Anglo-Irish relations have never been better.
The President himself could not have put it better when he told MPs and Peers in Westminster on Tuesday: "I stand here at a time when the relationship between our two islands has, as I have said, achieved a closeness and warmth that once seemed unachievable."
So close are we now to our nearest neighbours that Higgins, a keen soccer fan, felt he could get away with saying that he'll be supporting England at the World Cup this summer.
While we probably won't be joining him in donning white shirts with Rooney on the back in June, we can appreciate the sentiment, particularly when you consider the warm welcome he got everywhere he went in England this week.
From Windsor to Stratford, there were crowds gathered, tricolours waved and hands extended. Boris Johnson's staff had been baking biscuits especially for the President, though no word yet on whether Michael D tucked into them.
Police in Windsor said they had never seen so many turnout for the arrival of a head of State – and Queen Elizabeth has welcomed over 100 down the years – as they did last Tuesday when Higgins and his wife Sabina arrived.
And the English, as they are quite good at doing, pulled out all the stops with pomp and ceremony that truly is unmatched anywhere in the world.
The assembly of the Army's Household Division was quite the sight as horses and cavalry men organised themselves into the straightest of straight lines along Datchet Road on Tuesday.
While at the Guildhall on Wednesday night, there was a similar show by the Guard of Honour from the Honourable Artillery Company who assembled for the President to inspect after his arrival for the gala dinner.
For his part, our President did everything that was expected and required of him and more.
From pausing at the memorial to Lord Mountbatten in Westminster Abbey on Tuesday to an impromptu walkabout in Stratford-upon-Avon yesterday, it's the smallest gestures that often have the biggest impact, just as it was with the Queen in the Garden of Remembrance and her cúpla focal at Dublin Castle three years ago.
It was the less formal events brought out the best in everyone.
The President and Sabina took every opportunity they could to meet and greet ordinary Irish people in London, including the many Irish staff working at the University College London Hospital on Wednesday.
Despite the gruelling schedule, the President and his assembled entourage had a spring in their step and smiles on their faces everywhere they went and it rubbed off on those they met and those who were tagging along.
British Prime Minister David Cameron, who had a torrid week as one of his minister's resigned over an expenses scandal, was only delighted to welcome Higgins into Number 10 Downing Street for lunch on Wednesday – a welcome reprieve from the House of Commons where he had just got an almighty shellacking from the opposition.
For those who had tagged along, it was Tánaiste in particular who was everywhere the President was and more. He managed to squeeze in a quick meeting with William Hague on Wednesday afternoon before nipping over to Downing Street to rendezvous with the President and Cameron for a spot of lunch.
Despite the heavy schedule, the ubiquitous Gilmore was happy out and looked like a man only delighted to be unburdened, albeit briefly, from polls, garda recordings and Shatter.
The same could also be said of the Taoiseach who turned up for the State banquet on Tuesday and hung around on Wednesday and Thursday for other events.
Never one to miss an opportunity to talk about jobs these days, Enda Kenny addressed business leaders on Wednesday morning in London's (far more impressive) Mansion House. Kenny was in high spirits, a mood mirrored by his officials who seemed glad to get away from the Merrion Street madness for a few days.
Even the Queen herself couldn't get enough of it all, taking the unusual step of hosting an additional event to the State banquet on Tuesday with a reception at Windsor on Thursday where the implicitly less historic handshake with McGuinness took place.
In recent days, Her Majesty is said to have warmly recalled her visit to Ireland in 2011 and remembered some particular details from the trip that left those who spoke to her with the impression she cherished her time across the Irish Sea.
That trip clearly left a lasting impression as this week will no doubt leave on Higgins and all who accompanied him.
Now the talk turns to 2016 and a possible Royal return to Ireland in a year where the events of the Easter 100 years ago – that "terrible beauty" that Yeats wrote of – will be remembered.
Some will question the appropriateness of a Royal presence at Rising commemorations but the fact that it's being openly discussed at government level says it all about how all has changed, and changed utterly.