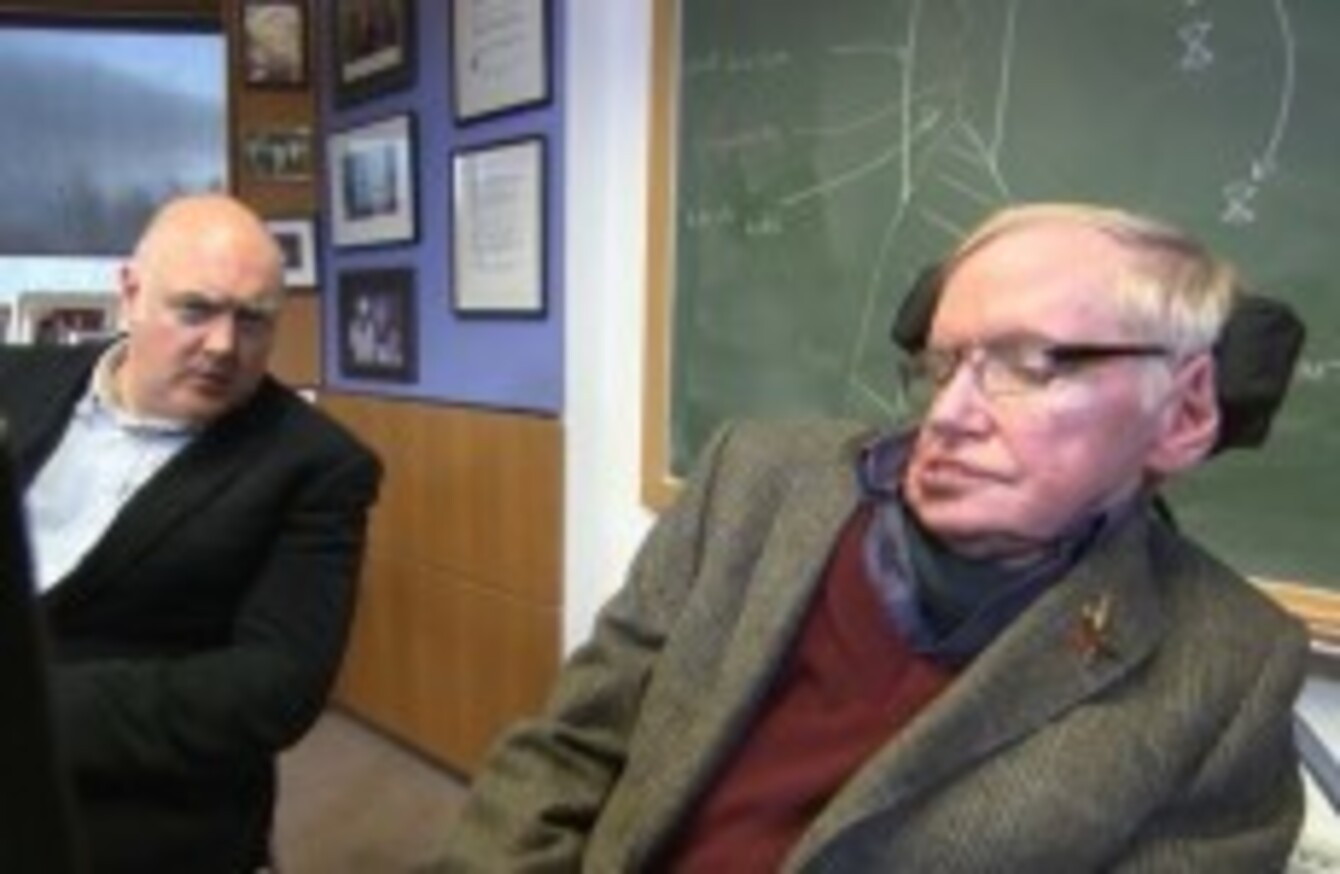 PROFESSOR STEPHEN HAWKING has been setting Dara Ó Briain straight on a wide array of interstellar issues, in an interview being broadcast tonight on the BBC.
The much-hyped programme – taking in the physicist's career and personal life – is being broadcast in full on BBC One in just a few minute's time (11.05pm to be precise).
A few pre-broadcast clips have been released, and from what we can glean, it looks like the programme's well-worth tuning in for (or catching up on, if you're reading this later).
In a segment placed on the Beeb's website, Ó Briain asks Hawking to explain if there's any possibility time travel could happen in real life – and whether humans could use Black Holes to travel through time.
"I still believe that time travel to the past is not possible for macroscopic effects," the physicist responds.
If you jump in a black hole you will meet an unpleasant fate. It will be little consolation that your mass energy will be recycled

as Hawking radiation

.
Ó Briain, who studied maths and theoretical physics at UCD, follows up by asking if light could be sent through a Black Hole – perhaps to send a message back in time.
"You can't send a message back in time," Hawking responds, again.
And on the possibility of of interstellar travel?
"The present breed of humans won't reach the stars," the professor says. "The distances are too great and life too short."
The only possibilities would be to genetically engineer humans or send machines.
After harrumphing (good naturedly) that Hawking appeared to have ruined science fiction for all fans of the genre – he goes on to ask about God and the afterlife.
"I find the scientific account of the creation of the universe in the Big Bang much more credible than the seven days of Genesis," says Hawking.
"I think the afterlife is a fairy story for people afraid of the dark."