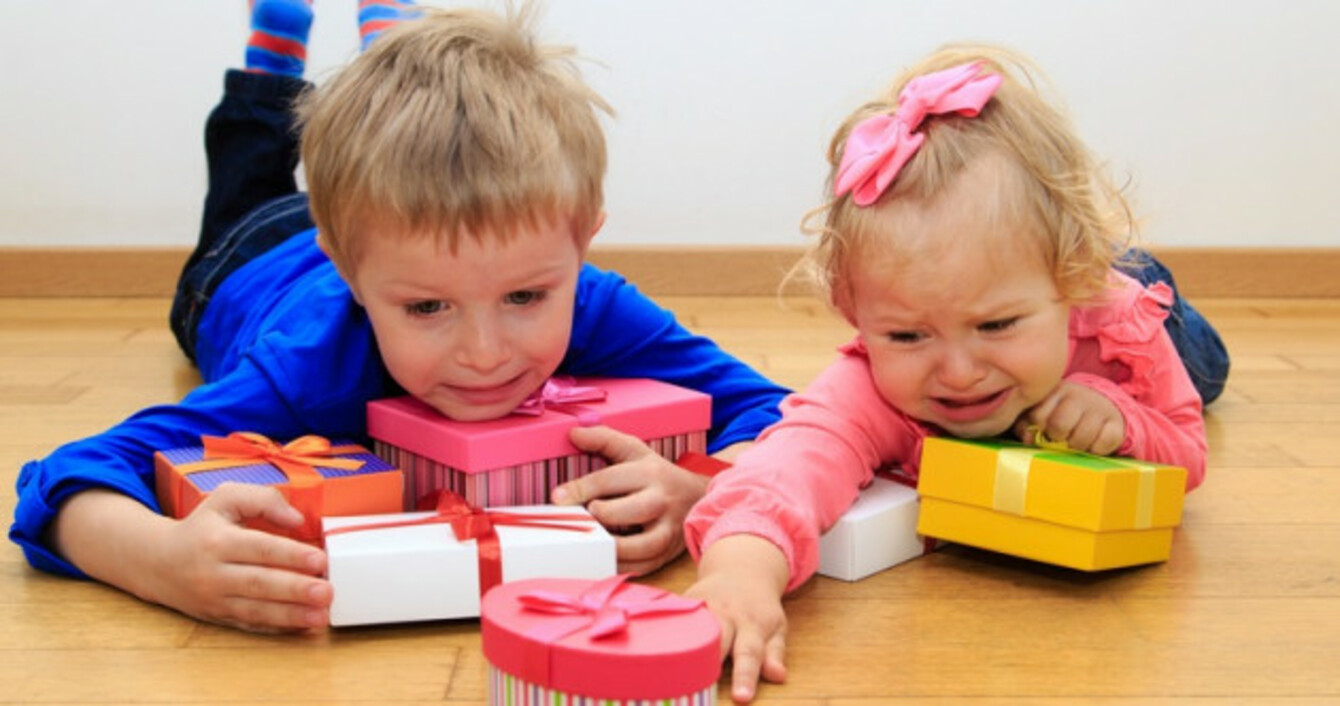 Image: Shutterstock
Image: Shutterstock
SUMMER IS ALL about spending quality time together. So. Much. Quality. Time
Given that there are another six weeks to go, you're probably at the end of your proverbial at this point. Slamming doors and ear-piercing shrills are becoming an hourly occurrence.
Your kids are constantly squabbling over a toy/a device/what to watch/clothes/the dog… I get the picture. Behold some stock phrases that may get you through some sticky scenarios involving sibling spats…
For younger kids
1. "Let's go, we're late!"
Chances are, irrespective of age, your little darlings are tearing the heads off each other for one of three reasons. The one we're focusing on in this instance is BOREDOM. If it's mid-morning or mid-afternoon, you probably have time to head somewhere. Whether it's the park or the shops, you're taking time out to get a bit of perspective.
2. "It's snack time!"
The second reason kids quibble; they're hungry, or worse, hangry. Again, depending on what time of the day it is, insert the applicable meal. Although, anything involving some form of chocolate spread usually works wonders.
3. "Who needs some downtime?"
At this point, you certainly do. Everyone's tired; the third reason for frayed tempers. Toss a coin to see who gets to choose a movie or who gets to go on a device. Separate them into different rooms if needs be.
4. "If you can't share, it needs to be put away"
Whatever the item might be, if they won't take turns (employ an egg/oven timer if necessary), the toy needs to be put away somewhere high.
5. "Who's got the conch?!"
Mandatory Lord of the Flies reference dispensed – choose an item that's readily available. A wand. A ball. A stick. Only the person who has that item is allowed to talk.
6. "Take it to the Ponder Point"
Sibling spats are your kids' first experience of problem resolution. In other words, it's good for them to fight and try to resolve their issue without your intervention. In the meantime, you don't need to accept the shrieking, so ask them to take it to a designated discussion spot. They are allowed to emerge when they've sorted out their differences.
7. "Do you need to hold hands/sit nose-to-nose/hug it out?"
Within ten seconds of sitting nose-to-nose, the chuckling should commence. The same goes for mandatory hugging; giggle central. While holding hands doesn't usually instigate laughter, it does open the gateway to understanding. As long as one doesn't start pinching the other.
For older kids
8. "Get out to that garden"
You could ask them to sit silently on the doorstep, or you could always put them to work weeding. Either way, impart the message that shouting, screaming or pushing is never acceptable inside the family home. Quibbles will sort themselves out sooner when the weather starts to turn.
9. "I've been listening to both of you… Do you want to know what I think?"
They may not care what you think, but they will want to know "who's right." This is where parenting 101 comes in; try not to focus on who's responsible for the spat.
10. "Do we need to get the Joy Jumper?"
Get an extra-large top into which you can pour two troublesome kids. Invite them or their younger siblings to decorate it for future wearings. And, most importantly, make sure you take photos. Let's face it, tweens aren't not going to sit nose to nose for you, so if you force them to wear the Jumper of Joy until they sort out their differences, chances are the issue will soon dissipate.
11. "Show Mummy the money…"
Welcome to Mummy Banks. Each family member has their own jar in the kitchen filled with roughly the same amount of loose change. Every time the kids bicker, take money from their jars and put it into Mummy's Jar. It also works the other way; if the kids are getting along, money should come out of Mummy Banks and back into their jars. At the end of the week, they get to use whatever money they have in their jar to buy a treat.
12. "Right, I am turning off the Wi-Fi"
The holy grail of fight diffusing stock phrases. If that doesn't work, you'll be left with no choice to hide their device chargers.
Along with the stock phrases, there are some things worth remembering…
#Open journalism No news is bad news Support The Journal

Your contributions will help us continue to deliver the stories that are important to you

Support us now
Start early. Put it this way, it's a lot easier to coerce teenagers into the same t-shirt if it's something you've always done.
Be consistent. If kids know there's some wiggle room they will push the boundaries. No means no. Stop means stop. No wi-fi means no wi-fi.
Try not to take sides. This one is hard – especially when one is being a rip – but kids need to know they are equally appreciated for their unique attributes and loved no matter what they do.
Don't pick favourites. Ensure punishments are the same.
• BREATHE. Calm is a superpower.
Help! Am I being unreasonable? We're looking for parenting dilemmas from our readers for our Am I Being A Bad Parent? feature. Drop us a line with your reader dilemma on family@thejournal.ie.
Plus, we're giving away a case of Spanish wine to one lucky Family Magazine reader. Enter here!