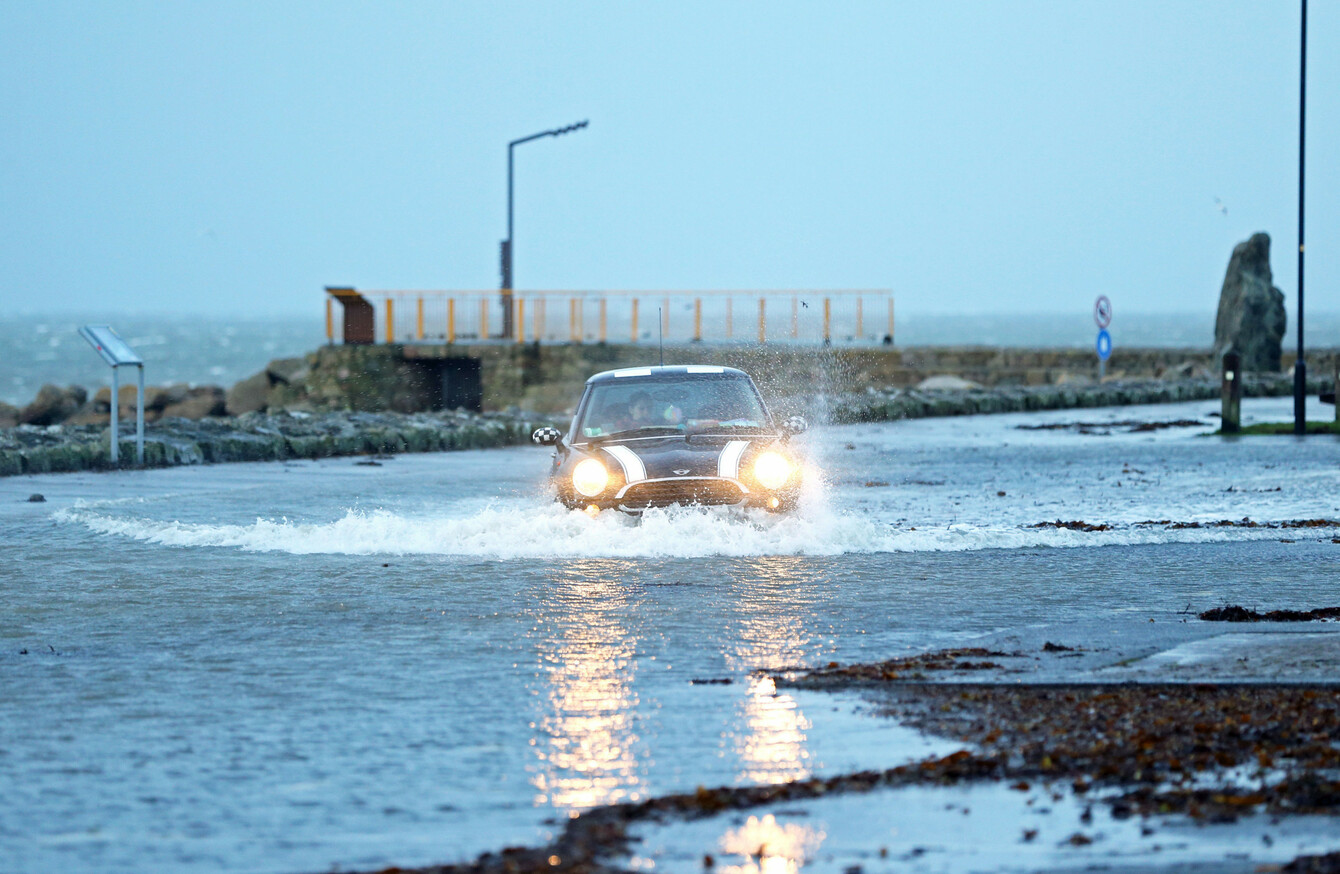 A car drives through a flooded car park in Salthill, Galway
Image: Brian Lawless via PA Images
A car drives through a flooded car park in Salthill, Galway
Image: Brian Lawless via PA Images
SMALL BUSINESSES, COMMUNITY, voluntary and sporting bodies affected by the recent devastating floods caused by Storm Eleanor can now avail of up to €20,000 through a support scheme.
Storm Eleanor ripped through the country on Tuesday night, with strong winds of up to 115km/h and heavy rainfall.
Galway city was left with a massive clean-up operation in the wake of the storm after the city flooded due to the extreme weather and high tides.
As well as this, tens of thousands of homes were left without power, the majority of which was restored by yesterday evening.
The Irish Red Cross today confirmed that the Department of Defence requested that it begin administering an emergency humanitarian support scheme to those affected.
The scheme will provide support up to €5,000 initially for those who meet the eligibility criteria and up to €20,000 following a receipt of more detailed information and a site visit.
Small businesses affected by the flooding from Storm Eleanor between 2 and 5 January can avail of the scheme. The closing date for receipt of applications is 31 January.
The scheme is viewed as a temporary humanitarian support contribution towards the costs of returning business premises to their pre-flood condition and designed to cover damage to buildings, contents, fixtures and fittings.
It also provides emergency support to community, voluntary and sporting bodies impacted by the flooding between the same dates above.
Neither scheme will provide a contribution to loss of earnings or loss of business goodwill, or for damage caused to pathways, sports grounds, carparks or pitches.
Government response
Responding to questions from reporters yesterday, housing, planning and local government minister Eoghan Murphy said that there had been adequate preparations in place.
"There was adequate preparation and planning in place but every time we have an event like this we learn lessons," he said.
"We have very sophisticated modelling techniques to look at different storm events as they come in. But we can't predict all the vagaries of weather and sometimes things will happen that weren't predicted in the models.
Sometimes though we won't be able to predict everything that will happen and very unfortunately a number of business have been hit in Galway but we are there now with the supports in place to help those businesses get back up and running.
For more information on the emergency support scheme, click here.