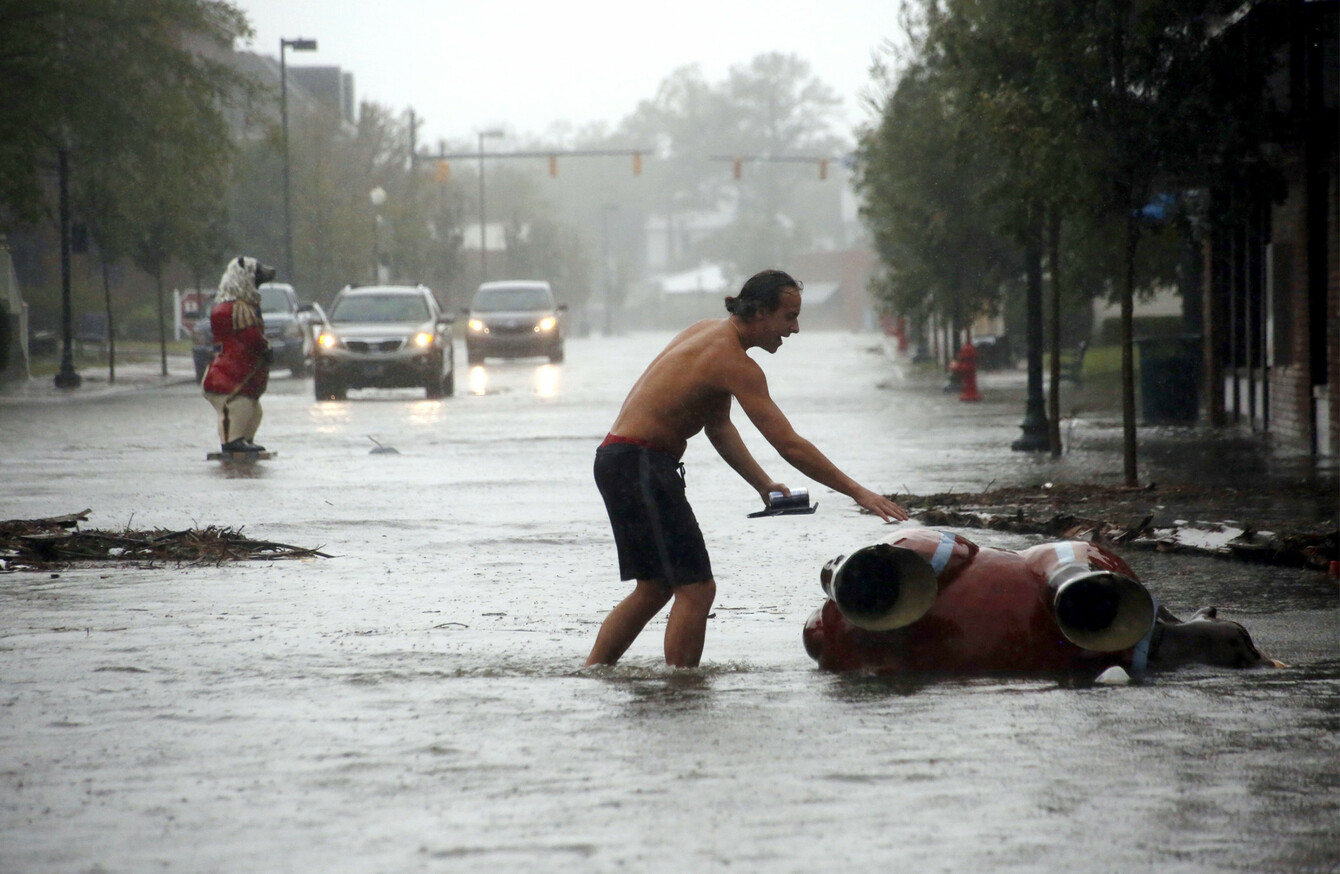 A local in New Bern, North Carolina checks a statue that was toppled by Hurricane Florence
Image: Chris Seward/Associated Press
A local in New Bern, North Carolina checks a statue that was toppled by Hurricane Florence
Image: Chris Seward/Associated Press
Updated Sep 14th 2018, 10:02 PM
FOUR PEOPLE HAVE died and millions of dollars worth of damage has been caused after Storm Florence devastated the US east coast today.
A mother and baby were killed when a tree fell on the house where they were staying, according to a tweet from police om Wilmington, North Carolina.
Another person was killed while plugging in a generator, while a man was also knocked to the ground while outside and died, authorities said.
The storm hit the US East Coast this morning with howling winds, torrential rains and life-threatening storm surges as emergency crews scrambled to rescue hundreds of people stranded in their homes by flood waters.
Forecasters warned of catastrophic flooding and other mayhem from the monster storm, which is only Category 1 but physically sprawling and dangerous.
The storm officially made landfall near Wrightsville Beach, North Carolina at 7:15am (11.15am Irish time), the National Hurricane Center said.
As the giant, 400-mile-wide hurricane pounded away, it unloaded heavy rain, flattened trees, chewed up roads and knocked out power to more than 600,000 homes and businesses.
By early afternoon, Florence's winds had weakened to 75 mph, just barely a hurricane and well below the storm's terrifying Category 4 peak of 140 mph earlier in the week.
But the hurricane had slowed to a crawl as it traced the North Carolina-South Carolina shoreline, drenching coastal communities for hours on end.
Ken Graham, the NHC's director, warned the slow pace of the storm exacerbated its danger even to areas outside its immediate path.
"The longer you have this hurricane wind flow, the longer you push that water well inland," he said.
Catastrophic damage
Rescue workers in North Carolina meanwhile were scrambling to save people stranded in their homes. Video footage showed parking lots in the riverfront town of New Bern turn into shallow lakes of dirty gray water as heavy rain fell.
New Bern Police Lieutenant David Daniels said that hundreds of people had been rescued so far, with others still waiting for help.
More than 60 people were pulled from a collapsing cinderblock motel in North Carolina.
In its earlier 3am Irish time advisory, the National Hurricane Center said the maximum sustained winds of Florence were 90 miles per hour, dropping it to the weakest of five categories on the Saffir-Simpson scale.
But the storm still carried "very dangerous winds," the centre added.
On Wednesday, Florence was downgraded twice from its peak as a Category 4 storm which causes "catastrophic damage". It is now at Category 1. 
Hurricane-force winds began whipping North Carolina as federal emergency management officials warned that the hurricane remained a "very dangerous storm" capable of wreaking havoc along a wide swathe of the coast.
"Just because the wind speed came down, the intensity of this storm came down to a Cat 2, please do not let your guard down," said Brock Long, the administrator of the Federal Emergency Management Agency (FEMA).
Warning of looming storm surges of nine to 12 feet (2.7-3.6 meters), he urged residents to take the storm seriously no matter the category, saying "this is all about the water, anyway".
With winds picking up along the coastline early yesterday, federal and state officials had issued final appeals to residents to get out of the path of the "once in a lifetime" weather system.
"This storm will bring destruction," North Carolina Governor Roy Cooper said. "Catastrophic effects will be felt."
Some minor flooding was reported on the Outer Banks — barrier islands off the coast of North Carolina — and in some seaside coastal towns, as more than 110,000 power outages were reported statewide.
In Wilmington, North Carolina, a steady rain began to fall as gusts of winds intensified, causing trees to sway and stoplights to flicker.
Avair Vereen, 39, took her seven children to a shelter in Conway High School near Myrtle Beach, South Carolina.
"We live in a mobile home so we were just like 'No way,'" she said. "If we lose the house, oh well, we can get housing.
"But we can't replace us so we decided to come here."
Monster storm surge expected
At 3am Irish time, Florence was over the Atlantic Ocean about 60 miles (95 kilometers) east-southeast of Wilmington, North Carolina, and moving northwest at six miles per hour, the NHC said.
Steve Goldstein of the National Oceanic and Atmospheric Administration said Florence's forward motion had slowed and it was not expected to make landfall in the Carolinas until "some time Friday afternoon, Friday evening or Saturday morning".
He said hurricane-force winds extended outward 80 miles from the center of the storm and tropical storm-force winds extended nearly 200 miles out.
Some areas could receive as much as 40 inches (one meter) of rain, forecasters said.
"This rainfall will produce catastrophic flash flooding and prolonged significant river flooding," the NHC said.
#Open journalism No news is bad news Support The Journal

Your contributions will help us continue to deliver the stories that are important to you

Support us now
A tornado watch was also in effect for parts of North Carolina.
FEMA's Long warned the danger was not only along the coast: "Inland flooding kills a lot of people, unfortunately, and that's what we're about to see," he said.
About 1.7 million people in North Carolina, South Carolina and Virginia are under voluntary or mandatory evacuation orders and millions of others live in areas likely to be affected by what officials called a "once in a lifetime" storm.
Myrtle Beach, a South Carolina beach resort, was virtually deserted with empty streets, boarded up storefronts and very little traffic.
A state of emergency has been declared in five coastal states — North Carolina, South Carolina, Georgia, Maryland and Virginia.
Duke Energy, a power company in the Carolinas, estimated that one million to three million customers could lose electricity because of the storm and that it could take weeks to restore.
'Catastrophic effects'
Not everybody was heeding orders to evacuate, however.
Antonio Ramirez, a construction worker from El Salvador living in Leland, North Carolina, said he planned to ride out the worst of the weather with his dog Canelo.
"The shelters are not taking dogs," Ramirez said. "I'm not leaving him here.
In Wilmington, residents who had decided not to evacuate were lining up to get ice from a vending machine — $2 for a 16-pound (7.2-kilo) bag.
"I have no generator," said Petra Langston, a nurse. "I learned from the past to keep the ice in the washing machine."
Perched on the porch of his home, carpenter Tony Albright was calmly awaiting Florence's arrival, beer in hand.
"I built this house myself, so I'm not worried at all, I know it's solid," he said. "I charged the batteries of my electronic devices, I have beers and video games."
"The only thing missing in there is a hot lady."