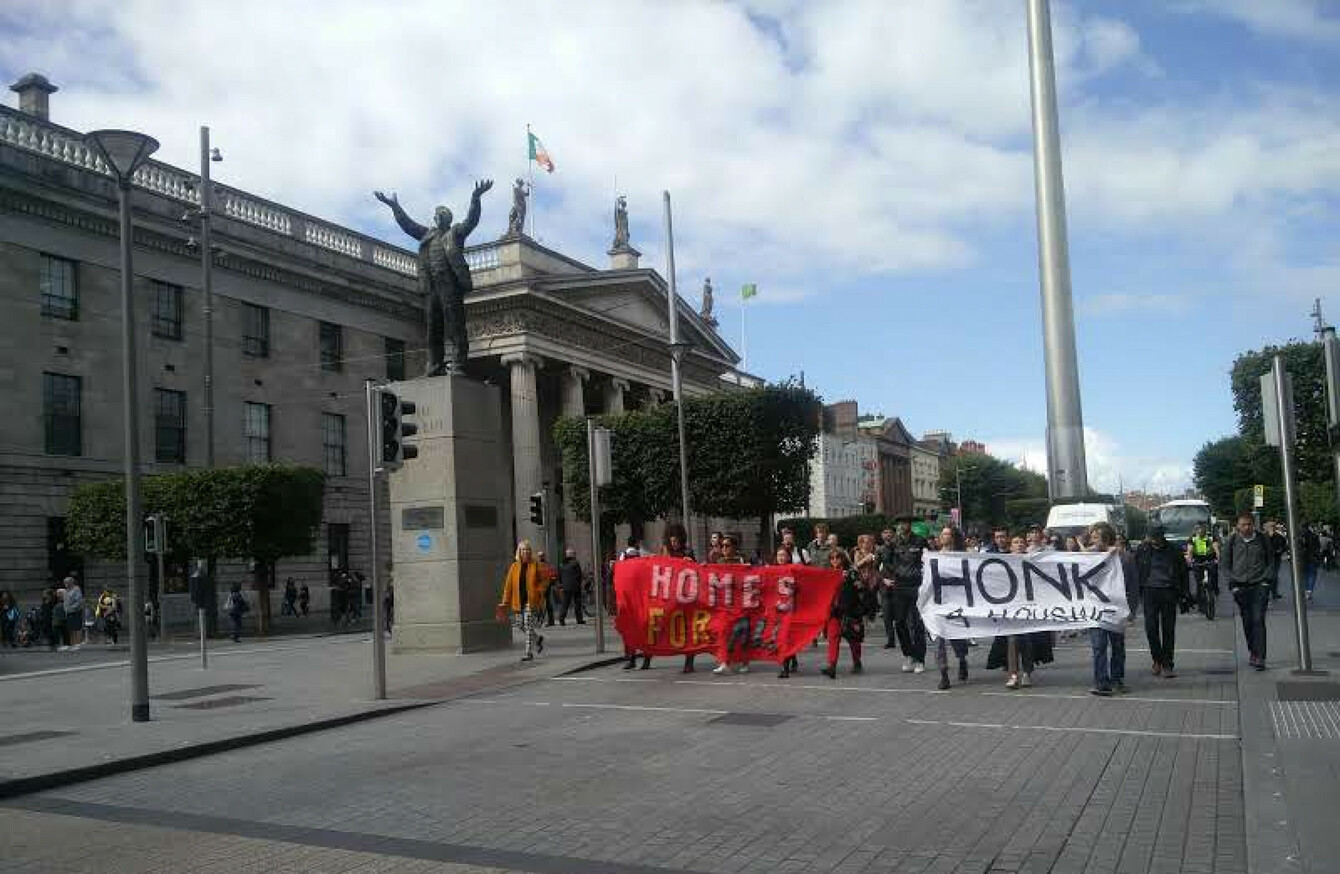 A group of housing protesters travel along O'Connell Street
Image: Stephen McDermott
A group of housing protesters travel along O'Connell Street
Image: Stephen McDermott
A GROUP OF activists who recently took over two properties in Dublin say they will continue to occupy vacant buildings across the country until the housing crisis is resolved.
The warning was issued at a protest arranged by the group today, when activists delivered a letter to the Department of Housing to call for a motion of no confidence in Minister for Housing Eoghan Murphy.
Earlier this month, the group occupied 35 Summerhill Parade and 34 North Frederick Street in the north inner city, protesting at what they say is the government's "complete inaction" in dealing with the housing crisis.
A similar march was held last week, when activists staged a sit-in at the Department of Housing for several hours as they demanded to meet Murphy, who was on holidays at the time.
Around 30 housing activists involved in the recent Summerhill occupation are outside a property on North Fredrick Street in Dublin. They're about to march towards Leinster House to deliver a letter to @MurphyEoghan about the housing crisis. @thejournal_ie pic.twitter.com/vE7jlHiP6u

— Stephen McDermott (@Ste_McDermott) August 23, 2018
Today, around 40 protesters gathered at North Frederick Street at 2pm, stopping traffic in the city centre for around 30 minutes as they made their way to the Customs House.
Despite being invited to the Dáil by Department officials this week, activists revealed that they had to decline for logistical reasons, citing a demand that they produce their passports to enter Leinster House.
After arriving at the Department, one activist read a letter calling for the resignation of Murphy and Taoiseach Leo Varadkar, saying Government policy had failed.
Addressing Murphy directly, she said: "After 14 months in office, the housing crisis has only gotten worse and it's now abundantly clear that you are unfit to hold office as Minister."
The group also said that it had received support from Sinn Féin, Solidarity, the Social Democrats, the Green Party, Labour, and other independent TDs, and called on them to show further support by tabling a motion against Murphy.
"The battle is going to be long and strenuous and needs to happen in places like this, because it won't be won in the Dáil," another activist said.
"People don't realise the pressure being put on others from mortgage repayments and the threat of vulture funds. And it's only going to get worse."
Another warned that if legislation was not passed in the Dáil to resolve the housing crisis, "hunger strikes will be next on the agenda".