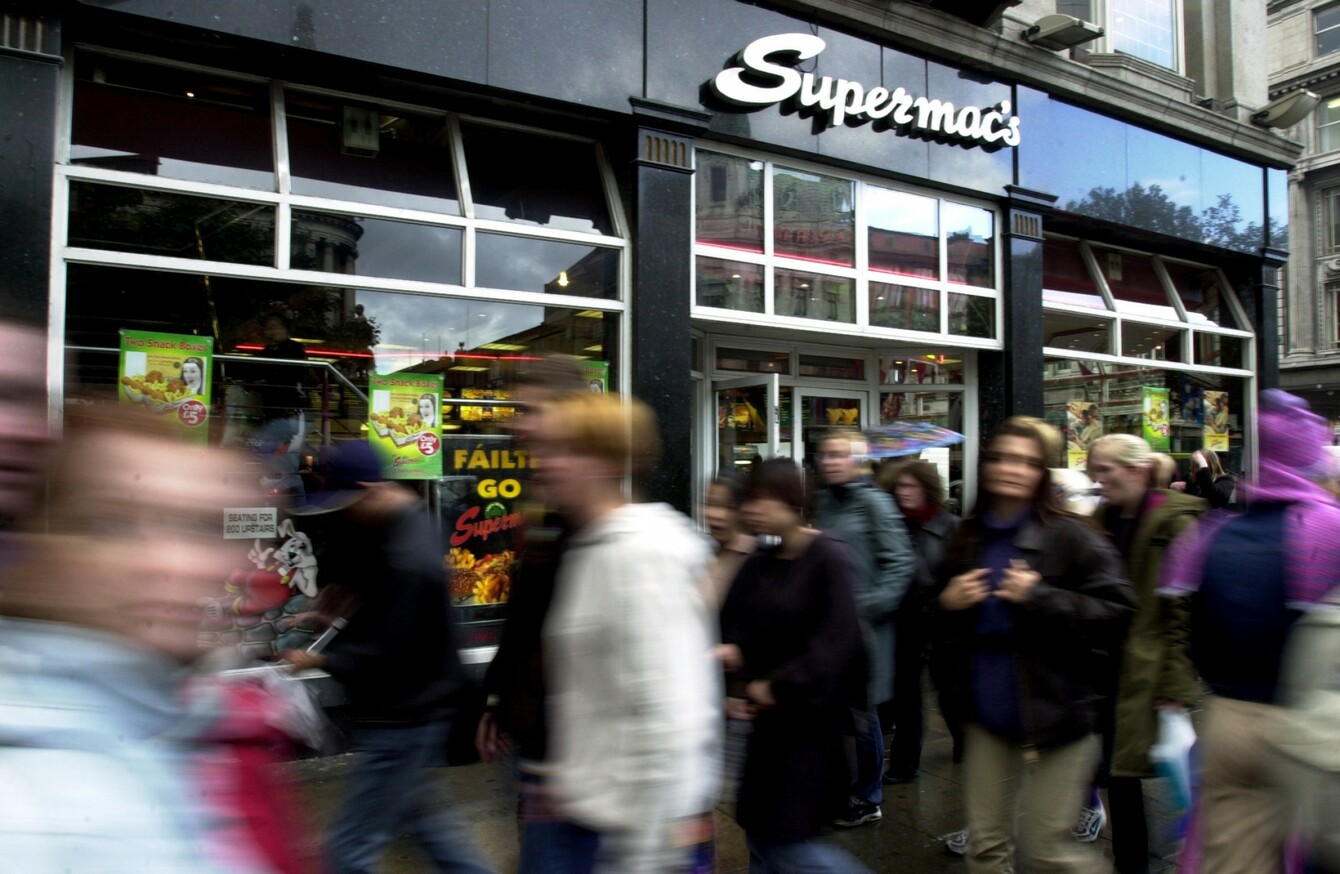 Image: Gareth Chaney/Photocall Ireland!
Image: Gareth Chaney/Photocall Ireland!
Updated at 10.30pm
IRISH FAST FOOD brand Supermac's has taken a significant step in its European battle with McDonald's.
The Galway-founded company, which has over 100 outlets in Ireland, has asked the EU to cancel the use of the Big Mac trademark registered by McDonald's under certain classes.
Supermac's director Pat McDonagh said on Drivetime this evening that McDonald's were registering names beginning with Mac or Mc "not because they're being used, but to protect themselves and monopolise the whole trademark system.
He said that registering 'snackbox', which was synonymous with Supermac's for as long as it was in business, was "a step too far".
Under EU rules, if a trademarked name isn't used within five years, the owner of the domain loses it, according to McDonagh.
The request has been formally submitted to the European Union Intellectual Property Office (EUIPO) by Supermac's and the company has asked that it take effect immediately on the basis that McDonald's is "engaged in trademark bullying by registering brand names which are nothing to do with them, they do not use and which are simply stored away in order to pulverise some future competitor".
Supermac's points to a list of McDonald's trademarks registered with the EUIPO which include:
McKids
McCountry
Snack Box
McInternet
McImagination
McMission
McCroissant
McHappy
McRecycle
The House That Love Built
Last year, McDonald's was partially successful in a complaint with the EU's Office for Harmonisation in the Internal Market (OHIM) about Supermac's pending bid for a Europe-wide trademark.
In its decision, OHIM has partially upheld McDonald's claim, rejecting Supermac's trademark application for a number of items including food and drink services.
While Supermac's was awarded its own trademark in Europe, it lost the part of the case which allowed it to sell its core products – including toys, food, drinks, coffee, ice-cream and meat. The two companies had signs that were considered similar, with McDonald's Big Mac and Supermac's deemed too close.

New step
Now, the Irish owned family restaurant group has issued a formal trademark cancellation demand on the use of the Big Mac and Mc trademarks that McDonald's has registered under certain classes.
#Open journalism No news is bad news Support The Journal

Your contributions will help us continue to deliver the stories that are important to you

Support us now
Supermac's says that the multi-national has "trademarked these words in an attempt to wipe out any potential competition and that this amounts to nothing more than trademark bullying by a large multi-national to try and create a de-facto monopoly in the Mc prefix".
The founder and Managing Director of Supermac's Ireland Ltd, Pat McDonagh said:
"McDonald's has literally registered the McWorld. It is trying to make sure that every word in the English language belongs to them if there is prefix Mc or Mac put in front of it. They have trademarked words like McKids, McFamily, McCountry, McWorld, McJob and McInternet in order to, over time, squeeze out smaller family based businesses.
This means that if any McGrath, McCarthy or McDermott with a business idea uses their name in the title of that business or product the chances are McDonald's already own the trademark and you can probably expect a knock on the door from them.
TheJournal.ie has requested comment from McDonald's Ireland.